A quarterly bulletin facilitated by your membership of the Rural Services Network highlighting a selection of current rural economic development news, issues and opportunities
This edition of the Rural Economy Spotlight includes a special feature which highlights a range of case studies from Leader programmes around the country. Many thanks to all those who have contributed.
You can find this special edition here

A view from rural business
National Enterprise Network (NEN) and the Rural Services Network (RSN) have entered into a partnership to seek and maintain a clear view of business needs and opportunities in the rural areas of England. As part of this partnership we are planning four short surveys a year across the enterprise support organisations within NEN in order to understand and measure the views of those servicing rural businesses.
The 22 enterprise support organisations responding to the first survey carried out in February 2017 served over 3700 rural businesses over the previous 12 months. By far the most common issue considered to be facing rural businesses was broadband and mobile connectivity. Other common issues identified were help with marketing, access to finance and service/transport availability. 80% of respondents to the survey considered that these needs were different to the needs of urban based businesses.
The opportunities currently being exploited by rural businesses were wide ranging including food and tourism sector opportunities, online marketing and working from home.
The final question in the initial survey asked: "In a post Brexit world, what do you consider to be the top two rural business support needs which should be addressed by public funding?" Answers ranged from connectivity and access to digital services to skills, start-up and growth support.
Further surveys planned for later in the year will seek to delve deeper into some of the initial issues identified and begin to provide a view on how best to support rural businesses over the coming years.

Leaving the EU and its affect on the rural economy
Ahead of the Opposition Day debate held in the Commons Chamber on 17 January 2017, a useful briefing paper was produced on the effect of the UK leaving the EU on the rural economy. The paper set out an overview of the issues expected to be debated and can be found via this link.
You can read all of Parliament's analysis of how leaving the EU will affect different policy areas in the UK here.

The importance of entrepreneurship within busineses
A new report by the World Economic Forum and the Global Entrepreneurship Monitor focuses on a hidden aspect of European innovation – intrapreneurship.
Professor Mark Hart, of the Enterprise Research Centre at Aston Business School and co-author from Global Entrepreneurship Monitor said "While the UK's relatively high levels of start-up activity by European standards are often lauded this research shows that the entrepreneurial capacity of the nation goes way beyond new venture creation and is more important in terms of the future growth trajectory of existing businesses".
Professor Jonathan Levie, of the Hunter Centre for Entrepreneurship at Strathclyde Business School and co-author from Global Entrepreneurship Monitor, said: "When taken together the EEA and TEA rates provide a fuller picture of the extent of entrepreneurial activity being undertaken in a nation. The UK continues to have a relatively high rate of entrepreneurship among employees by international standards. This is good news because resources for new business activities are often easier to access within established businesses."
You can access a full copy of the report via this link.

Helping businesses flourish in Broadland
Catherine Morris-Gretton, Communications Officer at Broadland District Council writes: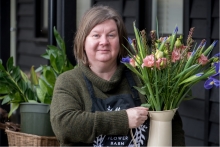 Broadland District Council covers an administrative area that includes some of the hinterlands of Norwich city along with some remote rural communities touching the Broads and North Norfolk. Working to the maxim that our communities need to be at the heart of everything we do, our Business Support Team are kept busy by a wide variety of small and medium businesses to achieve one of the key ambitions of delivering economic success in the district. The diversity of the business supported can be seen in the brief overviews below:
Steph's Flower Barn is based in the rural parish of Horsham St Faith. Taking Steph Middleton's idea from concept through to trading was supported by a one-to-one adviser along with business start-up and social media training and a small Enterprise Grant offered by the Council. Since the establishment of the business back in 2015, Steph has grown her customer base, her marketing skills and her personal confidence.
Ongoing support for Steph has been provided and building partnerships with other local rural businesses has been one of the keys to success. CIM Signs & Graphics based at Rackheath helped with the design and 'wrapping' of Steph's car, which has proved to be a fantastic marketing tool. Bluebell Burial Park, itself a relatively new business in the district that the Council supported to access LEADER funding, has engaged Steph as their 'Florist of Choice'. A willingness to add to the business offer has seen Steph establish regular workshops and discussions are underway for delivering a series of floral themed children's activities.
Kate Lyons moved from being a teacher in central London to rural Broadland and is running her own business making traditional steamed puddings with a modern twist.
Helped by Broadland District Council's Economic Development and Environmental Health teams, Kate launched pudd'Eng – described as 'Proper English Puddings'.
Including favourites such as Sticky Toffee Pudding and Spotted Dick, they are free from additives, have sulphite-free dried fruit and all ingredients are sourced from as near Kate's Brampton kitchen as possible.
Kate took the opportunity to attend the Council's free Business Essentials and marketing with social media workshops and has received one-to-one support from one of the business advisers. "The Business Essentials course was very useful and I have just been on a course to learn about Microsoft Excel," said Kate. "The Environmental Health team have also been very helpful – taking the puddings and having them tested for me, which saved me some money."
Kate started the pudd'Eng brand with six different puddings that come in three sizes and can be steamed or put in the microwave to reheat. The Chocolate and Ale Puddings contain real ale from the Why Not Brewery in Thorpe St Andrew and the Treacle and Walnut Puddings are made with whisky from The English Whisky Company in Roudham.
For more information please contact Catherine Morris-Gretton

Prince's Countryside Fund open for business
The Prince's Countryside Fund provides more than £1m in grants each year to projects across the UK. Grants of up to £50,000 are available for innovative projects that will provide a lasting legacy to the individuals and communities they seek to benefit.
The Prince's Countryside Fund seeks applications to support activity that results in a long-term positive impact on rural communities by helping the people that live and work in the countryside. The grant programme currently aims to tackle the following key rural issues:
To improve the prospects of viability for family farm businesses
To sustain rural communities and drive economic vibrancy
To support aid delivery in emergency and building resilience
The Fund is currently open for applications until 13 April 2017. You can find out more here.

RSN argues the rural case in responding to Industrial Strategy green paper
In the forward to the Industrial Strategy Green Paper the Prime Minister states that the Industrial Strategy is "not just a plan to leave the EU, but a plan to shape a new future for the kind of country we will be when we have left. It is a plan to build a stronger, fairer Britain that works for everyone, not just the privileged few." The strategy, therefore, constitutes an important opportunity to ensure that rural areas and their economies are properly considered as part of the country's plans for life after Brexit. In this context, the RSN has submitted a formal response to the Green Paper.
RSN argue that whilst there is some recognition of the needs of rural areas within the Industrial Strategy, there is a danger that the potential opportunities presented by rural economies are significantly underestimated. RSN state: "The Industrial Strategy should properly recognise the existing and potential economic contribution of rural areas to the nation's growth and success. This should be embedded throughout the Strategy, recognising the location of many innovative and growth potential businesses located across rural areas. This is not confined by traditional views of rural economies and stretches across all sectors."
RSN has also prepared a draft response for use by others considering responding to the Green Paper. You can read this draft response here.

Statistical digest of rural England published
Official statistics concerning rural England are published regularly by Defra. The latest March 2017 edition of the "Statistical Digest of Rural England" contains a wide range of useful statistics and is available via this link. These cover:
Rural population & migration
Rural Economy
Rural living
Defra's December 2016 "Rural Economic Bulletin" comparing high level economic indicators across rural and urban England has also been published and is available via this link. The five indicators currently used are:
claimant count – proportion of working age population claiming unemployment benefits
economic activity – proportion of economically active population unemployed and proportion of working age population in employment
redundancies – number of redundancies per 1,000 workers
house prices - average house prices and annual percent change
business insolvencies – rate of businesses becoming insolvent per 1,000 businesses

Grant schemes for electric vehicle charging infrastructure
The government offers grants to support the wider use of electric and hybrid vehicles via the Office of Low Emission Vehicles (OLEV). This includes:
The Electric Vehicle Homecharge Scheme (EVHS) provides grant funding of up to 75% towards the cost of installing electric vehicle chargepoints at domestic properties across the UK.
The Workplace Charging Scheme (WCS) is a voucher-based scheme that provides support towards the up-front costs of the purchase and installation of electric vehicle charge-points, for eligible businesses, charities and public sector organisations.
The On-street Residential Chargepoint Scheme (ORCS) provides grant funding for local authorities towards the cost of installing on-street residential chargepoints for plug-in electric vehicles.
You can find out more about these grants via this link.

Tailored local information for Neighbourhood Planning available
A successful neighbourhood plan must be based on evidence and an understanding of the place they relate to. Communities need to gather a range of evidence and local knowledge before writing their plan. RSN has collated a selection of evidence, which may be useful to communities in starting to shape their evidence base. This is tailored to each local authority area and is available via this link.

A monthly pocket databank from the Treasury
The 'Pocket databank' is a monthly HM Treasury statistical publication, containing major economic indicators and series for both domestic and international economies. The databank, designed to be a quick and concise reference source, can be accessed here.

All Party Parliamentary Group – influence in Westminster
The Rural Services APPG supported by RSN provides an excellent opportunity to put issues of the moment in front of MPs in the heart of Westminster and to seek to influence national debate. If you have any views on key topics which should be covered in future APPGs please contact Andy Dean.

Chambers of Trade – keep calm and sign up!
RSN exists to enable the issues facing the rural areas of England to be identified, information and good practice to be shared and government to be challenged to address the needs and build on the opportunities which abound in rural areas. We have a number of Chambers of Trade, Commerce and Local Business Networks who are members of RSN and currently receive our bulletins. If there is a business organisation in your area who you think would find our bulletins useful, please pass this bulletin onto them and ask them to contact Andy Dean with their contact details so we can ensure they are included in future distributions.

Future editions of the Rural Economy Spotlight
The next edition of this bulletin will be distributed in June 2017. If you have any suggestions as to future content or would like to submit a short article for inclusion please contact Andy Dean.