22.10.2020
University expert meets the PM to ask for backing to help local councils become 'dementia friendly'

A University expert has met the Prime Minister to ask for his backing to help local councils become 'dementia friendly'.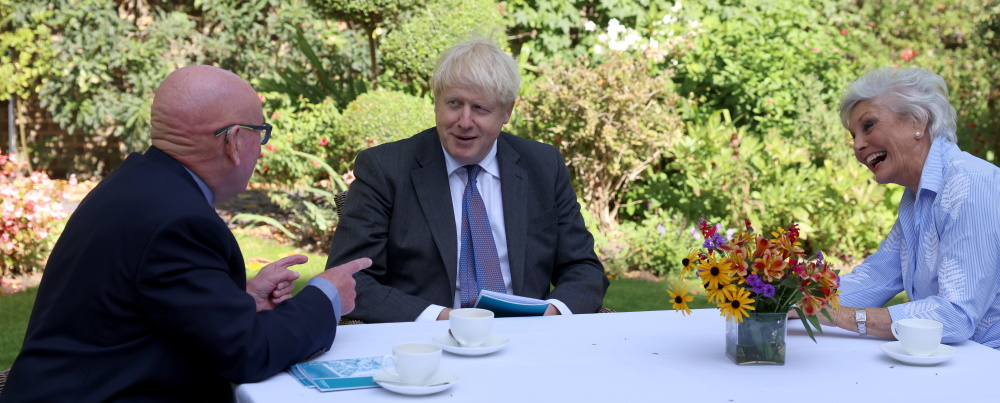 Ian Sherriff BEM, Academic Partnership Lead for Dementia in the University Of Plymouth Faculty Of Health, Dentistry and allied Health travelled to Number 10 with fellow Alzheimer's Society Ambassador, journalist, and TV presenter Angela Rippon.
Ian, a leading figure in dementia policy and research nationally and internationally, discussed his work to make life easier for people with the condition, including a recent project with the National Association of Local Councils. Earlier this year, Ian and N.A.L.C surveyed all 10,000 local (parish and town) councils to find out what steps they are taking to support people with dementia and their families.
Cllr Sue Baxter, chairperson of NALC, said. "This cutting-edge research led by Ian Sherriff BEM is an opportunity to get more insight on what local councils are doing, but more importantly, on how we can support them to level-up and help the most vulnerable in their communities.
The overwhelming outcome of the research was to produce a Dementia Friendly Guide. Ian and NALC have now prepared the guide. Ian said; we are now ready to send out the guide to all Parish and Town Councils. At the meeting with the Prime Minister Boris Johnson we asked him to endorse the guide, as well as launch it from Number 10 in the coming weeks".
Ian said, "I found the Prime Minister to be very personable and it's clear he fully understands the issues around dementia. We were grateful to get a one-to-one time with him, considering everything else that's going on at the moment."
Cllr Sue Baxter, chairperson of NALC, said, "It is fantastic to see that the joint working between NALC and the University of Plymouth has been recognised by the Prime Minister. I am looking forward to seeing this guide published. The guide will be of great use to councils to level-up and help the most vulnerable in their communities".
Ian who Chairs the Prime Minister's Rural Dementia Friendly Communities Challenge Group (2013 to date) membership of this group include:- People living with dementia and their families, Dartmoor Rescue Team, the National Federation of Young Farmers Clubs, the WI, Farming Community Network, Dementia Friendly Parishes around the Yealm . Faith leader, National Association of Local Councils, Royal Agriculture Benevolent Institute, Travellers Communities with Leeds Gate, MP's, Nottingham University, Alzheimer's Society and District and County Councillors.
Ian is also Chair of the PM's Dementia Air Transport challenge Group (2016–ongoing), where he has worked with the Civil Aviation Authority (CAA), the aviation industry and people with dementia to devise new CAA guidelines.