02.08.2021
The National Rural Conference 2021 Conference Sponsor - Trent and Dove

Formed in 2001, Trent & Dove is a Housing Association providing affordable housing for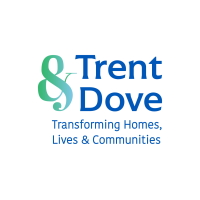 rent and shared ownership in both rural and urban areas across the Midlands. We are a not-for-profit organisation, any surpluses are used for maintaining our homes, building new properties and providing community support.
We are driven to make a difference to people's lives and reduce homelessness in our region. Our Mission is to Transform Homes, Lives and Neighbourhoods, and for more than 20 years now that is exactly what we have been doing.
We're helping many people to secure a new home; each one of our customers is unique and we know that everyone has different needs from family homes, to supported living and homes for older people. But it is more than just building more homes, important as this is. By providing affordable homes and a wide range of supporting services, we enable people and communities to thrive and enjoy life. We also support a variety of services such as mental health, family support and volunteer projects.
As Chair of the Rural Housing Alliance, our CEO, Ursula Bennion, is passionate about supporting rural communities. Provision of affordable housing in rural areas provides economic stimulus and community benefits to local communities – and behind all the stats and policy positions are real people living real lives, facing very real problems and challenges. By providing even a small number of affordable homes in a rural settlement will bring economic advantages with more money being spent in the local community, local schools, shops and service being supported and people being able to live near their rural workplace. By offering specialist support services and practical solutions we can help reduce social isolation, encourage communities to work together and in turn revitalise rural communities.

Loneliness Awareness Week 2021
We understand that loneliness can effect anyone at anytime and our befriending service, Place of Welcome and volunteering opportunities can really make a difference.
Please view our below video: