A quarterly bulletin facilitated by your membership of the Rural Services Network and produced in partnership with the Rural Housing Alliance, highlighting a selection of current rural housing issues and opportunities
Social Housing Green Paper – views sought
A New Deal for Social Housing, the government's Green Paper on social housing, was published on 14 August 2018. The National Housing Federation has published its own discussion paper which outlines the key issues, risks and areas of opportunity for housing associations in the Green Paper. This is being used to focus discussion across the Federation's membership and is based on the following principles which aim to guide the Federation's final response:
"Long-term culture change should come from within the sector, and be owned by boards and leaders, but it should be supported by good, proportionate regulation.
"Any changes to the way social housing and housing associations operate should reflect tenant experience, be based on evidence of what works, and support housing associations as successful social businesses.
"It is right that tenants understand the performance of the services they receive from their landlord. There is a role for transparent performance and satisfaction data in providing assurance and informing and empowering tenants.
"There is a role for the regulator in identifying and taking action where we are failing tenants.
"Tenants and residents in social housing often speak of feeling stigmatised, highlighting challenges that demand meaningful change at many levels of society. Housing associations are committed to contributing to that change, but it will also require strong leadership from the Government.
"Increasing the supply of social housing will be critical if we are to ensure everyone can access a quality home they can afford"
The Federation are asking their members to respond to this discussion paper by 26 October 2018. The deadline for responses to the consultation on the government's Green Paper is 6 November 2018.
---
CLT and Housing Association partnership in Wiltshire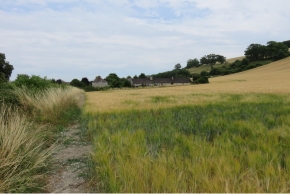 White Horse Housing have been selected by the Broad Chalk Community Land Trust (CLT) as their housing development partner. This new partnership will develop new affordable rented and shared ownership homes for local people, thereby helping to maintain the viability and vitality of the village.
Steve Warran, Chief Executive of White Horse Housing said, " We are delighted to have been chosen as Broad Chalke CLT's development partner. The Association has a strong track record of developing and managing high quality affordable homes in rural areas and the new partnership will enable us to continue this work. We are looking forward to working closely with the local community to provide much needed affordable homes for local people"
The draft Neighbourhood Plan for Broad Chalke identifies two sites within the village with space for additional housing provision. If adopted, the Plan will provide a first phase of at least 6 affordable homes for rent and shared ownership and 3 open market homes for local people to "down size" into more suitable and manageable homes. Further phases of development will follow as the need arises in future years.
"The local community have shown great determination and vision to have developed the Neighbourhood Plan to this stage" Steve added "They understood that in order to sustain their village, and provide homes for local families, some new development was required. But they wanted to be fully involved to ensure the homes meet their needs and are affordable in perpetuity. I applaud their approach and look forward to working on this fantastic project"
The Association will now begin working with the CLT on scheme layouts, site surveys and draft designs, with a view to submitting a formal planning application if the Neighbourhood Plan is approved.
---
Potential Council Tax hike to address long term empty homes
Derbyshire Dales residents are being asked for their views on charging the owners of long term empty properties up to four times the amount of Council Tax as regular home owners.
Income from the empty homes premium would be used to fund activity to support bringing long term empty homes back into use - and the premium could be increased dramatically thanks to new legislation currently going through Parliament.
It means that from April next year local councils such as Derbyshire Dales could have the power to double the Council Tax on homes empty for two to five years, triple the tax on homes empty for five to 10 years and quadruple it for those empty for more than a decade.
Councils already have the power to levy a 50% premium - the whole Council Tax plus half again - on homes that have been unoccupied and substantially unfurnished for more than two years, although Derbyshire Dales District Council has not adopted this.
A District Council spokesperson said: "We estimate this will impact up to 600 long term empty homes in our area - and we want to know what local people think about the idea to introduce the new premium, as an encouragement to bring these properties back in to use.
"Allowing long term empty homes to remain unoccupied is a waste of resources, especially as the Derbyshire Dales is one of the least affordable areas in the Midlands, with residents on lower incomes struggling to access housing to rent or buy. There is also pressure to build new homes on greenfield land.
"In 2016 the Derbyshire Dales was recorded as the sixth worst area in England for the number of empty homes per 100 people at 0.9, and we also know that the Dales has the highest percentage of long term empty homes in Derbyshire, at 1.9% of the total housing stock."
The District Council wants to hear from all residents about the proposals but particularly from owners who may be struggling to rent out or sell their home and the neighbours of empty homes affected by the condition of an empty property.
For more information contact Jim Fearn at the local authority.
---
Royal approval for conference on tackling rural isolation and loneliness
Her Royal Highness The Princess Royal will be delivering a speech at a national conference on rural isolation and loneliness being held in London on 17th October 2018. The Princess, who will be attending in her capacity as Patron of English Rural Housing Association, will be addressing delegates at the event jointly organised by the Plunkett Foundation and National Housing Federation. Delegates at the event will hear from leading national organisations on the importance of tackling loneliness in rural communities. Tracey Crouch MP, the government's first minister for loneliness will also address delegates in a pre-recorded video highlighting the importance of the awaited national Loneliness Strategy.
The conference follows on from the successful #TheLittleThings campaign launched by the Plunkett Foundation in 2017. The campaign partly sponsored by English Rural, sought to raise awareness amongst individuals and community businesses in rural areas about the role that small interactions can play in helping people overcome loneliness and isolation. Loneliness was also a core theme during Rural Housing Week 2018, where the National Housing Federation and the Rural Housing Alliance promoted the role that housing associations can play as organisations who work to support thriving rural communities and keep local support networks together by offering affordable homes.
Often described as the 'Silent Epidemic', research has shown that loneliness increases risk of death by 29% and has the equivalent health detriment of smoking 15 cigarettes per day.
Commenting on the event, Martin Collett, Operations and Communications Director at English Rural Housing Association, said: "English Rural are delighted to be sponsoring an event focused on this important issue. We see first-hand at English Rural the destructive impact that loneliness has, particularly on low income and vulnerable households."
James Alcock, Executive Director, the Plunkett Foundation, said: "Today's event highlights the importance of rural interest groups working together to form strong and supportive partnerships. The Plunkett Foundation is pleased to promote the benefits that community businesses can secure in tackling rural loneliness. Whether it's offering venues for social interaction or meeting some other important local service need, community businesses have an important role to play."
Monica Burns, External Affairs Manager at the National Housing Federation says: "It is not acceptable that so many people in rural areas feel emotionally isolated, as their families and young people are forced to move away, priced out of areas they've known all their lives. Housing associations provide support to the most vulnerable and also intervene to help pubs, schools and post offices open in rural areas. They are at the front-line of tackling isolation and loneliness in rural areas and ready to be part of even more local solutions."
---
Local housing association builds affordable homes in picturesque Somerset village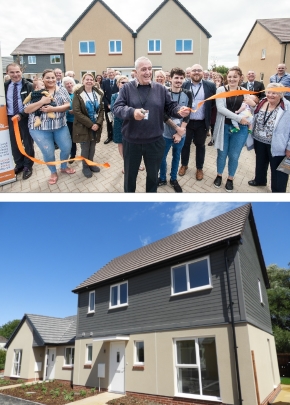 South Western Housing Society was approached in 2016 by Sedgemoor Council and some committed local residents from the Somerset village of Mark, who were concerned at the lack of housing available to people living in the village who were unable to afford to purchase homes on the open market.
Working in conjunction with a dedicated project team, 12 beautiful homes are now about to be let to people with a connection to the village.
The Society says it is delighted to have been able to work with the parish council and all of their partners to achieve a sustainable and attractive development that people will be able to enjoy for many years to come.
This scheme would not have been possible without fantastic landowners who sold the land at a very low price in order to support the scheme and Sedgemoor Council who provided grant so that the Society could build a high quality scheme to be let for ever at reduced market rates. The CEO, Donna Johnson said: "As an organisation that is run with charitable objectives and is not for profit, we would not have been able to build these beautiful homes without the support of good people who unselfishly support options for those who do not have the choice of buying their own home."
A representative of Mark Parish Council said: "In welcoming the new residents to Tucker's Close, the Parish Council, on behalf of the Parish, thanks the 2015-17 Mark Community Land Trust for their vision of affordable housing, Sedgemoor District Council Affordable Housing Team for their support and advice, Mr Philip and Mrs Lynne Duckett and Mrs Sheila Duckett for making the land available, South Western Housing Society and EG Carter and asssociated contractors for their hard work that has seen the emergence of Tuckers Close. The variety of designs sits neatly into the Northwick Road landscape. This has been a key project for the village providing much needed affordable rented homes, the first to be built for many years. We wish the new residents all the best for the future".
---
New Company Secretary promises more affordable homes in Northamptonshire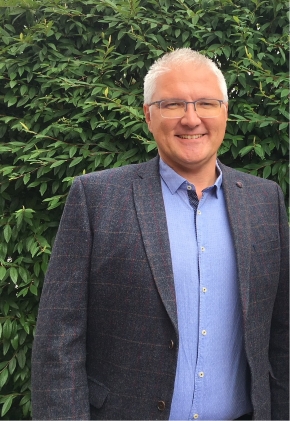 More affordable homes for local people have been promised by Richard Mugglestone, the new Company Secretary of Northamptonshire Rural Housing Association (NRHA). Richard replaces Craig Felts who retired in August after 25 successful years with the Association.
NRHA is one of the four housing partners which comprise Midlands Rural Housing, part of the emh group. For the past 13 years, Richard has worked on strategic partnerships and new business for Midlands Rural Housing and, earlier this year, was appointed Managing Director. He will fulfil his new position as Company Secretary of NRHA alongside his Managing Director role.
With a wealth of experience of partnership working and generating business growth for rural housing associations, Richard is well equipped to lead NRHA to achieve its ambitious plans for more affordable homes in Northamptonshire's villages.
A regular visitor to Westminster and active participant in the Rural Housing Alliance, Richard has been heavily involved in influencing and lobbying on rural and housing issues to ensure the correct strategic and policy background is provided so the right homes can be delivered in the right rural communities.
NRHA provides affordable homes, specifically for local people, in rural communities across the county. With house prices soaring in rural Northamptonshire, the need for affordable homes is becoming ever greater.
Under Richard's leadership NRHA has plans to deliver over 60 new affordable rural homes across Northamptonshire in the next few years so that local people can continue living where they have grown up, work, or have close family ties.
Richard commented: "I am looking forward to leading NRHA as it brings its plans for much needed affordable homes to fruition. By partnering with local residents, housing associations and local authorities, we can deliver small-scale village developments which have a big impact on helping our rural communities to thrive."
---
There's no place like home in rural Staffordshire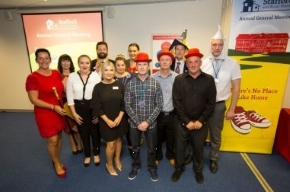 A touch of Hollywood magic has helped a Stafford-based housing association to reinforce the messages that 'There's No Place Like Home.'
During its annual general meeting, Stafford and Rural Homes (SARH), screened a short film based on the Wizard of Oz to highlight its many successes over the past 12 months. Showcasing the ongoing success of award-winning allotment schemes to projects aimed at tackling rural loneliness and isolation, the film starred members of staff dressed as leading characters from the classic movie. It also helped to reinforce key messages highlighted by the AGM, that SARH is committed to growth, building new affordable homes and strengthening local communities.
The AGM also marked the 'premier' of another SARH production, a new charity that aims to support community groups in neighbourhoods served by the area's leading provider of affordable homes. The event at the housing association's headquarters in Parker Court, Stafford, saw the SARH C.A.R.E.S. Foundation Charity make its first donation to an organisation that provides a host of activities for young people and vulnerable adults with learning and social difficulties. Also based in Stafford, the WhyCh Youth Group is typical of the organisations and initiatives the Foundation aims to support through the fundraising efforts of SARH employees.
Karen Armitage, SARH Chief Executive, explained: "We know that delivering quality, affordable homes to rent is about much more than bricks and mortar. Strong, healthy communities are vital in creating better places to live, work and grow and the new C.A.R.E.S. Foundation will provide a welcome boost to organisations and individuals that share our values when it comes to helping some of the most vulnerable in the community - including those who are affected by homelessness, social isolation or severe hardship."
Also, as explained to the AGM by SARH Chair, Alison Hadden: "This year SARH achieved a notable double, being placed second overall in the Times Top 100 Not for Profit Companies to work for list whilst our Chief Executive, was recognised by Inside Housing magazine as Housing Heroes Mentor of the Year."
---
Royal opening for Passivhaus scheme in Warwickshire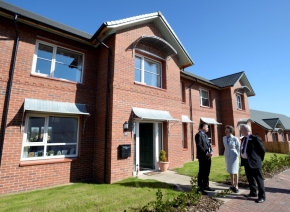 Warwickshire Rural Housing Association (WRHA) welcomed HRH The Princess Royal to officially open its ground-breaking new development in Wootton Wawen in September.
Working in partnership with Morton Wykes Kramer Architects, Bouygues UK, Waterloo Housing Group and Homes England, WRHA has completed Keyte Gardens, Warwickshire's first Passivhaus development of affordable homes.
HRH The Princess Royal visited some of the new residents who have recently moved in to their ultra-low energy homes. First, The Princess called on Christine Hughes who decided to move into a bungalow at Keyte Gardens when her previous home and garden in Wootton Wawen became too much for her to manage alone.
Next, The Princess Royal visited Nathan and Rebecca Crowe and their daughters, Annabelle aged four and Charlotte aged two. The Crowe family have watched the development progressing from day one and were keen to move into a more spacious home with somewhere for their two daughters to play outside.
The Princess met residents and guests who have been involved in this community-led development, before formally opening Keyte Gardens. A wooden sculpture featuring a bee design to honour Denis Keyte, the development's namesake, was unveiled. Denis a celebrated beekeeper and gardener, who passed away in May 2017, was born in the village in 1929 and was a highly regarded member of the community.
A total of 14 affordable homes have been built at Keyte Gardens to the rigorous Passivhaus standard. Developed in Germany in the early 1990s, Passivhaus focuses on creating a building which is as energy efficient as possible to reduce its environmental footprint. The homes have been built specifically for people with a local connection to the village either through family or work.
The aim was to achieve space heating costs which are 70 per cent less than in standard house construction to keep fuel bills low for residents. The homes have perfect North – South orientation for maximum solar gain during the winter months, have superior levels of insulation and air tightness, and include innovative features such as air source heat pumps; a mechanical ventilation heat recovery system to provide constant filtered fresh air and recessed and shaded tripled glazed windows to reduce overheating during the summer.
Funding of £460,000 was agreed with Stratford-on-Avon District Council, along with £350,000 from Homes England through the Affordable Housing Programme. Local family business, Allens Caravans, made the land available at a reasonable rate which made the development of 12 properties for affordable rent and 2 for shared ownership viable.
Speaking at the opening, Derrick Dyas, Chairman of Warwickshire Rural Housing Association, said: "Keyte Gardens embodies the very epitome of partnership working with local communities to achieve affordable housing for local people. The Parish Plan called for new development which embodies the latest thinking in energy efficiency to help reduce fuel poverty. This struck a chord with our objectives and, as a result, we proposed this exciting scheme which has been developed to the challenging Passivhaus standard. The importance of what we have achieved here must not go unrecognised."
---
Community Housing Fund phase 2 grant programme open
Grants to help communities get in the driving seat to develop affordable homes for local people are now available direct from Homes England, the government agency tasked with securing the development of affordable homes across the country.
Funds are available for capital costs, site infrastructure works and feasibility work for specific schemes – either new build or refurbishment of existing buildings. However, grants are currently only available until March 2020 which means that any groups interested in looking at this opportunity need to act relatively quickly.
It is a requirement of the Fund that any homes for rent built must be managed by a Registered Provider.
You can read more about the Homes England funding via this link.
---
Government consults on rents for social housing
The government is proposing to issue a new direction from the Secretary of State to the Regulator of Social Housing to ensure that, from 2020 onwards, the Regulator's rent standard:"reflects our announcement in October 2017 that we intend to permit registered providers to increase their rents by up to CPI+1% each year, for a period of at least 5 years; this announcement recognised the need for a stable financial environment to support the delivery of new homes" and "applies to local authority registered providers (as well as to private registered providers), to reflect the roll out of Universal Credit."
The direction also sets out the basis on which social rents and affordable rents are set. This consultation closes on 8 November 2018 and you can access more details via this link.
---
£20 million fund to help homeless into private rented homes
This £20 million fund is intended to allow councils to put in place new schemes so that those at risk will have the support to secure their own tenancy.
The Private Rented Sector Access Fund, launched on World Homeless Day (10 October 2018) by Communities Secretary, Rt Hon James Brokenshire MP, is a dedicated fund designed to help up to 9,000 people who are or at risk of becoming homeless to secure their own home.
Described as a key part of the government's Rough Sleeping Strategy, the fund will be used to either help set up locally-led schemes or expand those currently in use. These schemes will be tailored to match the needs of each local area's residents and landlords.
This could involve councils providing financial support to help those to access or maintain their tenancies, such as paying deposits for the tenancy or rent payments. Alternatively, some schemes may involve the council managing the property on the landlord's behalf.
£5 million is available in 2018/19 and the remainder in 2019/20. The deadline for bids is 21 November 2018.
---
Government launches first loneliness strategy
Loneliness is one of the greatest public health challenges of our time, Theresa May said on 15 October as she launched the first cross-Government strategy to tackle it.
The Prime Minister confirmed all GPs in England will be able to refer patients experiencing loneliness to community activities and voluntary services by 2023.
Three quarters of GPs surveyed have said they are seeing between one and five people a day suffering with loneliness, which is linked to a range of damaging health impacts, like heart disease, strokes and Alzheimer's disease. Around 200,000 older people have not had a conversation with a friend or relative in more than a month.
The practice known as 'social prescribing' will allow GPs to direct patients to community workers offering tailored support to help people improve their health and wellbeing, instead of defaulting to medicine.
As part of the long-term plan for the NHS, funding will be provided to connect patients to a variety of activities, such as cookery classes, walking clubs and art groups, reducing demand on the NHS and improving patients' quality of life.
You can read the full strategy via this link.


Keep Calm and Join Up!
RSN exists to enable the issues facing the rural areas of England to be identified, information and good practice to be shared and government to be challenged to address the needs and build on the opportunities which abound in rural areas.
If you know a rural housing organisation that would benefit from membership, please ask them to consider joining us. RSN is a solely rural focussed organisation with an electronic distribution network in excess of 25,000 individuals. We reach right across all the rural areas of England and provide a sustained and respected voice for rural areas at national level. Anyone who wants to talk to us about our role and services in relation to rural housing should contact Andy Dean to find out more.
If you are a small housing organisation operating in rural England, you can have access to all the services of RSN for an annual subscription from just £250 plus VAT. RSN exists to share information, promote good practice and represent the voice of rural England at a national level. Check out our website for more information or contact Andy Dean to join up.