A quarterly bulletin facilitated by your membership of the Rural Services Network and produced in partnership with the Rural Housing Alliance, highlighting a selection of current rural housing issues and opportunities


Rural Housing Week 2022 focusses on levelling up
Rural Housing Week 2022, running from 4th to 8th July, was packed full of events, webinars, social media campaigns and more right around the country helping to shine a light on some of the big rural housing issues – and solutions.
The challenges facing housing in rural communities remain significant with rural economies lagging on key metrics such as pay, productivity and infrastructure. The need for levelling up rural areas is both urgent and necessary – the question is how can housing associations play a leading role? With this in mind, the theme for Rural Housing Week 2022 was levelling up rural communities. This bulletin includes a number of articles related to the events of the week and some of the case studies highlighted.
One event held during the week highlighted the need for levelling up in rural communities and discussed new research which demonstrates that were England's rural communities a distinct region, their need for Levelling Up would be greater than that of any other part of the country.
The research, published in June, finds the Government's metrics do not properly account for the pressures facing our smaller towns and villages and as a result effectively side-line 12 million people.
The report, 'Rural as a region: the hidden challenge for Levelling Up,' finds that the Government's Levelling Up white paper metrics - used to identify the regions most in need of levelling up - are too urban-focused, and do not account for disadvantage in rural economies within regions, often linked to limited local employment prospects, poor transport networks and weak connectivity. It calls for the Government to rethink its choice of metrics and include more rural-relevant indicators such as work placed based incomes, fuel poverty levels, access to further education and house prices relative to local earnings. You can read more about this research via this link.
---
Rural Homelessness – England's hidden crisis?
Rural homelessness is an unseen crisis in the countryside, driven by limited access to jobs, infrastructure, support networks and ultimately housing.
Rough sleepers in rural areas aren't consistently captured by traditional methods of counting, meaning this issue is often underreported in rural areas. Despite this, CPRE reported a 115% rise in rural homelessness in just two years.
The NHF has jointly commissioned research as part of a rural task force including leading national rural charities and housing associations to look into the unique drivers of rural homelessness. This research is being undertaken in partnership with Kent and Southampton Universities.
A national webinar was held during Rural Housing Week focussing on this issue and outlining some of the interim findings from the research.
If you missed the session, don't worry, you can view a recording online.
The discussion examined the issues from different perspectives and brought together experts from universities, housing associations and charities to explore how we can work together to better support service users and drive down rural homelessness.
You can watch a recording of the webinar via this link.
In addition, if you a housing association, local authority or organisation that works with housing & homelessness you are encouraged to take part in a survey as part of this important research. You can find out more via this link.
---
Redundant Suffolk cottage hospital transformed into community hub and affordable homes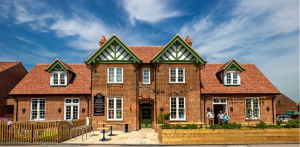 The conversion of an iconic cottage hospital into a community hub and nine affordable homes was officially marked by the community of Southwold and Reydon on 17 June 2022.
Southwold and Reydon is the first community in England and Wales to buy back its community hospital to provide much needed affordable housing and community facilities in the area.
Four of the homes are for affordable rent and five are for shared ownership with all homes prioritised for people with a local connection to the area. The community hub has breathed new life into Southwold by providing a new home for the town's library, a nursery, farm-to-fork café and co-working space for local entrepreneurs, freelancers and remote workers.
Originally funded and built by local people 125 years ago, Southwold's cottage hospital was closed by the NHS in 2015. Fearing the locally-listed building would be demolished and redeveloped into second homes and holiday lets, the local community developed an ambitious plan that led to the formation of a social enterprise, the Southwold and Waveney Valley Regeneration Society Ltd, known as SouthGen.
SouthGen campaigned to save the building and worked with rural affordable housing specialist, Hastoe Housing Association, to buy the site.
Jessica DeGrazia Jeans, Chair of SouthGen, said: "This project has inspired a truly amazing community spirit. Hundreds of volunteers have participated in all aspects of the project from campaigning, doing the feasibility study, putting in the initial bid and buying the site, right through to funding the project, and maintaining the building's integrity, design and community use.
"We are also indebted to all our partners. We could not have achieved this without them. Special thanks go to Hastoe for their help and unique approach. There are few organisations out there with such vision and commitment. Hastoe has been the very best of partners, and we are fortunate to have found them."
---
Miracle in the heart of Derbyshire!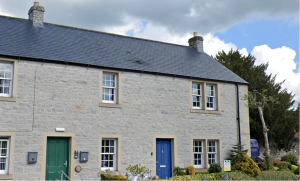 For retired couple Pauline and Robert moving to an affordable home in Miracle Court in the heart of Derbyshire village Bakewell, has felt like a real miracle!
During Rural Housing Week 2022, Peak District Rural Housing Association spoke to new residents, Pauline and Robert, about what their affordable home means to them.
Having moved to Bakewell several years earlier to be closer to family, they'd been living in a small, one bedroom flat, that just wasn't big enough for the two of them.
The flat was hard work. A small kitchen that didn't have room for a cooker or a full-size fridge/freezer. One bedroom that couldn't fit anything in other than a double bed. And, as they had no space for a washing machine, they had to use a communal laundry room, which caused its own stresses.
They were struggling, and it was getting them down. But they didn't want to leave the village and their family, especially their youngest granddaughter, who they spend lots of time with.
With the support of AGE UK, Pauline and Robert found they were eligible to apply for the two-bedroom flat at Miracle Court. As soon as they viewed the flat, they said they felt like they'd won the lottery.
"It's such a beautiful home, we had no idea that these were affordable housing. It's made such a difference to us.
"We are over the moon. We love everything about it – from having our own private front door, to the garden area, to the brand-new kitchen and, of course, finally having a proper cooker again!
"The fantastic wet room has made such a difference. It's so much better for us, especially for Robert who has reduced mobility.
"Our housing officer made everything very easy – he's brilliant.
"We're very happy. It's like heaven, no, it's like a miracle!"
---
Speaking of Bakewell...
A Bakewell affordable housing development is officially the best small residential development in the Midlands – and it's not a miracle!
Colonel Wright Close, a partnership between Derbyshire Dales District Council and Platform Housing Group, has won the title at the Insider Residential Property Awards 2022. Simon Henderson at Pelham Architects was the architect.
Unveiled last year, the 30-homes project took almost a decade to come to fruition. Meticulous planning ensured the homes were built to maintain the look of the area, using stone from the local Dale View Quarry at Stanton Moor.
The land was originally bought from Lady Manners School, who used the funds to build their 3G sports pitch, which is now enjoyed by the school and wider community.
The District Council carried out two housing need surveys in Bakewell that underlined the need for this development, allocating £500,000 capital funding to help make the homes happen in the National Park. Every penny came from Right To Buy proceeds from former council housing stock
District Council Leader Councillor Garry Purdy said: "This scheme is arguably the single most important affordable housing scheme in the District Council's housing programme in recent times and the award is timely recognition for a project that was 13 years in the making.
"From the start we recognised an overwhelming need for these homes and credit must go to all partners, who worked extremely hard to secure high quality affordable homes for local people who have a link to Bakewell."
Platform Housing Group Chief Executive Elizabeth Froude said: "It's a fantastic achievement for the group and our partners that this scheme has been named as the winner. Building somewhere like this comes with its own challenges and this site took years of hard work to complete but seeing local families living there now makes it all worthwhile."
---
How an affordable rural home changed a resident's life
One of English Rural Housing Association's residents talks about how being able to live in an affordable rural home has changed her life and allowed her to be close to family, friends, and support networks.
"I feel incredibly privileged to gain this English Rural home, as previously my landlord had decided to sell our rented home. With high rural rents, it meant leaving the village, our support networks, and my family and moving to a whole new way of life. This would have been totally alien, not only myself, but to my young daughter.
"The entire process with English Rural, from application to interview, to signing the contract was simple and self-explanatory. And I found the staff (and continue to find the staff!) both friendly and helpful. When we finally moved in it felt like an amazing life opportunity. I immediately felt this huge sense of relief. We have stability with English Rural because it means that we have that option of a house for life, making it feel permanent which, in turn, gives us security. And it makes it feel like a home.
"In our village there's a huge sense of community. Living here means that I've been able to maintain that security for my daughter and myself. It also means that I have my Mum and Dad a stone's throw away, which is amazing. In terms of a village, it's a very friendly, tight-knit community. We enjoy the village pub, and we have a local shop which is at the heart of the community. We benefit from a post van, buses, and the village centre where you can take part in a whole host of activities.
"During the pandemic I haven't once felt insecure knowing that if I had any financial troubles English Rural would help me. I get a lot of comfort from knowing that I'm not going to lose my home and that I can actually afford the rents that are in place due to them being a lot cheaper than private rents. And I wouldn't want to live anywhere else. I feel very privileged, and I feel incredibly blessed. And I am incredibly grateful to English Rural. I'm extremely happy – thank you."
---
Rising to the challenges of rural housing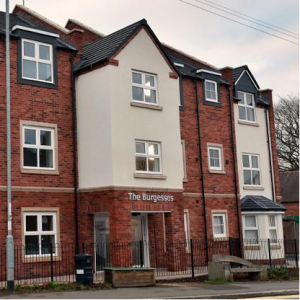 People in village communities are facing exceptional challenges, which were underlined during Rural Housing Week. This year the national campaign focused on the need for levelling-up in the countryside, where a shortage of housing is having a significant impact on economic wellbeing, productivity and infrastructure.
Young people who have grown up in the countryside are often unable to buy or rent a home there. Older residents face difficulties too, with a shortage of specialist supported housing making it hard to downsize to manageable, accessible homes.
Housing Plus Group are proud to have made a positive difference in the South Staffordshire village of Kinver with the opening of The Burgesses, a £3.2 million new housing development for local people aged over 55.
Now home to 22 residents who have the reassurance of access to care and support from Care Plus, The Burgesses was constructed on the site of several bungalows that no longer met the Group's high standards.
The project was completed by construction partner S J Roberts Construction Ltd and benefitted from a £1.1 million Social Housing Grant from Homes England, with additional funding of £145,000 contributed by South Staffordshire Council.?
With photovoltaic panels supplementing the building's electrical supply and a range of communal facilities including a fabulous roof terrace, the scheme has already been nominated for a national development award.?
Housing Plus Group Director of Development, Kerry Bolister, explained: "This landmark project received strong support from people who want to continue to enjoy their independence, in the heart of this very popular village.?
"As well as providing much-needed affordable housing for older people, The Burgesses is also a great example of working in partnership to replace outdated housing stock with high-quality, energy-efficient rural housing."
---
28 new affordable homes for Northamptonshire's rural communities in 2022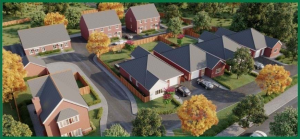 If Levelling Up is about making our rural communities vibrant and flourishing places to live, the 28 much-needed, new affordable homes that Northamptonshire Rural Housing Association will deliver across four Northamptonshire villages this year will make a huge difference:
All of the 28 homes will be built to meet or exceed national space standards and will incorporate air source heat pumps (ASHPs), providing residents with a low carbon, energy efficient way of heating, which will help keep energy bills lower.
Across the schemes, there will be a mix of houses, flats, and bungalows, with some available for rent and others as shared ownership, to accommodate the local requirements identified in the housing needs surveys. There are even some self-build plots on one of the schemes.
The small scheme in the village of Norton, is one of the first rural exception sites in the country to also include plots for self-builds. It's an exciting opportunity; the chance to self-build rarely happens in rural developments.
There are two plots, which will be sold as serviced plots with outline planning permission for four-bedroom homes, and importantly, will be prioritised for local people.
---
Small is beautiful! Hastoe open two small scale schemes during Rural housing Week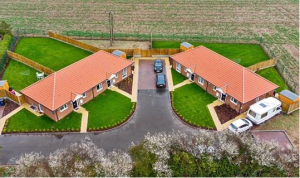 Babergh Mid Suffolk District Council has worked in partnership with Hastoe Housing Association to deliver four new homes for local people in the village of Newton and another four in the village of Groton.
Developed on previous agricultural land and offering four new homes, the Newton development includes two 1-bedroom bungalows and two 2-bedroom bungalows, all for social rent. All homes have been prioritised for people with a local connection to Newton, such as those working in the village, those with close family in the area, or those who previously lived there but were forced to move out because of a lack of affordable housing. The homes are highly energy efficient, being exceptionally well insulated and include air source heat pumps, which help to reduce fuel bills for residents.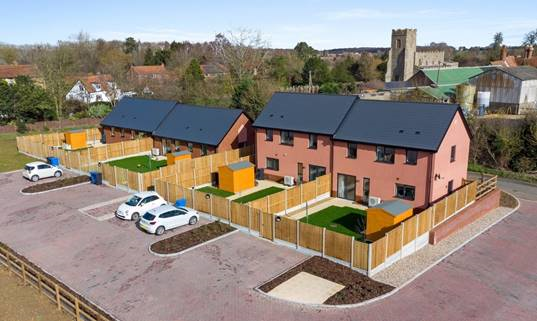 Developed on previous agricultural land, the Groton development offers four new homes, including two 1-bedroom bungalows and two 2-bedroom houses, all for social rent. All homes have been prioritised for people with a local connection to Groton, such as those working in the village, those with close family in the area, or those who previously lived there but were forced to move out because of a lack of affordable housing.
Works for both schemes began on site in February 2021 and were completed in November 2021.
---
Planning policies and politics – an interview with English Rural's Deputy Development Director
Alison Thompson has worked for English Rural for over 20 years and before that she was the one of the first Rural Housing Enablers in England. English Rural are a specialist rural housing association and only work in small villages that have a proven housing need for affordable housing for local people. Alison discusses some of the challenges and opportunities faced in the rural housing sector.
The interview covers a range of topics from why rural affordable housing is so important through to issues around land, infrastructure and policy at various levels.
Asked whether NIMBYism is alive and kicking, Alison says: "NIMBYism and objectors are a key challenge and a key constraint in bringing forward rural housing to a community in need. NIMBYs have been alive and kicking for as long as I can remember, but back then we had small consultations in village halls where people would come along and voice their concerns and objections and then go away. But nowadays, with the advent of social media, we see dedicated action groups being created, designed to fight housing in their village without appreciating why the homes are needed and how they can actually prevent a rural community from withering on the vine.
"At the start of the covid pandemic we introduced an online consultation platform with a dedicated website for that village. It detailed the proposed plans, including maps and proposed locations setting out all the information in one place, allowing people to comment and even register an interest for one of the proposed homes. The Parish Councils and Community Land Trusts who we are working with were delighted with this. We were able to run the village website for four weeks and go back to them on a weekly basis letting them know how many people had looked at the plans and what the comments were. They found that really helpful and it avoided any confrontation, which can be very difficult for people who need one of our homes to actually speak out in a public setting. I do think it is the way forward. It's a shame that often a small vocal minority can stop something or concern the Parish Council so much that they might lose their nerve to continue with a project."
You can read the full interview via this link.
---
New passive Homes shown off in Warwickshire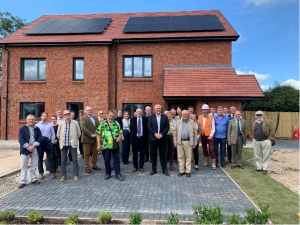 During Rural Housing Week 2022, Warwickshire Rural Housing Association showed off their new affordable Beattie Passive homes in Bearley, which will soon be home to local people.
They were joined by councillors from Stratford-on-Avon and Warwick District Councils, local parish councils and Deborah Casey from Homes England, all keen to see the reality of eco-friendly affordable housing.
The seven homes on the scheme, which is named Gwens Grove, after local resident Gwen Smith, who passed away this year aged 101, have all been allocated to local people, who are looking forward to moving in over the summer.
The homes are the realisation of a 20-year dream for the village, and have been built using the high-performance and low-carbon Beattie Passive construction system.
Arslan Erinmez, Chair of Bearley Parish Council explained just what the new homes mean to the village:
"We are very proud of these affordable new homes, which were built on two small brownfield sites. They will have a very positive effect on our community, enabling people to downsize and bringing younger people, who'd had to move away, back to live closer to their families."
And married couple Chloe and Edward know first-hand just what a difference good-quality affordable homes make in rural areas. Chloe, who has lived her whole life in Bearley, and her husband Ed are due to move into their brand new home in the village later this month. "We both work full-time, but housing in Bearley is still outside our price range. We were living in a private rented home but, when the landlord sold it, we couldn't find anywhere else affordable to live.
"It's been a very difficult time for us. All our friends and family are in the village, and we work locally and we didn't want to leave.
"So, since September, we've been living with our respective parents, apart from each other. Not how married life should be!
"When we found out our application had been successful, we were delighted. We're excited to move in.
"And, the fact that this is a passive home is amazing, as it will help keep our energy bills low."
Find out more about the new scheme at www.warwickshirerha.org.uk/bearley
---
£1 million funding awarded to restore environment surrounding Dales social housing estate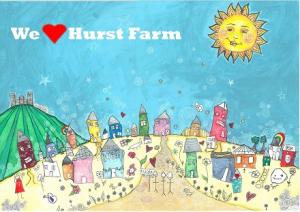 Derbyshire Dales District Council has been awarded £1 million from the National Lottery heritage Fund for its Hurst Farm Heritage Trail project.
Set in the Derwent Valley Mills World Heritage Site and once a mixed arable farm with meadows and pastures, Hurst Farm Estate was bought for social housing in the 1950s and is today the most deprived ward in the Derbyshire Dales.
This project will restore woodland surrounding the estate, enhance biodiversity and improve access to nature and green space. Community involvement will be a key aspect throughout the project.
It aims to improve the wellbeing and involvement of disadvantaged communities as well as protecting the area's natural heritage which has been impacted by increased demand on greenspaces, particularly exacerbated by the recent pandemic lockdowns.
District Council Leader Councillor Garry Purdy said: "We will be creating a resource for all of Matlock, connecting the communities of Hurst Farm, Asker Lane, Lumsdale and Tansley. All these communities are connected by their use and care for the woodland surrounding Hurst Farm and Lumsdale Valley.
"It will make local heritage and natural heritage accessible and better known within these communities, but also means the natural heritage and the old stone footpaths will be better maintained and protected, safeguarding them for the future."
You can read more about the project via this link.
---
Housing Insights from RSN
RSN Member Insights is the place to discover the statistics that define communities within membership of the Rural Services Network (RSN). It is regularly updated with new analyses, and these will be highlighted in the 'What's New' section of the RSN's Weekly Rural Bulletin. The Rural Bulletin also provides a selection of the most rurally topical news items, so do subscribe and encourage your colleagues to subscribe to what is an invaluable weekly periodical.
Updated Housing Insights and other housing related analyses can be accessed via this link.
To make a suggestion of data that would benefit you by being included in the Member Insights section, please email Dan Worth, RSN's Research and Performance Analyst, at dan.worth@sparse.gov.uk
---
Keep Calm and Join Up!
RSN exists to enable the issues facing the rural areas of England to be identified, information and good practice to be shared and government to be challenged to address the needs and build on the opportunities which abound in rural areas.
If you know a rural housing organisation that would benefit from membership, please ask them to consider joining us. RSN is a solely rural focussed organisation with an electronic distribution network in excess of 25,000 individuals. We reach right across all the rural areas of England and provide a sustained and respected voice for rural areas at national level. Anyone who wants to talk to us about our role and services in relation to rural housing should contact Andy Dean to find out more.
If you are a small housing organisation operating in rural England, you can have access to all the services of RSN for an annual subscription from just £255 plus VAT. RSN exists to share information, promote good practice and represent the voice of rural England at a national level. Check out the website for more information or contact Andy Dean to join up.