A quarterly bulletin facilitated by your membership of the Rural Services Network and produced in partnership with the Rural Housing Alliance, highlighting a selection of current rural housing issues and opportunities

Rural Conference 2019 booking open
RSN's annual conference this year takes place on 3 and 4 September in Cheltenham. The conference has grown in stature and popularity over a number of years and this year will focus on the theme of 'Creating Vibrant Rural Communities.'
There will be a strong affordable housing element with former Rural Housing Alliance chair, Peter Moore, addressing the main conference and workshops delivered by national rural housing leaders, Derbyshire Dales District Council and Hastoe Housing.
There will be a keynote address by Lord Foster of Bath, chair of the Lords Select Committee on the Rural Economy and lots of opportunities for excellent networking.
To book your place follow this link.
---
Rural Housing Week celebrated in Warwickshire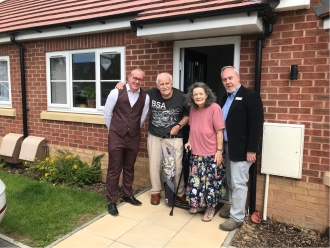 Warwickshire Rural Housing Association (WRHA)'s first homes in North Warwickshire have been showcased during Rural Housing Week 2019.
Derrick Dyas, Chairman of WRHA, Paul Roberts, Housing Strategy and Development Officer at North Warwickshire Borough Council and James Cassidy, Director at Cassidy Group UK, called in on the first tenants to benefit from WRHA's expansion into the borough.
Currently celebrating 30 years of providing local affordable homes specifically for local people, WRHA is continuously looking to move into new areas of Warwickshire where there is a shortage of affordable homes in rural communities. With the help of funding from North Warwickshire Borough Council, WRHA was able to take ownership, earlier this year, of two affordable bungalows on the new Corley Gardens development, developed by Cassidy Group UK. The properties have already made a big difference to the new residents.
Geoffrey Pears says: "My wife Barbara and I have lived in a bungalow in Corley for a number of years now but, unfortunately, we had no option but to look for somewhere else when our landlord decided to sell. It was very important for us to find another bungalow, as I'm 90 years old and Barbara is 84 and neither of us could possibly manage a house with stairs. We didn't really know what we were going to do until WRHA came along. We are very grateful indeed to have been offered an ideal affordable property in the village we know so well."
Mr and Mrs Pears took the opportunity to show representatives from WRHA and North Warwickshire Borough Council around their brand new bungalow during a week of celebrations to mark national Rural Housing Week.
With the theme 'Building for Rural Communities', Rural Housing Week aims to shine a spotlight on successful developments that offer a lifeline to local people in rural towns and villages, and to reinforce the message that housing is vital for the survival of rural communities and services.
---
Distinctively Local report published
Sub-titled, 'How to boost supply by creating beautiful and popular homes and places,' a new report has been published by 4 leading UK residential architectural practices, inspired by the Housing minister Kit Malthouse, who challenged architects to create great homes and communities.
Writing in the report's foreword, Lord Taylor of Goss Moor says: "The UK has a great tradition of architects as visionary placemakers not just facade tweakers. To believe we can't deliver great places and wonderful homes is clearly wrong. As this report illustrates, the tradition of 'great homes and great placemaking' has not been lost. The challenge is to rediscover the belief in doing it right more often, and understand the thinking that goes into this - and fire the imagination and will to do more."
You can read the report via this link.
---
Golden Brick event marks new Gloucestershire affordable development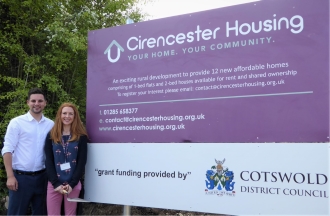 Cirencester Housing has held a Golden Brick event to celebrate the construction of their newest rural development at Churnbridge Row, North Cerney near Cirencester. The event highlighted the importance of collaborative working to deliver affordable homes in rural and village locations. Recently elected leader of Cotswold District Council, Joe Harris, was on hand to express his desire to support the delivery of more affordable homes in rural communities with the District.
A total of 12 affordable homes will be provided on the site – 10 for affordable rent and 2 for shared ownership – all of which will be prioritised for people with a local connection.
Maureen Margrie, Cirencester Housing's Chief Executive, explained: "Cirencester Housing, as a not-for-profit housing association, builds small numbers of community-focussed and affordable homes in villages and rural areas. We are committed to helping people stay in their local area, ensure that homes are always affordable and keep rural communities together. We are delighted to be building new homes in North Cerney and we will continue to manage these homes once they have been built, for many years to come."
---
Traditional maypole celebration for new affordable homes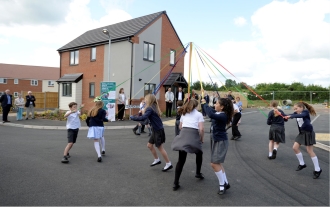 Families at Northamptonshire Rural Housing Association's new development in Walgrave enjoyed a traditional spring celebration to mark the completion of a new community-led affordable housing development.
Year 6 pupils from Walgrave Primary School treated residents and representatives from key partners including local developer Whiterock Homes, Orbit, Daventry District Council and Walgrave Parish Council, to a colourful display of maypole dancing, followed by coffee and cakes and an opportunity to view one of the brand new homes.
The community event celebrated the completion of the 10 new homes at Gamekeepers Way and Pheasant Drive in the village, with six for affordable rent and four homes for local market sale. This is the first cross-subsidy scheme of its kind in the Daventry area, where any surpluses generated from the four homes for local market sale are being used to subsidise the six affordable properties.
The homes have all been built for people with a local connection to Walgrave, either through home or work. They were completed earlier this year adjacent to NRHA's hugely successful initial development of 11 affordable properties at Poachers Close.
Funding was awarded by Daventry District Council after the scheme was identified as meeting local housing need.
Resident Kevin Boulton, who has moved into one of properties for affordable rent with his partner, Latesha, and their three young children, says the development has enabled the couple to raise their family in the village where Kevin himself grew up and where they have many family and friends. The couple had worried that property prices in the area would force them out of the village they know and love.
Kevin says: "We were living in a nice house in Walgrave but it was only two bedroom and we felt we needed to look for something a bit bigger as our family grew. Staying in Walgrave was critical for us as we have a huge support network here. When we were offered one of the properties for affordable rent, we were absolutely delighted. We've got a really nice garden, plenty of living space and three bedrooms, which will be just right for us all. We really love it here."
Richard Mugglestone, Company Secretary of Northamptonshire Rural Housing Association, commented: "We're delighted to have brought these much-needed affordable local homes for local people to Walgrave. Our Spring event led by Walgrave pupils proved a fitting celebration for this real community development."
---
The public policy challenges of ageing towns and villages
Based on an analysis of census statistics from 1981, 1991, 2001 and 2011, the Centre for Towns has published a report which demonstrates that whilst out cities are getting younger, the population profiles of our towns and villages are ageing rapidly.
The report, 'The Ageing of our Towns,' states: "These effects mean there will be significant challenges in public policy. We are going to need to adapt our housing stock, transport needs, healthcare services, and educational institutions to name just four huge immediate requirements of an ageing population."
The report identifies that around three-quarters of the increase in 45 to 64-year olds and over 65s between 1981 and 2011 took place in villages, communities, small and medium sized towns. Over the same period, Core Cities and large towns saw large increases in the numbers of 25 to 44-year olds. Around eighty per cent of the growth in 25 to 44-year olds has taken place in large towns and core cities.
These disparities are expected to continue posing major challenges for public policy on all fronts.
You can read the full report via this link.
---
Rural Exception Site scheme opened by Princess Royal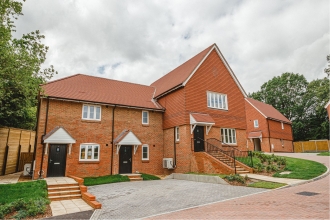 HRH The Princess Royal visited Magdalene Rise, Bolney, Sussex in July 2019 to officially open English Rural's new affordable housing development. Building work on the 12 new homes at Magdalene Rise has recently been completed and provides a mix of houses and flats that benefits local people.
The homes have been achieved through a community partnership between Bolney Parish Council, Mid-Sussex District Council, Action in Rural Sussex and English Rural. The land for the current site was made available by a local farming family with long-standing connections and involvement in the community.
The development provides much-needed affordable homes for local people. Like many rural areas, villages in Sussex have been affected by higher than average property values and lower than average wages, making it unaffordable for many local households to remain within their home communities close to family and support networks.
The homes have been made available at an affordable rent, and planning restrictions have ensured that local people with a connection to Bolney will always take priority as residents.
Commenting on the visit, Martin Collett, English Rural's Chief Executive said: "We are pleased that Her Royal Highness, The Princess Royal visited our latest development in Sussex, where we are committed to working with Parish and District Councils. The visit helped to promote the value that small affordable housing developments can bring to villages like Bolney, providing well-designed homes in partnership with and for the benefit of the community. Affordable rural developments provide a secure and safe place for local people to live, in the communities they serve and support. The new affordable homes in Bolney will play an important role in safeguarding a vibrant, active and working village that includes a mixture of age groups and income earners."
The homes at Magdalene Rise were built by Borrowdale Construction Homes Ltd. Funding has been provided by English Rural with grant also made available by Homes England. The homes will be owned and managed by English Rural and can never be sold on the open market.
The new homes have been designed to be attractive, spacious and comfortable. Good insulation and Air Source Heat Pump technology provide affordable heating and hot water for residents, reducing energy use and keeping fuel bills low.
---
Eggcellent celebration for new village play area
Families at Warwickshire Rural Housing Association's new development in Long Compton enjoyed an eggcellent celebration to mark the completion of a brand new play area in the village.
Youngsters joined representatives from WRHA, developer Heyford Homes and members of Long Compton Parish Council in a fun egg hunt at the new play area on the development, followed by home-baked cakes and hot cross buns.
WRHA completed Weston Court, a scheme of five much-needed affordable homes specifically for local people, and four for Local Market sale, in the village last Summer. It proved a truly community led project from start to finish with the Parish Council shaping the entire development and giving its full support throughout.
As part of the development, WRHA provided funding to the Parish Council to create a wooden play area on the site so that youngsters no longer have to travel across Long Compton to reach the village's only play area.
Derrick Dyas, Chairman of Warwickshire Rural Housing Association, commented: "Our aim is to help local rural communities, such as Long Compton, to thrive. This year we're celebrating 30 years of providing local homes for local people where they are most needed in Warwickshire's villages. We're pleased we've enabled this new play area to be completed in the village as part of our new development and we hope it will be enjoyed by families for many years to come."
Weston Court is the first completed scheme borne out of the Long Compton Neighbourhood Plan which aims to give local people more say in the future of where they live.
---
Hastoe and CLT work hand-in-hand to deliver homes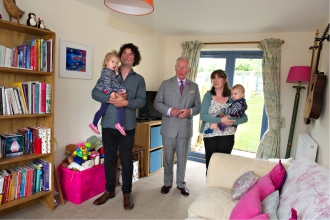 HRH Prince Charles recently visited Hastoe's new development in Powerstock, Dorset.
He toured the scheme of eight homes for affordable rent, all of which are prioritised for people who live or work in the village. The Prince entered two of the homes and spoke to residents about the positive effect of the new homes on the village.
Hastoe has worked hand in hand with the local Community Land Trust to make the new development a reality. The Community Land Trust (CLT) was formed 7 years ago and received support from the local Crutchley Estate who sold the CLT the Land for £1. Hastoe developed the site, with support from contractors, Classic Builders, and the homes will remain affordable for local people in perpetuity.
Powerstock is in an area of outstanding natural beauty, and a conservation area. With a number of second homes in this pretty village the community understood the need for affordable housing to serve the community and identified Forge Orchard as an area that had fallen into disuse having been a forge, then garage, and more latterly the forgotten end of a builder's yard.
All homes are allocated for affordable rent and have facilitated allocations form the local Parish with tenants of all ages. The new 1 bed bungalow is occupied by a retired couple who have lived in the village for 35 years and have moved out of a four bed house. Another family have local links with relatives working on the nearby Melplash Estate at Maperton Manor and wanted to live locally, and without this development had been priced out of the area.
---
Affordable Housing Commission gathers evidence
The Smith Institute, with the support of the Nationwide Foundation, have established an independent Affordable Housing Commission (AHC). The Commission is chaired by Lord Best, with 15 commissioners from across the housing world.
The Commission states: "Many households on average incomes face rising housing costs. Yet housing affordability is poorly understood, and policy makers and politicians have struggled to find any lasting solutions."
The Commission has been gathering evidence from many quarters and intends to produce a series of blogs, papers and reports on housing affordability.
You can find out more about its work here.
---
Housing Association helps raise dementia awareness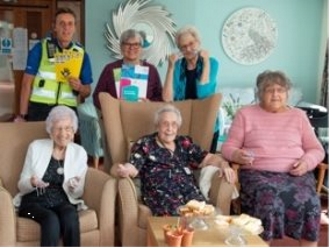 By sharing a joke, telling a story or demonstrating a skill, residents of a Stafford and Rural Homes (SARH) independent living scheme have been tackling an issue that's an increasing concern for many older people.
As part of a series of events to mark the recent Dementia Action Week, SARH customers at Jubilee Court in Stafford were invited to a Bring and Share session at the popular 'extra care' scheme. Over coffee and tea, they were able to share some of their life experiences or simply entertain their friends.
Elaine Tomlinson, SARH Extra Care Manager, explained: "In keeping with the theme of Dementia Action Week - 'Inclusion' - those taking part also had the opportunity enjoy a range of activities including making crochet flowers and decorating cakes. They were also joined by local Police Community Support Officers who offered advice on staying safe in the community. There was also plenty of information on hand about support for those living with dementia, which noted the importance of talking about and sharing problems and anxieties, and ways of making the most of life too. The highlight though was hearing from our customers, who told stories and talked about their lives and experiences."
Karen Armitage, SARH Chief Executive, added: "We know the fantastic contribution older people make to our local community and it was wonderful to hear about their skills and experience in such an informal and friendly setting. More importantly, it gave SARH the opportunity to show them that, by sharing their worries, help is available, and a problem shared is a problem halved!"
---
New affordable homes afoot in Northamptonshire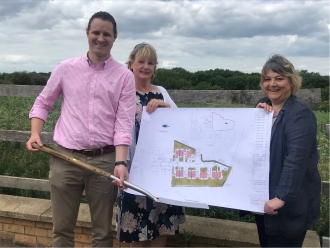 During Rural Housing Week, the board of Northamptonshire Rural Housing Association (NRHA) visited Nassington and Brigstock where work is due to start on site later this year.
At Nassington NRHA will be starting work this year on the third phase of its small rural scheme. Nine additional homes will be built to meet the ongoing need for local homes for local people. NRHA is working on the scheme in partnership with Northamptonshire housebuilder, Snowdon Homes, with the full support of the local community.
At Brigstock, Board members were shown where six new homes are planned, with one for affordable rent and five for shared ownership. The affordable properties will help prevent people from being priced out of the village they know and love.
NRHA Company Secretary, Richard Mugglestone, commented: "We are committed to providing affordable homes for local people and families who would not otherwise be able to afford to live within their own communities. Rural Housing Week was the perfect opportunity for our Board members to view the progress of some of our latest schemes and to hear about the huge difference they will make to people in our local communities."
---
New homes developed with Stratford-on-Avon Council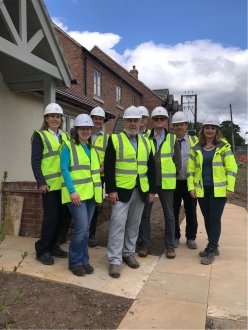 With funding from Stratford-on-Avon District Council, seven homes for affordable rent have been developed by Warwickshire Rural Housing Association in the village of Great Alne, with a mix of two, three and four bedroom houses, plus two bungalows, to meet local need. The scheme has been built specifically for local people so they can afford to continue living in the village.
Salter's Oak is a truly local scheme, developed by Linfoot Country Homes who are based in Great Alne themselves. All the properties have been carefully designed to be in keeping with their rural surroundings, with open landscaped spaces and a wetland area on the scheme, plus many indigenous trees and shrubs.
Chairman of Warwickshire Rural Housing Association, Derrick Dyas commented: "The new affordable homes will make a big difference to local people who are being forced out of the village due to rising house prices.
"We're currently looking for people to join the Board of WRHA to ensure the Association continues to move in the right direction. Anyone who would like to strategically guide the work of WRHA should get in touch."
---
Funding for Community-led Housing
Together with the Confederation of Co-operative Housing, Locality and UK Cohousing, the National Community Land Trust Network have created 'Community Led Homes' to support their mission of making community led housing a mainstream housing option.
Community Led Homes will provide training, funding and practical support to community led housing groups, councils and developers. This includes a summary of various forms of funding available which you can view on their website.


Keep Calm and Join Up!
RSN exists to enable the issues facing the rural areas of England to be identified, information and good practice to be shared and government to be challenged to address the needs and build on the opportunities which abound in rural areas.
If you know a rural housing organisation that would benefit from membership, please ask them to consider joining us. RSN is a solely rural focussed organisation with an electronic distribution network in excess of 25,000 individuals. We reach right across all the rural areas of England and provide a sustained and respected voice for rural areas at national level. Anyone who wants to talk to us about our role and services in relation to rural housing should contact Andy Dean to find out more.
If you are a small housing organisation operating in rural England, you can have access to all the services of RSN for an annual subscription from just £250 plus VAT. RSN exists to share information, promote good practice and represent the voice of rural England at a national level. Check out our website for more information or contact Andy Dean to join up.