A quarterly bulletin facilitated by your membership of the Rural Services Network and produced in partnership with the Rural Housing Alliance, highlighting a selection of current rural housing issues and opportunities


Rural Housing Week 2022 – dates announced
Rural Housing Week is an annual campaign which showcases the fantastic work that housing associations do in rural communities. A focussed media campaign, along with events at national and local levels, help shine a light on some of the big rural housing issues – and solutions.
Rural Housing Week 2022 will take place from 4th to 8th July. Put the dates in your diary and watch out for more information from the National Housing Federation.
---
Research to investigate how unlocking small sites can fix the rural affordable housing crisis
David Barrowcliff of English Rural Housing Association writes:
"English Rural, a leading specialist rural housing association, has teamed up with researchers from University College London (UCL) to investigate how unlocking small plots of under-utilised land can help fix the housing crisis in rural England. The research will use a variety of research methods and case-studies to investigate how local communities, government and particularly landowners can play their part in addressing the issue.
"In the last five years, house prices in rural areas have risen by 21% and are rising twice as fast as urban areas. With 17% of English households living in the countryside and an increase in demand for living in rural areas post-COVID, there is considerable pressure for more rural housing to be built. Because of the shortage of genuinely affordable homes, many people are forced to move away from their families, support networks and places of work to the detriment of local community and services.
"The 12-month collaboration, funded by the Higher Education Innovation Fund (HEIF), will focus on the policies designed to enable affordable rural housing developments and lack of available land as a critical barrier to progressing small-scale affordable housing schemes in rural areas. Given the challenge that securing land can represent, the role that landowners can play and the incentives and innovations that can help deliver affordable rural homes will also be examined. Working closely with English Rural, the UCL team will undertake local case studies of project delivery and explore the implications of the changing policy and funding environment for rural housing associations. The goal is to identify what works best and to help the rural housing sector adapt to the shifting sands of planning and housing policy."
You can read more via this link.
---
Affordable homes under construction on Dartmoor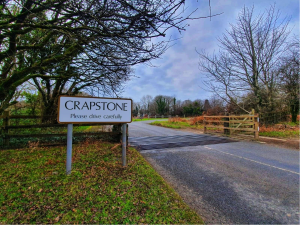 Willow Tree Housing Partnership (WTHP) are excited to announce a new scheme of eight affordable homes on the edge of the village of Crapstone, within Dartmoor National Park. The scheme will include six affordable rent and two shared ownership homes, a much needed mix to meet the demand of the local area, and also includes 13 open market homes.
Karen Walker of Willow Tree said: "WTHP is dedicated to helping those in the rural low income areas to access homes that would otherwise be beyond their means and these homes will play a fundamental part in achieving this. Working to an anticipated completion date of December 2022, we are aiming to have residents in their new homes by Christmas."
The shared ownership homes will be marketed through Lang Town and Country and will be launched in the Spring. The rented homes will be advertised on Devon Home Choice and interested parties should also register an interest with Willow Tree on 01934 750780.
Through a collaboration with Classic Builders and West Devon Borough Council, Willow Tree Housing Partnership are utilising the fabric first approach to create these high standard homes, which are affordable to rent as well as run and will include EV charging points.
---
The role of housing in strengthening the rural economy
On 3rd March, the CLA published a new report entitled: 'Sustainable Communities: the role of housing in strengthening the rural economy.'
The report aims to explore how many communities across rural England and Wales are struggling with a lack of housing stock.
The CLA state that they are: "campaigning for a pragmatic approach to housebuilding in rural areas. Many villages could benefit enormously from small scale developments, providing affordable homes to local people and, as a consequence, strengthening the fabric of the local economy and community."
The report identifies 5 recommendations in order to create sustainable communities and strengthen the rural economy through housing:
The National Planning Policy Framework (NPPF) must return to a policy which promotes organic incremental growth in settlements of fewer than 3000 inhabitants, which would lead to a small number of houses in a larger number of settlements.
Local authority sustainability assessments Should be reformed, to place greater emphasis on digital connectivity in recognition of the services that can be accessed online; and to assess which services could be supported if development were enabled.
Local planning authorities should be mandated to undertake a housing needs assessment across all rural settlements without a housing allocation so that identified local need can be met at a local level.
Permitted development rights should be introduced for new-build affordable housing for discounted rent on rural exception sites.
Conditional exemption from inheritance tax should be expanded to affordable rented housing for the period the homes remain let as such.
You can read the full report via this link.
---
Regional webinar to highlight the value of rural affordable homes
English Rural Housing Association is holding a series of regional webinars, focussing on how affordable rural housing changes lives and communities. This third session will have a particular focus on North/East Hertfordshire and takes place on Thursday 21st April.
The sessions will feature a range of speakers who will talk about the benefits of affordable rural housing from their own perspective including Local Authorities, Parish Councils, landowners and residents. The sessions aim to demonstrate:
How communities benefit from affordable rural housing
That homes are small-scale, sympathetically designed and developed in partnership with the local community
Why affordable housing is vital to future generations living in the village
Why it's important for landowners to be part of the process
How Parish Councils can play a vital role to getting homes built
How Local Authorities play a part in making things happen
How affordable rural housing changes lives
To find out more and to register for the next session, please follow this link.
---
Solar panels, battery storage, EV charging all included in Lake District homes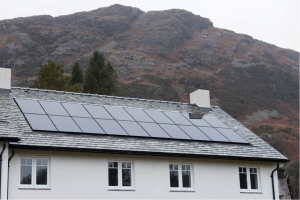 Nestled among the rolling heathered hills of the Lake District, is one of the most stunning affordable housing schemes in the country.
Castles & Coasts Housing Association – which has more than 7,000 properties across the North of England - appointed Cubby Construction to build this Homes England-backed development, to deliver seven, high-quality, two- and three-bedroom homes in Coniston.
The small development has delivered attractive and sustainable new affordable homes for the village, standing at the heart of the Lake District National Park.
The location did present several challenges however, which were overcome by designers and construction partners.
Ground investigations identified the presence of bedrock just below ground level, so floor levels were adjusted to reduce the impact of excessive excavations. The scheme also exceeded the Lake District National Park Authority planning policy requiring a minimum 10% offset of the predicted carbon emissions with low or zero carbon technology. An offset of close to 40% was achieved through the addition of solar PV panels to roofs, alongside battery storage and electric vehicle charging points.
The properties are provided at a social rent to local people in housing need who also qualify under the associated Local Connection Criteria, delivering a welcome boost to an area where social housing is scarce. The development forms part of Castles & Coasts target to build 120 new homes each year across Cumbria and the North East.
Stephanie Murphy, chief executive of Castles & Coasts Housing Association, said: "We know that across the National Park in particular, there is much to do to ensure that social housing is more readily available to support a range of families, so schemes like this are vitally important if we're to ensure people are not forced out of the area.
"It's fantastic to work with a local company to build these beautiful homes that deliver real added value to the area, creating not just housing, but opportunities and supporting jobs for local people and companies."
Caroline Cormack, head of provider management at Homes England, said: "Despite the current challenges affecting the country, supporting new housing remains our number one priority. We will continue to do business with partners like Castles & Coasts, who are committed to building vital new homes."
---
Second Passivhaus scheme for Warwickshire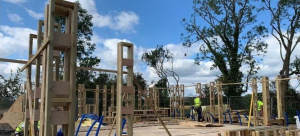 Seven affordable homes, a mix of houses, bungalows and maisonettes, are nearing completion in the village of Bearley.
Led by Warwickshire Rural Housing Association (WRHA) and built in partnership with Orbit, J Harper and New Meaning, the homes will provide homes for local people.
Due to be completed in July 2022, the homes are the realisation of a 20-year dream for the village. They will be available for social rent and only offered to people with a connection to the village, enabling local people to stay in, or return to, Bearley.
The need for these affordable homes was identified back in 2001 in the village's first plan. The plan found that "the majority of the village would like it to develop as a family community with affordable housing to keep the younger generation in the village".
The homes will be built using the Beattie Passivhaus system - an advanced low energy construction standard. With a simple timber framework, sandwiching high performance insulation, this system uses considerably less carbon dioxide than standard masonry construction. The windows will be triple glazed and, in combination with the insulated superstructure, make the homes completely draught free. This effectively eliminates heat loss and creates buildings with very low environmental impact.
Each super-insulated home will have solar panels and an air source hot water and heating system, keeping energy bills low. There's also the added benefits of improved air quality and a very quiet indoor environment. Vehicle charging points will also be included to allow residents to charge electrical vehicles in the future.
WRHA are building on the success of their first affordable Passivhaus development in Wootton Wawen, Warwickshire where residents moved into their new homes in 2018 and are reaping the benefits of significantly reduced energy bills.
WRHA are proud to be working with New Meaning, a social enterprise education provision, on this development. New Meaning provide training and support for students who left school with few to no qualifications and have helped over 138 young people start a career in construction. The team will be managing the construction of the superstructures.
For more information on this fantastic scheme, follow this link.
---
Community ownership and affordable homes in Surrey village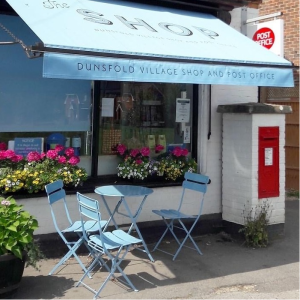 In 2011 Dunsfold's village shop came up for sale and failed to sell. Amid fears the village might lose its shop altogether its Parish Council sprang into action and the Dunsfold Community Shop Association was created. Discussions took place, locals were rallied and consultations undertaken. The volunteer committee raised a fantastic amount of money via grants from Plunkett Foundation, Surrey Community Action, Surrey County Council and its Parish Council plus a linked loan from the Co-op. When community shares went on sale £200,000 was raised to buy the shop and now this award-winning business, that loves to support its locals, is celebrating over 10 years of successful trading.
Today the shop operates with a paid manager, five part-time employees and a band of 25 local volunteers – each taking a shift to ensure the shop remains open for all. It provides a place to meet, essential goods, local employment, training and volunteering opportunities and much-needed support to its residents – never more so than during the pandemic.
This inspirational shop and the community spirit that founded it has inspired other equally positive moves, including the small development of eight affordable homes tied to providing houses for locals connected to the village, forever.
Like many rural villages, Dunsfold's residents suffered from high house prices and lower-than average wages making it unaffordable for many local people and their families to remain within their community. Working with the local community, the Parish Council and Waverley Borough Council, English Rural Housing Association, a not-for-profit organisation, created a mix of flats and houses for affordable rent and two houses for local sale. Planning restrictions on the homes ensure they will always remain affordable and local people with a connection to Dunsfold will always take priority as residents.
Martin Collett, Chief Executive of English Rural, explains further: "In a region where house values are 23 times the average local income – Dunsfold needed homes that were affordable to local people living, working in, or with close family connections to the village. These small-scale affordable homes play a vital role in safeguarding a vibrant, active and working village that includes a mixture of age groups and workers. This is English Rural's third development in Dunsfold – the first being nearly 30 years ago. We are always thrilled when villages invite us back. This not only highlights the continuing need for affordable homes but demonstrates the trust they have in English Rural."
---
Cost of living crisis will push more into rural poverty
New research discussed by the Centre for Rural Economy at Newcastle University shows that many rural households already experiencing poverty and financial vulnerability in Britain will be hardest hit by increases in energy costs.
The new measures announced by the Chancellor will still leave many more rural households in fuel poverty.
Whilst rural areas are often imagined to be less prone to poverty, research by the Financial Conduct Authority showed that 54% of rural dwellers were financially vulnerable in 2018, and analysis of the British Household Panel Survey found that in the two decades before the financial crisis 50% of households in rural Britain experienced poverty at some point.
The Centre for Rural Economy's 2021 Rural Lives study explored hidden poverty and financial vulnerability in rural Britain more deeply, finding that many rural dwellers face fuel poverty, higher costs of living, insecure employment and lack of access to services as these are centralised and digitalized. The state's welfare systems are poorly adapted to rural circumstances, with lower rates of benefit take-up and additional obstacles to those in towns.
Fuel poverty is particularly prevalent in rural areas because many properties are not connected to mains gas, therefore having to rely on more expensive and less regulated sources such as oil and LPG or less efficient electric heating systems. Houses tend to be older and poorly insulated, and difficult and costly to retrofit with insulation. Furthermore, poor households in rural areas are more likely to live in private rented houses, than in urban areas where social housing is more available. On top of this, rural households incur higher transport costs in travelling to access services and employment, often with no public transport available.
The full article from the Centre for Rural economy can be found here.
---
Parish Council Guide to rural affordable housing just a click away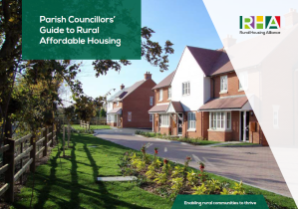 The new Parish Councillors' Guide to Rural Affordable Housing is packed full of useful information about all stages of the affordable housing process, the organisations involved, funding and other matters. Produced by the Rural Housing Alliance, the Guide aims to demystify the process of getting rural affordable homes provided in rural communities and is available for free via this link.
---
Housing Insights from RSN
RSN Member Insights is the place to discover the statistics that define communities within membership of the Rural Services Network (RSN). It is regularly updated with new analyses, and these will be highlighted in the 'What's New' section of the RSN's Weekly Rural Bulletin. The Rural Bulletin also provides a selection of the most rurally topical news items, so do subscribe and encourage your colleagues to subscribe to what is an invaluable weekly periodical.
Updated Housing Insights and other housing related analyses can be accessed via this link.
To make a suggestion of data that would benefit you by being included in the Member Insights section, please email Dan Worth, RSN's Research and Performance Analyst, at dan.worth@sparse.gov.uk
---
Keep Calm and Join Up!
RSN exists to enable the issues facing the rural areas of England to be identified, information and good practice to be shared and government to be challenged to address the needs and build on the opportunities which abound in rural areas.
If you know a rural housing organisation that would benefit from membership, please ask them to consider joining us. RSN is a solely rural focussed organisation with an electronic distribution network in excess of 25,000 individuals. We reach right across all the rural areas of England and provide a sustained and respected voice for rural areas at national level. Anyone who wants to talk to us about our role and services in relation to rural housing should contact Andy Dean to find out more.
If you are a small housing organisation operating in rural England, you can have access to all the services of RSN for an annual subscription from just £255 plus VAT. RSN exists to share information, promote good practice and represent the voice of rural England at a national level. Check out the website for more information or contact Andy Dean to join up.