A quarterly bulletin facilitated by your membership of the Rural Services Network and produced in partnership with the Rural Housing Alliance, highlighting a selection of current rural housing issues and opportunities

Housing Association response to coronavirus
The National Housing Federation is providing regular updates in relation to the current covid-19 crisis in relation to Housing Associations. They state:
"Housing associations are working closely with residents, local government, the NHS and others to respond to the coronavirus crisis. We welcome the vital steps the government have taken so far to support individuals and businesses.
"Housing associations' priorities over the following days and weeks are:
Keeping residents safe by ensuring critical safety functions can continue.
Protecting residents' income and livelihoods by halting evictions for anyone with rent arrears caused by the crisis and putting in place extensive support for everyone affected.
Keeping vital services running, including care and support schemes to protect the most vulnerable and ease pressure on the NHS.
Supporting communities to come together to address the crisis and helping suppliers and contractors to continue their important work."
A briefing which provides further details on these four priorities along with a range of other resources is available via the Federation website.
---
Coronavirus guidance for local government
The government has published guidance for local councils during the coronavirus (COVID-19) outbreak, most recently updated on 11 April. This covers a range of areas including housing, homelessness and rough sleeping services. You can access this information via this link.
In addition, the Local Government Association (LGA) has set up web pages dedicated to covid-19. On these pages, you will be able to find the latest official information, as well as guidance and resources from the LGA and their key partners. You can access these pages via this link.
---
Rural communities are vital – now more than ever
In a blog for the National Housing Federation, Martin Collett, chief executive at English Rural Housing Association, writes:
"The response to coronavirus in rural communities has been exceptional, with residents coming together in unprecedented circumstances to help and protect each other.
"Over the last few weeks, all of us working in the housing association sector have joined the communities and households we serve on the frontline in the fight against coronavirus. The well-rehearsed case for supporting new affordable rural housing is that we build homes for essential workers on low incomes, we support traders working in the local economy, we keep family and support networks together, and we provide services for people who need extra support to live independently.
"This is not always a message that lands well or one in which everyone has seen value – but the importance of why we do this is now clearer than ever. New rural housing keeps communities alive, and now those communities are supporting people in our country's hour of need.
"Without the homes we have built through local partnerships, many nurses, teachers, carers, engineers, delivery drivers, farmers and all other essential workers would not be living in their local rural community. They would not have a safe and affordable home. Rural communities would be lacking at this most critical time.
"Rural housing residents have continued to inspire staff here at English Rural. We've heard countless stories of people rallying to support vulnerable neighbours, collecting shopping, medicine or simply making sure people don't feel lonely. Residents have been leading local community support groups and, importantly, residents have been helping family and friends in need."
You can read the full blog via this link.
---
Local responses to covid-19
RSN asked its members for examples of rural communities pulling together and have been inundated with responses so far! RSN are going to feature 10 each week, as they are received, including some fabulous examples to date.
Despite the incredible situation we are living in, communities are clearly coming together in amazing ways to support each other.
You can read more via this link.
---
Self-build plots to subsidise affordable units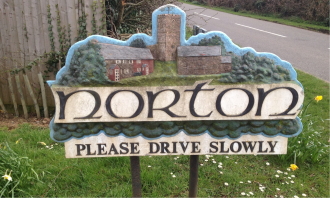 Northamptonshire Rural Housing Association (NRHA) is breaking new ground with an innovative affordable housing pilot project planned for Norton near Daventry.
Working in partnership with Norton Parish Council, Snowdon Homes and Orbit Homes, NRHA has submitted a planning application for a scheme comprising eight affordable homes, two properties for local market sale and two, four-bedroom self-build plots.
Offering self-build plots is a new venture for NRHA. Following the introduction of the Self-build and Custom Housebuilding Act 2015, all local authorities must now research demand for self-build plots in their area. When Daventry District Council identified a local need, NRHA agreed to work with them to offer plots within their new affordable housing scheme in Norton.
NRHA will provide a serviced plot with secure outline planning for a four-bedroom footprint. The buyer then has the freedom to submit a detailed planning application for a design which meets their specific needs.
Surpluses generated from the sale of the self-build plots and the local market homes will be used to subside the eight affordable properties which will only be offered to local people with a connection to Norton.
NRHA has carefully designed the scheme hand-in-hand with the Parish Council to ensure the plans are fully in keeping with its Neighbourhood Development Plan (NDP).
As the village doesn't currently have an open space where older children can meet, NRHA has agreed to gift the Parish Council an area of land within the scheme for ball games and socialising.
Richard Mugglestone, Company Secretary of NRHA commented: "We are excited that our ground-breaking plans for Norton are starting to become a reality. We have been working with the Parish Council for three years to get to this stage. Although the scheme is small, we know that it will make a big difference to local people who cannot afford to continue living in the village they know and love."
It is hoped that work will start on site in Norton in Spring 2021.
---
Government consultation on First Homes extended
The government consultation seeking views on First Homes for local people, considering both the design of this policy and options for its implementation, has been extended. The closing date for responses is now 1 May 2020.
The consultation covers the following areas:
what First Homes are and who should be eligible for them
how the scheme should work in practice
how to deliver more of these homes through developer contributions
the requirement for delivering these homes through planning or legislation
The Consultation document states: "The Government is committed to making the dream of home ownership a reality for everyone and we recognise that for many this simply feels out of reach." It goes on to state: "We believe that First Homes are a key means of helping local people, especially young first-time buyers, into home ownership and maintaining strong communities."
The First Homes proposals could certainly help to meet the challenge faced by first-time buyers in rural areas. However, it is important to acknowledge that other tenures, in particular social and affordable rent, are also of critical importance to allow many households in need, including key workers, to find a home in their community.
It is also critical to ensure that policies such as those proposed in this consultation are properly 'rural proofed.' This is required by government policy and is set out in specific Defra guidance provided to government departments.
You can read full details regarding the consultation via this link.
---
Designs progress for affordable rural scheme in Kent
English Rural Housing Association, working in partnership with Chiddingstone Parish Council and Sevenoaks District Council are currently developing proposals for local needs affordable homes. The proposal, based on the housing needs survey undertaken by the Rural Housing Enabler from 'Action with Rural Communities in Kent' comprises:
Two 1-bed flats
Two 2-bed flats
Three 2-bed houses
One 3-bed house
A three-bed bungalow and two three-bed houses (one as a custom build property) are also proposed to cross-subsidise the affordable homes.
A public consultation event held at Chiddingstone Causeway Village Hall in February 2020 was well attended with over 60 visitors and several registrations of interest of living in the affordable homes from local people. Further design work is currently progressing.
You can read more via this link.
---
Housing Infrastructure Fund allocations
Grant funding from the Housing Infrastructure Fund has been allocated to local authorities on a competitive basis. In the period from 2018-19 to 2023-24 this is being used to fund physical infrastructure such as roads, community facilities and utilities.
The Fund is divided into 2 streams:
Marginal Viability Funding: available to all single and lower tier local authorities in England – to provide the final or missing piece of infrastructure funding to get additional sites allocated or existing sites unblocked quickly
Forward Funding: available to the uppermost tier of local authorities in England – for a small number of strategic and high-impact infrastructure projects.
You can see all allocations form the fund via this link.
---
Plans for eco homes unveiled in Warwickshire
Warwickshire Rural Housing Association (WRHA) has responded to Stratford-on-Avon District Council's declaration of a 'climate emergency' with plans to build affordable homes which will drastically reduce carbon emissions compared to standard construction.
Last July, the Council announced a climate change emergency, with councillors pledging to take action to contribute to national carbon neutral targets, with an aim to being carbon neutral in the District by 2030.
To help meet this target, WRHA has drawn up plans for an innovative scheme of seven affordable homes in Bearley and planning permission has been agreed subject to the signing of the Section 106 Agreement.
Funding of £485,000 has been secured from Stratford-on-Avon District Council, along with funding from Homes England.
Modern methods of construction will be used for elements of the fabric of the buildings, enabling the homes to be built more quickly with minimum disruption to villagers living nearby.
WRHA will be working to create homes which will be as energy efficient as possible with high levels of thermal insulation, close to Passivhaus standards.
Photovoltaic panels will be used to generate electricity which will power air source heat pumps. The aim is to store the solar energy generated during the day to use at night. All properties will be triple glazed to create exceptionally low energy homes, helping to reduce fuel poverty as well as the residents' carbon footprint.
The scheme of seven affordable homes has been specifically designed to meet local needs with a mix of two and three bedroom houses and bungalows, plus two maisonettes for couples and single people who often struggle to find an affordable home where families take priority. The two bungalows will be built to meet the Lifetime Homes Standard with features including wet rooms so residents can live there for longer.
It is hoped that work will start on site in Bearley later this year, two years after WRHA officially opened its flagship Keyte Gardens development, Warwickshire's first Passivhaus scheme of affordable homes.
For more information please contact Katherine Bradley.
---
Combustible materials consultation extended
The government consultation, "Review of the ban on the use of combustible materials in and on the external walls of buildings," has been extended with a new deadline for responses of 25 May 2020.
This consultation seeks views on the ban of the use of combustible materials in and on external walls of buildings, including building types covered, height threshold, list of exemptions, attachments such as blinds, shutters and awnings, and a proposal to specifically ban the use of metal composite panels in and on the external walls of all buildings.
As part of the review, in June 2019 the government commissioned a study of the impact of the ban which took the form of an online survey issued to 100 relevant organisations. The full analysis of responses to this survey have been published alongside this consultation.
You can read more details via this link.
---
Housing featured in 2020 Rural Vulnerability Day
The 2020 Parliamentary Rural Vulnerability Day, hosted by Rural England CIC, took place in Portcullis House on 10th March 2020.
A new report was launched, looking at the challenges facing 16-18 year olds living in rural areas in accessing appropriate opportunities for education and work based learning. The report also considers the possible implications of accessibility constraints on students' attainment and on social mobility.
In addition, Gavin Jones from Hastoe Group gave a presentation outlining approaches to help young people get the housing they need in rural areas.
You can see this presentation along with all other materials from the day via this link.
---
Rural community energy feasibility funding available
The Rural Community Energy Fund (RCEF) is a £10 million programme which supports rural communities in England to develop renewable energy projects, which provide economic and social benefits to the community.
RCEF provides support to rural communities in 2 stages:
stage 1: grants of up to £40,000 for a feasibility study for a renewable energy project
stage 2: grants of up to £100,000 for business development and planning of feasible schemes
RCEF is being run by 5 regional Local Energy Hubs. If you would like to register your interest for the scheme, or would like further information, please contact the relevant hub for your area. Details are available via this link.
Keep Calm and Join Up!
RSN exists to enable the issues facing the rural areas of England to be identified, information and good practice to be shared and government to be challenged to address the needs and build on the opportunities which abound in rural areas.
If you know a rural housing organisation that would benefit from membership, please ask them to consider joining us. RSN is a solely rural focussed organisation with an electronic distribution network in excess of 25,000 individuals. We reach right across all the rural areas of England and provide a sustained and respected voice for rural areas at national level. Anyone who wants to talk to us about our role and services in relation to rural housing should contact Andy Dean to find out more.
If you are a small housing organisation operating in rural England, you can have access to all the services of RSN for an annual subscription from just £255 plus VAT. RSN exists to share information, promote good practice and represent the voice of rural England at a national level. Check out the website for more information or contact Andy Dean to join up.