This newsletter is provided by the Rural Services Network.
It includes a roundup of rural stories featuring on rural communities and village services.

TV News covered the Post Office's financial results, which showed that it has continued to enjoy profit growth for the second consecutive year. The positive figures were driven by financial services, telecoms and insurance offered by the Post Office, but also by bank branch closures driving people to make use of Post Office services. In 2017 the Post Office secured £370 million of funding from Government to protect village branches.
Trade journal Catering Today reported on the news that the Government has pledged £70,000 to the 'Pub is the Hub' scheme to support rural pubs. According to the Government press release, more than 30 rural communities will benefit from expanded services in pubs including village shops, libraries, post offices and community cafes. Government funding since 2012 for the 'Pub is the Hub' scheme now totals £390,000. Community Pubs Minister, Jake Berry, said: 'Our great British pubs are not only place for local people to get together over a pint, being at the heart of their communities they are perfectly placed to deliver valuable services, especially in rural areas.'
Yorkshire Coast Radio reported on plans by the Chair of North Yorkshire Council to write to the Secretary of State for Business, Energy and Industrial Strategy and the Secretary of State for Environment, Food and Rural Affairs about the impact of bank branch closures on small and medium sized businesses.
The letter will highlight that older people are often disproportionately affected because they do not use internet banking. The move follows a council review of the issue, which also highlighted concerns surrounding the assumption that post offices can fill the gap created by bank closures. The council's Corporate and Partnerships Overview and Scrutiny Committee is in touch with RSN on this issue.
A new opportunity is available for those with good ideas for rural communities to be awarded research travel grants. Applicants with new ideas on how to improve rural life in the UK can now be supported by overseas research grants, available to all UK citizens.
A new category of Churchill Fellowships will be devoted to 'Rural living: strengthening countryside communities'. The fellowships are the result of a partnership between the Winston Churchill Memorial Trust and The Prince's Countryside Fund. It will fund fellowships exploring wide-ranging approaches to a range of rural issues, such as invigorating transport networks, rethinking housing and planning, boosting employment and enterprise, and improving access to education, culture and healthcare.
---
Rural Heart of the Village stories in the NEWS
Local shops in rural communities are greatly valued by their customers, and those that provide what their villages need are thriving. (The Telegraph)
A CHARITY may scrap its Tees Valley-wide community minibus service amid funding and volunteer shortages – just a year after taking delivery of two new buses. (Northern Echo)
Countryside campaigners have warned that potholes may be delaying emergency service vehicles and putting lives at risk. (Banbury Guardian)
A new pilot scheme which sees Essex County Fire and Rescue Service officers give direct safety advice to people and businesses in rural areas has been launched. (East Anglian Daily Times)
More than 250 free-to-use cash machines are disappearing a month as operators shut unprofitable ones, the network co-ordinator Link has said.
There are 53,000 free machines in the UK - but the number is shrinking at a record rate as people use less cash.
Now the Payment Systems Regulator (PSR) is cracking down on the closures and asking for more network protection. (BBC NEWS)
Tim Farron, the Westmorland and Lonsdale MP has urged the government to help all sixth formers access to free school transport, as he has particular concerns about young people living in rural Cumbria getting to college. Free school transport is provided for children up until sixth form age. Mr Farron has said that in communities like Coniston and Sedbergh are often impossible to access sixth forms at schools or colleges by public transport. (NWEMAIL.co.uk)
---

We held our annual Rural Conference in Cheltenham at the start of September by kind permission of the University of Gloucestershire. It was a lively event packed full of expert speakers and organisations who came to share experiences and learning with the delegates. All of the speakers presentations are now available on our website at the link below:

Of particular interest to Rural Communities was the workshop from the Plunkett Foundation. They focused on Supporting Communities to set up a Community Business and it included the delegates watching a video about a Community Shop. It can be viewed at this link
---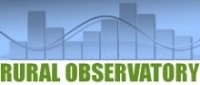 The RSN Observatory provides a statistical overview of rural life. It provides analyses and comment on key service provision and issues affecting rural communities.
It includes information on housing, the economy and local services.
---
Analysis and commentary from the RSN
The average driver in England spends 235 hours driving every year – equivalent to six working weeks – and must concentrate on driving 100% of the time. Connected and Automated Vehicles (CAVs) are changing this, enabling the driver to choose whether they want to be in control or handover the task of driving to the vehicle itself.
While many people take driving for granted, others do not have a driving licence, access to a vehicle or have to give up driving due to ill-health. For these people automated vehicles opens up access to cars. So where do rural dwellers fit in the design, development and deployment of CAVs? Jessica Sellick investigates.
The financial circumstances of huge numbers of rural residents make them potentially vulnerable, finds Brian Wilson.
Last year the Financial Conduct Authority, which is the statutory body that regulates financial services, carried out a Financial Lives Survey. In June of this year (2018) it released a report – The Financial Lives of Consumers Across the UK – offering some geographic analysis of the survey results, including for rural areas. This was a major survey, based on responses from 13,000 adult consumers who provided information about which of 90 financial products they did or didn't hold. It also explored the potential financial vulnerability of those consumers. In some cases the results show notable differences between rural and urban consumers.