22.09.2020
September Edition of Casebook - Health Funding Opportunities from the Rural Health and Care Alliance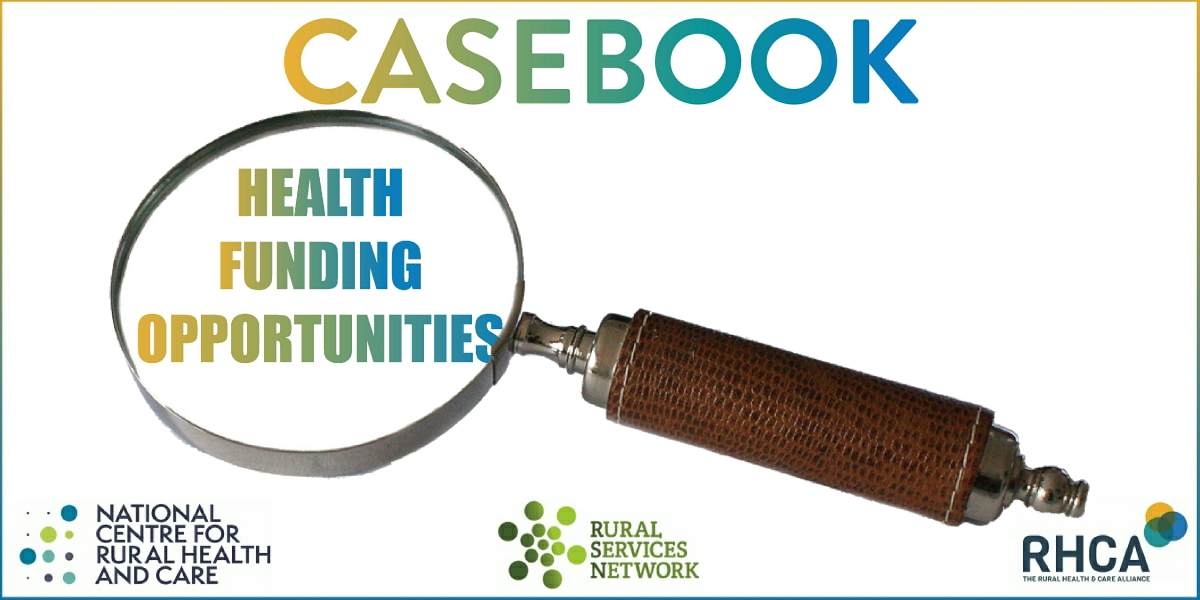 | | |
| --- | --- |
| This month's featured funding opportunities are: | |
This month's featured funding opportunities are:
ISCF Healthy Ageing Challenge Social, Behavioural & Design Research Programme
https://www.ukri.org/funding/funding-opportunities/iscf-healthy-ageing-challenge-social-behavioural-design-research-programme-outline-stage/
UK Research and Innovation (UKRI), via the Economic and Social Research Council (ESRC), is inviting outline proposals for research grants of up to £2 million (at 100% fEC) for a period of up to 36 months.
The Healthy Ageing Social, Behavioural and Design Research Programme (SBDRP) is part of the ISCF Healthy Ageing Challenge portfolio of activities. The SBDRP will provide £9.5m (100% fEC) to fund interdisciplinary academic-led teams to carry out research into social, behavioural and design aspects of healthy ageing. The Programme will contribute to the Challenge mission to, 'ensure that people can enjoy at least five extra healthy, independent, years of life by 2035, while narrowing the gap between the richest and poorest' by enhancing our understanding of the aspirations, preferences and needs of the ageing population. Funded projects may address, but are not limited to, the impacts of the CoVID-19 pandemic on social, behavioural and design aspects of healthy ageing. Projects will also be expected to make a significant contribution to disseminating this knowledge, helping to inform innovators and positively influence market behaviours.
Key areas of interest are to:
meaningfully engage with older people
work with business
address diversity and environments of ageing
address ageing across the life course
accommodate the impacts of COVID-19
work across disciplines to meet the aims of the project
include a compelling and well-designed impact, knowledge exchange and communication strategy
---
Funding to Reduce Social Isolation in Armed Forces Communities
https://www.grantfinder.co.uk/archive/new-funding-to-reduce-social-isolation-in-armed-forces-communities/
Fixed grants of £70,000 are available for projects lasting for two years that tackle loneliness within specific groups of the Armed Forces community who traditionally do not engage with available provision.
Projects need to fit at least one of the following themes:
Building stronger social networks and friendships.
Improving access to local activities and provision.
Building emotional resilience to overcome the causes of loneliness.
Empowering Armed Forces communities to become more independent.
---