A quarterly bulletin facilitated by your membership of the Rural Services Network and produced in partnership with the Rural Housing Alliance, highlighting a selection of current rural housing issues and opportunities

5 Star Plan for Rural Housing update
Martin Collett (Chairman, Rural Housing Alliance) & Monica Burns (Rural Lead, National Housing Federation)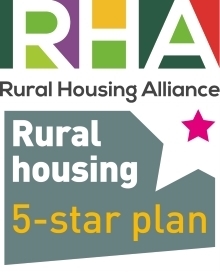 Since launching the 5-star plan for rural housing back in the summer the Rural Housing Alliance, National Housing Federation and all supporters have been working hard to deliver on the shared ambition. We are fast approaching a position where 100 organisations have signed-up to support the Plan, of these around 50 are housing associations. The level of interest, diversity of supporters and growing momentum offers a unique opportunity to make a difference to affordable rural housing delivery, securing a legacy for many years to come. The latest survey of rural housing completions showed that 3,030 affordable homes had been completed in 2016/17 and a further 3,769 had been started. To fully understand the context of this figure we have asked the Homes and Communities Agency to confirm the percentage of overall grant investment that has been allocated to support these developments; based on these initial figures the overall trend does though look positive.
This is the first update to supporters of the 5-star plan for rural housing and a useful opportunity to provide you with an overview of the wider work underway, which is designed to complement your own individual efforts. This work is perhaps best illustrated through the work plan which has been developed, which has evolved to focus on challenges identified in early regional rural roadshow events. Tackling all challenges that emerged from these events is important, but the three key areas that have been prioritised are Planning and Infrastructure, NIMBYism and Resource Capacity. Work on tackling these challenges will be taken forward by the Rural Housing Alliance and National Housing Federation through campaigning, policy influence and research. There have already been some notable achievements, which include:
Rural Life Monitor 2017 - A simple but effective report produced by the National Housing Federation which gained widespread media attention, including appearing as an exclusive leading story on BBC Countryfile. The publication has also secured the attention of some politicians and will be the subject of a parliamentary event early in 2018.
National Landowner Conference - Hosted by journalist Tom Heap with a keynote speech from HRH The Princess Royal, the event has helped to move forward dialogue with leading landowners and those who represent them. This event is just one of many that have or are being arranged across the country by supporters of the 5-star plan. Many of you will have already taken the opportunity to have read 'Demystifying affordable housing; a hands on guide for landowners' a helpful independent publication produced by Strutt and Parker with support from Jo Lavis of Rural Housing Solutions.
Right Homes Right Places Consultation - The affordable rural housing sector submitted a strong and coordinated representation in response to this important government planning consultation.
Understanding Resource and Capacity Barriers - The National Housing Federation have been talking to housing associations, especially smaller non-developing ones, in attempt to better understand what barriers are restricting development where this is a strategic ambition. The aspiration is that this work will help to inform support opportunities where these will be of benefit.
Plans are already taking shape for a range of activity during 2018. Importantly, these will include a far-reaching campaign aimed at addressing NIMBYism, run in partnership with other key stakeholders. More details about this campaign and other work will follow.
Finally, for the 5-star plan to have maximum impact we need the help of all supporters, in part through your own organisations strategic planning, but also by considering opportunities within your own activity to address the challenges highlighted. If we are to continue the good work that has been started and secure the legacy that we hope for, the national advocacy and activity underway also needs to be replicated on regional and local levels and supporters are ideally placed to make this happen. Our aspiration is also to create a regional structure of 5-star plan advocates from the housing association sector to help coordinate and support this work.

Merger aims to bring a bright future to rural areas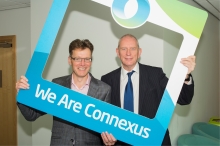 2017 saw Herefordshire Housing and Shropshire Housing Group connect, as equal partners, to form Connexus, a new social housing umbrella group with a workforce of over 600 colleagues across Herefordshire, Shropshire, Gloucestershire and Worcestershire.
Connexus, with more than 10,400 homes brings together a number of subsidiary brands under the group umbrella, Herefordshire Housing Limited, South Shropshire and Meres and Mosses Housing Associations, and the Independence Trust.
Peter Brown, Chief Executive said: "Connexus will bring together the resources, energy and ambition of two successful housing groups. Being connected in this way will enable us to be bigger and better, while our frontline services will continue to be delivered by the organisations that our individual customers have come to know and trust."
He added:" Together we are able to maximise financial strength, funding opportunities and expertise of our people to better meet the needs of our customers and communities."
The group covers the Marches and beyond, bringing with it familiar rural challenges and opportunities to work with and support small and dispersed communities as well as the larger villages and market towns; often struggling to retain young people and vital services.
Jake Berriman, Deputy Chief Executive said: "our beautiful countryside and the lure of village life attracts older, more affluent retirees which puts pressure on house prices and in time will put increasing pressure on health and support services; whilst younger people are unable to earn enough to afford to live locally, their employment prospects are hindered by poor transport infrastructure and without them rural school numbers are dwindling.
Working with Local authorities and communities Connexus is determined to be part of the solution helping to empower local people to meet their needs and aspirations providing great homes and sustainable communities."
For more information contact Sharon Turner.

Land – the key to housing Hampshire's rural communities
HARAH are inviting landowners and agents to join them for breakfast to hear how to turn land into an asset both for the owner and the community.
Landowners and agents will hear about:
The support available from HARAH
The options available for developing land
What landowners can expect in return
Tax advice on providing homes
Who HARAH house
The session takes place on 16 March 2018 at Sparsholt College in Hampshire. For more details contact Sherree Stanley-Conroy.
HARAH is a partnership of the 6 Hampshire rural Local Authorities, 5 rural specialist housing association developers, 2 National Parks, the county council, Action Hampshire and Homes England. HARAH has provided over 400 rural homes to date, housing over 1,400 residents with strong local connections to their communities.

New affordable homes for the Peak District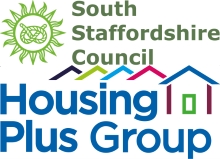 The village of Winster is to get new affordable homes for local people thanks to a partnership between Derbyshire Dales District Council, Winster Parish Council and the Peak District Rural Housing Association.
The three agencies have been working for the past 10 years to secure affordable homes for local people who have a link to the village.
Four flats – each with two bedrooms – will be built on land off Florence Gladwin Close following unanimous planning approval by the Peak District National Park Authority.
Rob Greatorex, clerk of Winster Parish Council, said: "Winster is a thriving village, but like most Peak District villages, has a genuine need for good affordable housing for local need. A survey carried out previously confirmed this and since 2007 the Parish Council has been working with DDDC, PDRHA and PDNPA to find a suitable site to develop to meet the identified need. The task has not been easy or quick, but the council is delighted that a local landowner offered land off Florence Gladwin Close to develop."
The Peak District National Park Authority's Director of conservation and planning, John Scott, said: "This scheme has been developed through close working between the Authority's officers, Winster Parish Council, Derbyshire Dales District Council and Peak District Rural Housing Association. It is one of a number of potential schemes for affordable local needs housing that we are working on at the moment – the others are in Bakewell, Tideswell and Taddington – which could deliver around 60 much-needed properties in these communities."
You can read more via this link.

New sheltered scheme opens in South Staffordshire
Jennifer Lawton, South Staffordshire Council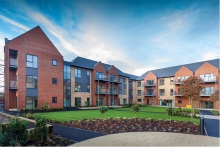 A new development of 41 supported living apartments for the over 55s has recently been completed in the village of Penkridge, South Staffordshire. Developed by Housing Plus Group, River View offers a mix of generously-sized, high quality 1 and 2 bedroom self-contained apartments, comprising of 28 for affordable rent and 13 for shared ownership. Residents are also able to enjoy an array of shared facilities including a large kitchen - which residents may use for functions and gatherings, lounge, orangery and outdoor seating areas and gardens.
The site formerly housed a sheltered scheme that had become dated and unfit for purpose, with the majority of accommodation provided as bedsits. River View not only provides more sustainable and high-quality homes for older people in the district, but also at an affordable price, both for those that require a rented property and those looking to downsize but retain some equity.
South Staffordshire has one of the country's most rapidly ageing populations, with almost a quarter of all residents aged 65 and over, and an expectation that this will continue to rise in the future. Affordability is also a key housing challenge in the district. In Penkridge, the average property price is up to 10 times the average income (lower quartile), making it particularly difficult to own your own home in the village. The River View development will not only help to tackle these issues in Penkridge, but its close proximity to the village centre and local shops and amenities will also help to prevent social isolation in residents; a problem which can be prevalent in South Staffordshire due to its rural nature.
Housing Plus Group and South Staffordshire Council have worked successfully together over a number of years to support the provision of the right affordable homes in the right places of the district in order to meet local housing need. River View is just one example of a number of schemes in South Staffordshire designed specifically to improve the quality of life of older people in the district.
For more information, contact Jennifer Lawton

Retirement apartments open near Shrewsbury
A development of affordably rented apartments for the over 55s has opened in the village of Bicton, near Shrewsbury.
The Coppice is the eighth ShireLiving scheme to be developed by The Wrekin Housing Trust in partnership with Choices; the first in a rural location, and will see its first residents move in in January. 85 apartments offer independent living to older people and consist of an open plan lounge/kitchen/diner, fully accessible bathroom and one or two bedrooms.
The scheme, which cost £11.8 m to build, was funded by The Wrekin Housing Trust assisted by a £2.6m HCA grant. The scheme includes landscaped gardens, residents' lounge area and games room which new residents will enjoy and hair salon, shop and restaurant that will open to the public.
To overcome transport barriers associated with a more rural community, The Coppice has become affiliated with Dial a Ride who will provide a shuttle bus into town for residents. Royal Mail is also working with the scheme to provide a post box in the shop, which will make life easier for the new residents.
Vanessa Turner, Manager of The Coppice, said; "It has been fantastic to finally show off everything that we have. The building has come alive today. One of the key benefits to people moving here is our 24 hour onsite team of friendly and supportive staff which will be on hand to offer a range of flexible care and support services, tailoring them to individual needs. We will also be organising social and leisure activities such as film evenings and canal trips."
Matt Beckley, Project Manager for The Wrekin Housing Trust said; "It's fantastic to see the completion of these much needed apartments. By 2030 there will be over 100,000 people in Shropshire over the age of 65 and we will also see a rise of 86% in people aged over 85. The Coppice is an example of our continued commitment to invest and build quality homes which will make our lives easier to manage as we get older."
To find out more about The Coppice visit www.shireliving.co.uk .

Make more of Rural Exception Sites say the CLA
Local authorities are continuing to ignore ways to deliver much needed affordable homes for local people across the countryside, says the CLA.
New government data shows that despite a 9% increase in affordable homes built in small rural communities across England, only 51 more than the previous year were built on rural exception sites. The CLA, which represents landowners, farmers and rural businesses, welcomed the overall increase but said local councils across England could use these sites more effectively to help solve the rural housing crisis.
CLA Housing Adviser Matthew O'Connell said: "Housing need is widespread throughout rural England. The increase in the total number of affordable homes being built is encouraging, however, large discrepancies between local authorities mean that certain councils are doing more than others. Cornwall Council leads the way yet again but others lag quite dramatically behind.
"Rural exception sites are a key means of providing affordable homes in rural areas where a landowner provides land at below market value to build affordable homes for local people. It is clear that local authorities are missing a trick by not using these sites to their full potential.
"We know that 27% of CLA members want to build affordable housing and many are keen to manage their own affordable properties. To harness this ambition, local councils and housing associations must engage with rural landowners to help bring more sites forward increasing the range of housing options for people in rural areas."
You can read more on this item via this link.

English Rural Housing Association is on the move
English Rural Housing Association will be moving its London office to new premises on Strutton Ground at the end of January 2018. Operations Director, Martin Collett, said: "This new office provides more modern and accessible facilities in the heart of Westminster – a location that supports the organisation's objective to help support the voice of rural housing to policy makers and government. These smaller premises also compliment the changing shape of the organisation's regional office structure, providing an accessible location for staff and board alike."

Local people key to new affordable homes scheme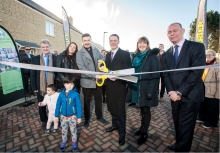 Residents and council officials gathered at the launch of a new affordable rural housing development in West Oxfordshire before Christmas.
The special event saw West Oxfordshire MP Robert Courts officially open the ten-home scheme in Bury Close, Kingham which will give priority to local residents who are otherwise priced out of the market.
Mr Courts said: "This fantastic scheme brings much-needed housing to local people. Everyone involved should be proud of what they have achieved here."
Dragos and Doris Goga are among the first residents to move in with children Darius, seven, Albert, four and two-year-old Lina and are delighted with their new three-bedroom home.
Mrs Goga, who has worked as a carer in Kingham for seven years, said: "I love the house and the area. We used to live in Chipping Norton but there is far more room for the children to go out and play here. We are really impressed with the quality of the work and by the professionalism of everyone involved," added Mr Goga.
Cllr Colin Dingwall, Cabinet Member for Housing at West Oxfordshire District Council, said: "This is an excellent example of how it is possible to provide affordable housing for local people. It has only been achieved through great teamwork across a range of partners and, most importantly, involving the local community."
Sovereign Housing Association arranged for the homes to be built on land previously owned by West Oxfordshire District Council. Formerly a domestic garden area, the land was transferred to Sovereign as part of a land assembly deal in December 2016, subject to section 106 agreement.
Development was completed in October 2017 with residents moving in soon after.
The properties, all of which will be let at an affordable rent, comprise two one-bedroom apartments, four two-bed houses and four three-bed houses.
Heather Bowman, Chief Operating Officer at Sovereign, said: "There is a real need for this kind of affordable housing to help families stay connected to their local area. Only by working closely together with those living and working in our communities can we really make a difference and Bury Close is a fantastic example of what can be achieved to help our rural communities thrive."
The section 106 agreement attached to the planning permission meant that applicants with a local connection, such as working or living in Kingham, or with family members there, were given priority for the new homes.

Community-led housing helps fight rural housing crisis
Rural housing specialists Hastoe Group have welcomed the relaunch of the £60million Community Housing Fund, announced in December at the National Community-Led Housing Conference by the Housing Minister.
The Fund, which was originally announced in 2016, enables local communities to take control of the housing situation in their area and boost the number of affordable homes by bringing forward new housing schemes which are right for them.
This approach has been particularly successful in rural areas, where many young people are being priced out of their local communities as incoming retired buyers, second homes and holiday lets push local house prices further and further out of their reach.
Hastoe Chief Executive Sue Chalkley said: "This Fund is an excellent incentive to help bring forward more desperately needed affordable homes in rural areas.
"Whether delivered entirely by a housing association, by a Community Land Trust (CLT), or any other local housing arrangement, the community-led development model works and has seen the delivery of thousands of genuinely affordable homes for rural communities.
"Most importantly, these community-led projects create a sense of achievement and pride for all involved – helping other local communities to see the value of schemes like this as a viable option to keep local people in the villages they were born or grew up in. This is surely the way forward in helping to ease the crisis of affordability and availability currently faced by rural communities across the country."

Need for rural proofing of affordable home disposals
A report prepared by a local authority Overview & Scrutiny Committee Task and Finish Group has called for proper rural proofing of decisions to dispose of affordable homes in rural communities.
The report, at South Somerset District Council, points to a rising number of disposals which do not pay sufficient regard to "the disproportionate impact of the disposal of social housing in rural communities and consequently for individual Local Authorities."
Exacerbated by an already disproportionately high take up of right to buy, the report argues that the loss of this stock has impacted on the Council's Rural Allocation Policy. A copy of the report is available via this link.
If your organisation has also considered this issue, we would be keen to hear. Please contact Andy Dean with any relevant information.

Government consults on minimum energy efficiency levels for private rented sector
Views are sought on the government's proposal to amend the domestic Minimum Level of Energy Efficiency Regulations to introduce a capped landlord financial contribution element.
This proposal is designed to future-proof the regulations and make them as effective as possible, while protecting landlords against excessive cost burdens. With a cost-cap, domestic landlords would only need to see investment in improvements to an EPC F or G rated property up to the value of that cap. The government's preferred cap level is £2,500 per property. A range of additional, alternative, cap options are set out in the consultation and the associated consultation impact assessment.
The consultation is intended for all interested parties including landlords and tenants, local government, energy suppliers, energy assessors, small and large businesses, consumers, and the general public. This consultation closes on 13 March 2018 and can be accessed here.

Rent a Room Relief consultation underway
Rent a room relief was first introduced in 1992 to incentivise individuals to make spare capacity in their homes available for rent. The government intended this to increase the quantity and variety of low-cost rented housing.
In the last 25 years the housing market has changed significantly: there has been an overall growth in the number of people living in the private rented sector, whilst the emergence and growth of peer to peer online marketplaces and digital platforms has made it easier to advertise rooms, putting those with spare accommodation in touch with a global network of potential lodgers.
Given the pace and scale of change in the sector, the government wants to explore whether the design of rent a room relief provides the right incentives for the rental market as it exists today. This consultation closes on 23 February 2017 and is available via this link.

Keep Calm and Join Up!
RSN exists to enable the issues facing the rural areas of England to be identified, information and good practice to be shared and government to be challenged to address the needs and build on the opportunities which abound in rural areas.
If you know a rural housing organisation that would benefit from membership, please ask them to consider joining us. RSN is a solely rural focussed organisation with an electronic distribution network in excess of 40,000 individuals. We reach right across all the rural areas of England and provide a sustained and respected voice for rural areas at national level. Anyone who wants to talk to us about our role and services in relation to rural housing should contact Andy Dean to find out more.
If you are a small housing organisation operating in rural England, you can have access to all the services of RSN for an annual subscription of just £250 plus VAT. RSN exists to share information, promote good practice and represent the voice of rural England at a national level. Check out the website for more information or contact Andy Dean to join up.