A quarterly bulletin facilitated by your membership of the Rural Services Network and produced in partnership with the Rural Housing Alliance, highlighting a selection of current rural housing issues and opportunities

'Saving Rural Communities' theme for Rural Housing Week 2018
Saving Rural Communities will be the key theme for this year's annual celebration highlighting rural housing issues and showcasing innovative solutions for tackling them. It's an excellent opportunity to shine a spotlight on successful developments that offer a lifeline to local people in market towns and villages, and to reinforce the message that housing is vital for the survival of rural communities and services.
The week takes place from 2 to 6 July and includes the annual National Rural Housing Conference in London on Wednesday 4 July.
The main theme of Rural Housing Week 2018 will be to demonstrate the positive value of housebuilding in rural areas, and to show how building affordable housing is helping rural communities to survive and thrive while notions of NIMBYism are becoming outdated.
Coordinated by the National Housing Federation, housing associations, local authorities and others are being asked to show their support for local developments and for examples of where housebuilding has made a positive difference to their communities.
There will also be a focus on a number of secondary themes including isolation and loneliness, innovation and demographic change.
Further information is available via this link.

Changes to national planning policy
On Monday 5th March the Government published a number of documents that set out proposed changes to national planning policy and guidance. The government has published consultations on the revised National Planning Policy Framework and the reform of developer contributions. The government state that: "This planning reform package is fundamental to delivering the homes we need and ensuring that we get the right homes, of the right quality, built in the right places."
The suite of documents contains many proposed policy changes but appear to maintain the current threshold for requiring an affordable housing contribution at 10 dwellings (the stated definition of a 'major site.') There are proposals in relation to Rural Exception Sites, the definition of affordable housing and a requirement that 20% of sites should be 0.5 hectares or less.
You can view more details on the changes to the National Planning Policy Framework, and find out how to respond to the consultation via this link.
Following the announcement at Budget 2017, the government is also seeking views on reforms to the system of developer contributions. You can view more details on the developer contributions reforms, and find out how to respond to the consultation via this link.
Both consultations close on 10 May 2018.

Housing for older people needs a National Strategy
A national strategy for older people's housing is needed to bring together and improve policy in this area, according to a report produced by the Communities and Local Government (CLG) Committee.
The CLG Committee's report on Housing for Older People recommends that the wider availability of housing advice and information should be central to the strategy and the existing FirstStop Advice Service should be re-funded by the Government to provide an expanded national telephone advice service.
The Committee calls on the Government to recognise the link between homes and health and social care in the forthcoming social care green paper. The Committee also recommends that the National Planning Policy Framework be amended to encourage the development of more housing for older people and that councils identify a target proportion of new housing to be developed for this purpose, as well as publishing a strategy which explains how they intend to meet the housing needs of older people in their area. The Committee's recommendations include:
Additional funding for Home Improvement Agencies operating services including a handyperson service for older people.
A range of measures to help older people overcome the barriers to moving home including an accreditation for companies which provide tailored services for older people moving home and better customer service and guidance from lenders when applying for a mortgage.
Ensuring that national and local planning policy encourages the building of more of all types of housing for older people – extra care, retirement, sheltered and accessible housing across the social and private sectors, with older people involved in the design process.
Building all new homes to accessible and adaptable standards so that they are 'age proofed' and can meet the current and future needs of older people.
Clive Betts MP, Chair of the Communities and Local Government Committee, said: "With an ageing population, it's vital that the link between housing and health and social care is recognised. A new national strategy for older people, taking on board the recommendations of our report, should be linked to the Government's forthcoming social care green paper.
You can read the full report here.

Warwickshire Passivhaus nears completion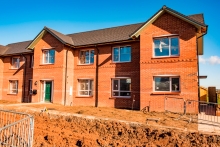 Warwickshire Rural Housing Association (WRHA) is due to complete the first Passivhaus project in the County during May.
The project which consists of 14 dwellings; 12 rented homes and 2 for shared ownership, have been designed to be as energy efficient as possible, with the aim of achieving space heating costs some 70% lower than in standard house construction.
Working with its development agent, Waterloo HA, and Bouygues UK as the contractor, this will be a ground breaking project, with individual dwellings having superior levels of insulation and air tightness. In addition each dwelling will have the latest renewable air source heat pumps to fuel their heating and hot water and to reduce the carbon footprint.
The process of developing the scheme has presented a practical learning experience which WRHA is keen to share. In this regard it is intended to invite partners within the Rural Housing Alliance to the formal scheme opening to showcase the project and share good practice.
The homes will be let and sold to those with a local connection to the village, and the development will be named "Keyte Gardens" in honour of a local family who lived in the village for more than 100 years. The development has also contributed to the local community facilities via the provision of play equipment at Wootton Wawen C of E primary School, a new car park for the village allotments, and the planting of natural woodland.
The scheme has only been made possible through funding from Stratford District Council and Homes England, and a significant contribution from WRHA itself.
For more information please contact Sue Haywood.

Rural landowners key to solving housing crisis
Sue Chalkley of Hastoe Group writes:
The issue of land value capture is fast rising up the political agenda. Specifically, how do we secure land for housing, offering both a fair price to the landowner, while ensuring there is enough money left to build quality homes and sustainable communities?
The HCLG Select Committee has launched an inquiry into land value capture, while the Labour Party recently announced plans for the state to compulsorily purchase land for new homes at values that exclude potential for future planning consent.
My worry is that that we risk putting all landowners into the same box – "avaricious" and even "responsible for our housing crisis". Buy many rural landowners work in a very different way to urban, institutional investors. They care deeply about what is built on their land and want to help provide quality, affordable homes to help sustain life in rural areas. We need to wake up to this untapped potential.
For example, in November 2015, Hastoe held our first conference for rural landowners interested in releasing land for affordable housing at Newmarket. We were overwhelmed by the enthusiasm and interest from local landowners. So we now have a programme of regional landowners' conferences – the latest of which was at Chelmsford City Racecourse in February.
Every time, the message is the same. So many rural landowners know there is a housing crisis and want to provide land for quality, affordable homes that will leave a positive legacy for their community. Rural homes are 20% more expensive than in cities, while house prices/earnings gap in Rural England is even higher than the national average.
At Chelmsford, many landowners came forward, interested in partnering with Hastoe to deliver new rural homes. This has quickly become one of our main methods for sourcing land for new housing projects. If you put the support in place, rural landowners flock to you with interest. As 17% of the population live in Rural England, it's a big step towards solving our housing crisis.
So we need to work with rural landowners, not against them, to deliver the homes we need. I am fearful of the excitement about CPO powers. In rural communities, where there might only be one or two landowners, this will strike fear into hearts of the very people we need to be working with. Rural landowners care about what is built on their land. If their only option is to work with a big developer and lose control of what is delivered, they will simply say 'not now'. .
Homes England must recognise that rural landowners are often entirely different to urban landowners. The government should encourage landowners to build on Rural Exception Sites – an excellent way of releasing land at fair values and building quality rural homes. Instead of punitive taxes, the Treasury should consider tax tweaks to encourage releasing land for affordable housing. For example, more than a third of CLA members would be more willing to sell land at a discount for affordable housing if the value of the land was exempt from Capital Gains Tax.
So let's recognise the potential of rural landowners to make a very significant contribution to solving our rural housing crisis. They are our partners - let's work with them and build the homes Rural England needs.

Royal opening for affordable rural homes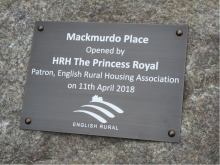 HRH The Princess Royal visited Mackmurdo Place, Wickham Bishops on 11th April 2018 to officially open English Rural Housing Association's development of affordable rural homes completed in May 2017. This highly-regarded project represents the delivery of the innovative ''Village Homes – Something for Everyone" model initiated by Wickham Bishops Parish Council in partnership with English Rural. With the support of the local landowner, Maldon District Council and the Rural Community Council for Essex, a scheme evolved comprising 27 homes in total, including 12 affordable homes for local people and 15 market homes also marketed at local households. The affordable homes provided by English Rural include houses, flats and bungalows, both for rent and affordable home ownership. The entire project has been delivered without any public subsidy, through a cross-subsidy agreement with the landowner and developer of the open market properties.
Commenting on the visit, Adrian Maunders, Chief Executive said: "The visit will help to promote the benefits that community-led projects such as this can bring to villages like Wickham Bishops. We are especially pleased that HRH The Princess Royal is able to visit one of our developments in Essex, where we have a successful track record of working with parish and district councils across the county to provide well designed affordable homes in partnership with and for the benefit of local communities. The work that English Rural undertakes is designed to complement the needs of rural parishes, providing homes for local people in the communities they serve and support, ultimately helping to maintain vibrant, active and working villages that house a mixture of age groups and income earners."
Cllr Mandy Mickelsen, Chairman of Wickham Bishops Parish Council, said: "Increasingly the Parish Council is aware of the housing challenges that face many local households, with market prices being too much to afford in the village. The twelve new homes will help the community address this challenge."
This scheme is regarded as a potential model for how community-led development can work, and has stimulated interest both regionally and nationally. Initiated by the Parish Council as "The Wickham Bishops Village Homes Project - Something for Everyone", the concept was developed as an opportunity to address local aspirations for a wide range of homes of all tenures for local people of all ages, including older households people looking to 'downsize' as well as those seeking affordable home ownership or homes to rent.
The homes have been designed to achieve maximum energy efficiency and minimum energy use, achieving 'Code for Sustainable Homes Level 3' by using renewable technologies – Air Source Heat Pumps for heating and hot water. Security has also been at the forefront of design, with the development complying with Police standards, achieving a 'Secured by Design' award. All the homes have attained 'Lifetime Homes' standards, ensuring they offer versatile accommodation to meet the changing needs of residents.

Viable Villages – closing the planning loophole
New research was published in February by CPRE and Shelter. CPRE state:
"Following cuts to capital grant and financial restrictions on councils, we now rely on private developers to deliver a large share of new affordable homes through the Section 106 system. But since 2012, national planning rules have blunted this tool by enabling the widespread use and abuse of viability assessments.
"Developers can use viability assessments to argue that building affordable homes could reduce their profits below competitive levels, which they define as around 20%. This gives them a legal right to cut their affordable housing quota. That means developers can overpay for land to guarantee they win sites, safe in the knowledge they will be able to recoup the costs later by squeezing out affordable housing. The same is true for land promoters, who often negotiate away affordable housing quotas before selling sites on to developers. This viability loophole is contributing to the country's affordable housing drought, reducing the social diversity and vitality of rural communities.
"New research from Shelter and the Campaign to Protect Rural England (CPRE) shows that the problem is just as bad in the countryside. The consequences for rural communities can be particularly devastating, as house prices are often higher – and wages lower. Losing even a small number of affordable homes can be the difference between post offices and schools staying open or not, and villages thriving or dying as families and young people are priced out."
The current government consultation on national planning policy includes important proposals in relation to viability assessments which are worth reading in the context of the CPRE and Shelter research which you can read in detail via this link.

National Park approve 30 new affordable homes in Bakewell
The Peak District National Park Authority has approved plans for 30 new affordable homes to be built in Bakewell.
This is one of the largest developments ever approved of affordable homes in the Peak District National Park and the scheme has been supported by the biggest ever capital grant for building local needs housing of £500,000 from Derbyshire Dales District Council.
Nineteen two-bedroom houses, five three-bedroom houses, two bungalows and four one-bedroom flats will be built in the £4.5million scheme on land next to Lady Manners secondary school.
Members of the Peak District National Park's planning committee voted unanimously to approve the development, which helps address the large local need for affordable homes for young families and single people in Bakewell, the biggest town in the National Park.
Chair of the Peak District National Park Authority's planning committee, Paul Ancell, said: "This decision shows our commitment to meeting local needs and encouraging housing affordability by allowing this large scale development of thirty new homes to be built in the National Park. A great deal of effort and thought has gone into the design of this much-needed development and demonstrates what can be achieved by the partner organisations working closely together.
The scheme has been developed over a decade of close working between Lady Manners School, Westleigh Partnerships Limited, Pelham Architects, Bakewell Town Council, the Peak District National Authority's officers, Derbyshire Dales District Council and their Rural Housing Enabler.
The new homes in Bakewell will be built in terraces in a small estate set around three cul de sacs. They will be constructed in a mixture of natural limestone and gritstone with blue slate roofs in keeping with the building traditions of the historic market town. Cllr Lewis Rose OBE, Leader of Derbyshire Dales District Council, said: "We have worked extremely hard on this project for the past ten years and are delighted on behalf of ourselves and our partners that these much-needed affordable homes have been secured for local people who have a link to Bakewell.
"The District Council has carried out two housing need surveys in Bakewell that highlighted the need for family homes and units for single people. We have allocated £500,000 capital funding to help make this development happen in the National Park, and it is great news that planning approval means work can get underway."
When built the houses will be managed by Waterloo Housing Group. For more information contact Rob Cogings.

Rural Housing Partnership continues impact in Leicestershire
Midlands Rural Housing is to continue as the Rural Housing Enabler Strategic Partner in Leicestershire. The rural housing specialist has been awarded the contract to continue working on behalf of the Leicestershire Rural Housing Group across the County; a partnership which in recent years has seen over 20 exception site homes built with a further 40 about to go onto site and more than 60 rural Section 106 homes secured for local people as a result of the collaborative work. In addition, dozens of neighbourhood plans have been supported and numerous briefing sessions have helped to raise the profile and strengthen understanding of rural housing.
The Leicestershire Rural Housing Group is made up of funding partners from six rural local authorities (Blaby District Council, Charnwood Borough Council, Harborough District Council, Hinckley & Bosworth Borough Council, Melton Borough Council and North West Leicestershire District Council), Leicestershire County Council and three Housing Associations with a commitment to rural housing (emhg, NCHA and Waterloo Housing Group). The Group strategically guides the work across rural Leicestershire where Midlands Rural Housing engages parish councils, local communities, neighbourhood plan groups and elected members to discuss rural housing issues, assess local housing need and explore solutions to local housing solutions where needed.
The aim over the coming years is to continue to build on the progress made and maintain Leicestershire as a county where affordable rural housing is a political priority and councillors, officers, providers, and communities work together to meet local needs in a proactive and informed manner.
Despite each rural area having its own nuances and unique nature, the service delivered to them is efficient and enables housing needs to be smoothly and inclusively assessed, delivered upon for the benefit of local communities, and held up as an example of good practice.
Working with the rural areas of Leicestershire, MRH will carry out a programme of housing needs surveys before looking to work up small developments of housing to meet local needs. Training and briefing events are also planned for parish, district, and county councillors to help keep members and their communities up to speed with affordable and rural housing issues.
Richard Mugglestone, Project Delivery Manager at MRH, said: "The collaborative working across rural Leicestershire has achieved a lot in recent years and we are excited to continue being part of this positive partnership. Maintaining the focus on rural housing as a political priority is essential to enable further successes in the coming years. Our community focus ensures that the needs of villages are understood and that the homes that are so crucially needed are built in the right place for the right people. Where we are commissioned to carry out rural housing work by partners such as the Leicestershire Rural Housing Group our approach is one that delivers results. We are able to bring our long track record of working on rural housing across the midlands and are always delighted to work with proactive partners to help make a difference in rural areas."
For more information contact Richard Mugglestone.

Rural Exception Sites work!
In a recent blog, Shelter argue that Rural Exception Sites have been very successful, delivering 7,881 affordable homes in villages hit hard by the housing crisis.
"We should aim for 100% affordable housing on exception sites wherever possible. But these sites will often be complex and 'hard to build' – the nature of the beast when building on land that has not already been earmarked for housing through a Local Plan. Within the confines of the current funding regime for affordable housing, councils will sometimes face a choice between tolerating some private housing on an exception site or losing the scheme altogether.
"But to ensure that exception sites serve their purpose, government should use planning rules to set limits to the proportion of market housing which can be included – for example an absolute maximum of 25%. Without this, there's a risk that exception sites could become another loophole in the planning system, allowing speculative development of unaffordable homes to be imposed on local areas. Crucially, the rules must be standard across both Rural and Entry Level sites, to avoid creating false incentives to prefer one type of site where the other is more appropriate for meeting local needs.
"It shouldn't all be about cross-subsidy, either. Most obviously, government should beef up grant funding for affordable homes on exception sites so that these cover normal build costs."
Not everyone will agree with these views and responses to the NPPF on this matter will make interesting reading.
You can read the full blog via this link.

Community Housing Fund prospectus delayed until May
The much anticipated next round of bidding for the government's Community Housing Fund has been delayed until after the purdah period surrounding the May local government elections. Following confirmation from the then Housing Minister in November 2017 that these funds would be available, it is hoped that the first tranche of the 2017/18 allocation of funding will be available for bids sometime in May 2018.

Government consults on new Civil Society Strategy
Tracey Crouch, Minister for Sport and Civil Society, has launched a public call for evidence on a new strategy that aims to "harnesses the power of communities, charities, and businesses to help build a fairer society."
The engagement exercise for the Civil Society Strategy will look at four themes that will strengthen civil society further, exploring the best way sectors can work together, empowering people to take action on the issues that matter to them and improving the places they live and work in.
This consultation closes on 22 May 2018. You can read more via this link.

Neighbourhood Planning support continues
Locality will continue to deliver the Neighbourhood Planning Support Programme over the next four years, from 2018-2022. The programme builds on the 2015-18 programme and any support previously received will be taken into account. The programme will provide anyone working on a neighbourhood plan with support from the Locality team, AECOM and other partners/specialists through:
a basic grant of up to £9,000
additional grants for eligible groups with an extra £8,000
technical support through expert partners AECOM and other specialists
Under the new programme there will be some important changes to eligibility criteria for support available to groups. In addition, the amount groups are eligible for in grants will depend on what they have received in the 2015-18 programme. Full details of the changes and eligibility are available on neighbourhoodplanning.org
The new programme opened for applications on 3 April 2018 and you can read more details here.

Keep Calm and Join Up!
RSN exists to enable the issues facing the rural areas of England to be identified, information and good practice to be shared and government to be challenged to address the needs and build on the opportunities which abound in rural areas.
If you know a rural housing organisation that would benefit from membership, please ask them to consider joining us. RSN is a solely rural focussed organisation with an electronic distribution network in excess of 40,000 individuals. We reach right across all the rural areas of England and provide a sustained and respected voice for rural areas at national level. Anyone who wants to talk to us about our role and services in relation to rural housing should contact Andy Dean to find out more.
If you are a small housing organisation operating in rural England, you can have access to all the services of RSN for an annual subscription from just £250 plus VAT. RSN exists to share information, promote good practice and represent the voice of rural England at a national level. Check out the website for more information or contact Andy Dean to join up.