A quarterly bulletin facilitated by your membership of the Rural Services Network highlighting a selection of current rural economic development news, issues and opportunities

Rural businesses need help to embrace digital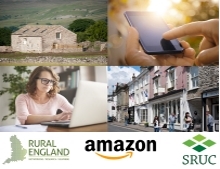 Findings from a new study suggest that most rural businesses have adopted digital technology as an integral part of their operations and most recognise the importance of going further in future. However, their ability to make more use of digital has been held back by certain constraints.
The findings were uncovered in new study undertaken by think tank Rural England – for which the Rural Services Network provides the secretariat – and Scotland's Rural College (SRUC). The study was commissioned by internet giant Amazon.
A consultation of over 800 rural businesses identified two key research findings:
"The greatest potential from increasing digital adoption in rural areas is to be had by assisting the bulk of ordinary small and micro businesses to up their digital game. Whilst technology-driven businesses should certainly not be overlooked, it is increasing digital adoption across sectors such as agriculture, retail, tourism, construction, leisure and business services which will pay the highest rural productivity dividend. It therefore makes sense to target support broadly and across sectors."
"The benefits from the public sector's sizeable investment in superfast and mobile networks will only be properly realised if other identified constraints to digital adoption are addressed in parallel. Setting aside the much-discussed connectivity issues, over half of rural businesses face some other type of constraint to digital take-up, which is holding back their performance."
Key identified constraints included:
Difficulty in finding external/outsourced digital connectivity support
Difficulty in accessing appropriate external digital/IT training
Difficulty recruiting people with appropriate digital skills
Their existing workforce lacking sufficient digital skills
The report concludes that the public and private sectors can help address these challenges and boost rural productivity by working together to deliver a series of identified actions.
You can read more on this report here

The Future of Food, Farming and the Environment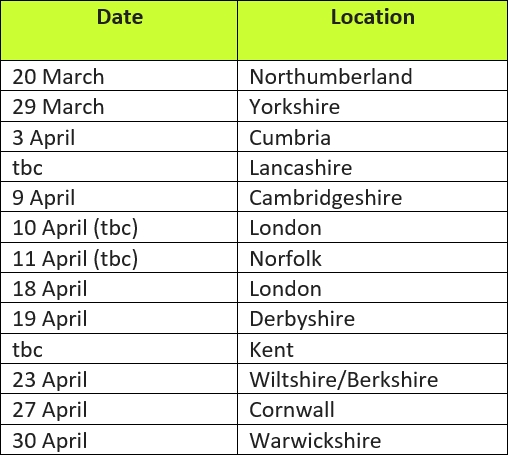 The Government has set out its vision for the future of food, farming and the environment in a consultation paper launched at the end of February. It describes leaving the European Union and the Common Agricultural Policy (CAP) as a "once-in-a-generation opportunity to design a domestic policy that fits the needs of the country."
The consultation paper, "Health and Harmony: the future for food, farming and the environment in a Green Brexit" is available via this link with the consultation period closing on 8 May 2018.
At the heart of the paper is a proposal to phase down direct payments under the CAP and reallocate funding to a new system of paying farmers "public money for public goods" - principally their work to enhance the environment.
A series of engagement events have been organised around the country as above (correct at the time of publication).
The contact email address for these events is engagement@defra.gsi.gov.uk

SW Rural Productivity Commission report published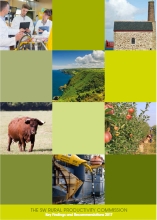 In 2017, four South West Local Enterprise Partnerships (LEPs) – Cornwall and the Isles of Scilly, Dorset, Heart of the South West and Swindon and Wiltshire – commissioned an independent enquiry to identify opportunities to stimulate rural productivity and growth.
In its final report, the commission found huge potential for economic growth if key opportunities are seized and challenges addressed. The most important themes emerging from the work are described as follows:
"Digital connectivity presents a game changing opportunity but without further urgent action businesses and communities will become left behind
Smart technologies have the potential to create solutions to many of the challenges faced by rural areas and the development of an innovation platform on a regional scale has the ability to create higher value jobs
The rural SW hardworking and entrepreneurial culture, coupled with its stunning natural environment, with the right support, can become a hothouse of enterprise
Our agri-food-tourism economy is a strength upon which we can build globally recognised propositions as THE place to start and build and grow a food business
There are genuine concerns that our rural communities are spiralling downwards towards 'fossilised retirement villages' unless Government and local leaders take prompt action. Local and national policy must move away from the 'one size fits all' approach that fail to recognise that rural areas are different.
Brexit has the potential to shake the foundations of our rural economy – providing either a much needed boost or sudden economic shock. Now is the time for action if we are to reap the benefits in line with the commission's recommendations."
The Chair of the South West Rural Commission, David Fursdon, said: "The Rural economy is integral to raising the productivity of the south west, and this report highlights how rural prosperity can be tackled alongside urban growth, to bring about prosperity for all in every part of the economy."
You can read the full report and the supporting evidence via this link.

Rural Economy features in new National Planning Policy
The government has published consultations on the revised National Planning Policy Framework (NPPF) and the reform of developer contributions. The government state that: "This planning reform package is fundamental to delivering the homes we need and ensuring that we get the right homes, of the right quality, built in the right places."
The draft text for the NPPF includes a dedicated short section on 'Supporting a prosperous rural economy.' This states that planning policies and decisions should enable:
"the sustainable growth and expansion of all types of business in rural areas, both through conversion of existing buildings and well designed new buildings;
the development and diversification of agricultural and other land-based rural businesses;
sustainable rural tourism and leisure developments which respect the character of the countryside; and
the retention and development of accessible local services and community facilities, such as local shops, meeting places, sports venues, open space, cultural buildings, public houses and places of worship."
It goes on to state that planning policies should recognise that sites to meet local business and community needs in rural areas may have to be found outside existing settlements, and in locations that are not well served by public transport.
The government is also seeking views on reforms to the system of developer contributions. Both consultations close on 10 May 2018 and you can view more details here.

Report demonstrates relative connectivity in urban and rural areas
The House of Commons Library has published a useful report which analyses constituency data on broadband speeds, superfast broadband coverage, availability of full fibre services, and lines that can't get decent broadband.
Ofcom releases annual data on broadband connectivity and speeds for fixed lines at postcode level as part of its 'Connected Nations' report. This data has been analysed to produce estimates of connectivity in the UK's constituencies and wards. Full data is available for each constituency and ward in the UK.
According to the analysis of Ofcom's data: "the average download speed for fixed broadband lines in the UK was 44.6 Mbps in May 2017 - up from 37.8 Mbps in 2016. However, there is a wide range of speeds being received across the country. For those with superfast lines (over 30 Mbps), the average download speed is 77.3 Mbps. But for those without superfast lines, the average is 11.8 Mbps - 74% lower than the overall average. Meanwhile 2.3% of lines are receiving speeds under 2 Mbps, 24% of lines are receiving speeds under 10 Mbps, and 49% are receiving superfast speeds (over 30 Mbps)."
The report also analyses the difference between urban and rural areas as set out in the table below (updated on 24 January 2018).

You can access the report, including constituency and ward data, via this link.

Post Brexit England Commission launched
The Local Government Association (LGA) has launched a commission looking at the issues and opportunities facing non-metropolitan areas in England post Brexit. Some of the key areas the commission intends to explore are:
improved productivity and increased inclusive growth;
a better skilled workforce;
more effective employment services;
better transport and digital infrastructure;
more and better housing;
increased exports and foreign direct investment; and,
tailored public services that meet the specific needs of deeply rural areas.
The LGA has issued a call for evidence to feed into the Commission's interim report, due to be launched at the Local Government Association's Annual Conference in early July.
You can find out more and submit evidence via this link.

Unemployment Claimant Rates by Constituency
In January, the House of Commons Library published a report outlining unemployment claimant rates by parliamentary constituency as well as labour market statistics for the UK as a whole. The report concludes that "employment in the UK increased strongly over the past quarter while the unemployment rate was little changed. Average weekly pay continued to increase more slowly than prices."
You can access the report via this link.

Brexit: next steps of UK's withdrawal from the EU
You can read Parliament's analysis of how leaving the EU will affect different policy areas in the UK via this link. This also contains up to date briefings on negotiations, a Brexit glossary and a summary of recent news on exiting the EU from across the Parliament.

OECD Rural Development Conference – April 2018 in Edinburgh
The 11th OECD Rural Development Conference, entitled, "Enhancing Rural Innovation" is being held in Edinburgh from 9 to 12 April. This is describes as bringing together "leading policy makers and experts to exchange experiences and good practices on issues related to innovation, including the development of policy related to technological change, and making the most of opportunities for job creation, economic growth, and service delivery."
The agenda and further information is available via this link.

Coastal Communities Fund open for business
The Coastal Communities Fund Round 5 is now open with £40 million available for spend from April 2019 to end of March 2021. Funding is available for projects over £50,000 that will ultimately lead to regeneration and economic growth whilst directly or indirectly safeguarding and creating sustainable jobs.
Within this round 5 there are 2 separate funding rounds, each with their own timetable:
a 'fast track' early round for revenue projects only for which some funding will be available in 2018 to 2019 – closing date for stage 1 applications 2 April
the main funding round for which funding will be available from 1 April 2019 – closing date for stage 1 applications 30 April
Further details are available via this link.

Statistical digest of rural England published
Official statistics concerning rural England are published regularly by Defra. The latest February 2018 edition of the "Statistical Digest of Rural England" contains a wide range of useful statistics and is available via this link. These cover:
Rural population & migration
Rural Economy
Rural living
For example, did you know that 34% of people in work in rural areas are home workers compared to just 13% in urban areas?
Defra's December 2017 "Rural Economic Bulletin" comparing high level economic indicators across rural and urban England has also been published and is available via this link. The four indicators currently used are:
claimant count – proportion of working age population claiming unemployment benefits
economic activity – proportion of economically active population unemployed and proportion of working age population in employment
redundancies – number of redundancies per 1,000 workers
house prices - average house prices and annual percent change

Grant Fund for people returning to work
A Fund of £1.5 million has been made available offering grants to projects which help people to return to work in the private sector. These projects could help returners update their skills, provide other training, or support businesses to increase employment opportunities for returners.
The Fund is available for organisations to run projects aimed at returners that:
create new job opportunities within the private sector and targeted employment sectors that have a weaker track record in catering for returners, including, retail; law; tech and telecoms; science, technology, engineering and maths industries; creative industries;
could not otherwise be established by the market;
address specific barriers for returners and can be replicated at scale;
can demonstrate self-sustainability beyond the initial funding period of the grant;
increase understanding of how best to support a) returners to gain paid employment and b) employers to recruit and support returners.
It is anticipated that most of the grant recipients under the Returners Fund will be voluntary and community sector organisations, social enterprises and training providers. Approximately 15-18 projects will be selected in total. There will be two funding rounds. Expressions of interest for the first round of bidding must be submitted by 30 March and for the second round, by 16 August 2018. Further details are available here.

Community Branch Fund open for Post Offices
The £20m Community Branch Fund – for Post Offices with no other suitable retailer within half a mile – is now open for applications. These Post Office branches or Outreach and Satellite services play a particularly vital role in the local community. The Community Branch Fund offers investment for sub-postmasters to support the growth of their Post Office business and help to underpin the long term viability of their business.
The fund can be used for a wide range of improvements such as changing the branch format to open plan, new signage, or gearing up for new services such as Click & Collect. Funding is also available for Outreach and Satellite services.
Most applications are expected to be below £10,000(or below £2,000 for Outreach or Satellite Services). The fund will only be open whilst there is still money available. It is anticipated that the fund will not run beyond March 2018.
You can find out more via this link.

Tailored local information for Neighbourhood Planning available
A successful neighbourhood plan must be based on evidence and an understanding of the place they relate to. Communities need to gather a range of evidence and local knowledge before writing their plan. RSN has collated a selection of evidence, which may be useful to communities in starting to shape their evidence base. This is tailored to each local authority area and is available via this link.

A monthly pocket databank from the Treasury
The 'Pocket databank' is a monthly HM Treasury statistical publication, containing major economic indicators and series for both domestic and international economies. The databank, designed to be a quick and concise reference source, can be accessed here.

All Party Parliamentary Group – influence in Westminster
The Rural Services APPG supported by RSN provides an excellent opportunity to put issues of the moment in front of MPs in the heart of Westminster and to seek to influence national debate. If you have any views on key topics which should be covered in future APPGs please contact Andy Dean.

Chambers of Trade – keep calm and sign up!
RSN exists to enable the issues facing the rural areas of England to be identified, information and good practice to be shared and government to be challenged to address the needs and build on the opportunities which abound in rural areas. We have a number of Chambers of Trade, Commerce and Local Business Networks who are members of RSN and currently receive our bulletins. If there is a business organisation in your area who you think would find our bulletins useful, please pass this bulletin onto them and ask them to contact Andy Dean with their contact details so we can ensure they are included in future distributions.

Future editions of the Rural Economy Spotlight
The next edition of this bulletin will be distributed in June 2018. If you have any suggestions as to future content or would like to submit a short article for inclusion please contact Andy Dean.