18.02.2019
Podcast Episode - The Brexit vote in rural communities
Carole Walker, is a former political news correspondent with the BBC. She has developed her own Podcast called 'The View from Here' and has kindly allowed the Rural Services Network to include it on their website.
Talking about the Podcasts, Carole says "These podcasts will explore the issues which matter to you in your local community. They will focus on the concerns of people living in rural areas and small towns who often struggle to ensure their voices are heard in the corridors of power. This is politics outside the Westminster bubble."
This episode, is titled 'The Brexit vote in rural communities' which features George Freeman, MP for Mid-Norfolk and a former minister, who details why so many people in rural communities voted for Brexit and are in despair at the endless bickering over the decision to leave the EU
The podcast is available by clicking below:
These podcasts are published by Carole Walker and the views contained within are not necessarily reflective of the Rural Services Network.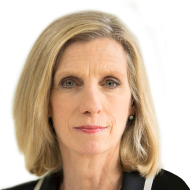 Do you have a suggestion for Carole's podcast?
Do contact her at:
Email - info@carolewalkercw.co.uk
Twitter - @carolewalkercw
Linkedin - carole-walker-cw