03.02.2009
Partnership Working – does it work?
True examples of joined up working are hard to find, writes Darren Cole.
EVERY new consultation paper and initiative that flows from Hazel Blears' department seems to talk about the need for closer working relationships with partners and third party organisations for the benefit of citizens; however examples of true joined up working showing actual results on the ground are not that common.
I can't be the only one who comes across a vast array of partnerships operating with a full quota of representatives, debating high level issues without actually achieving any tangible results – nothing new there I hear you say. Recent experience however has proved to me that effective partnership working is not just a myth and can be achieved to the benefit of all involved.
In my previous article, I talked about the success achieved from our multi agency outreach surgeries, which as a by product has led to over 20 agencies and community groups not only working together but changing the way in which they think about their service provision.
Public service providers are often competing to help the same customers, spending time and limited resources individually to promote their service and encourage take up. We have found that it is much more sustainable and effective to adopt a collaborative approach with like minded partners. It is amazing what can be achieved by getting frontline officers together in a room a couple of times a year to discuss priorities and upcoming initiatives.
Because these are the people delivering the service on the ground they instantly see the benefits of working together without a partnership agreement in sight.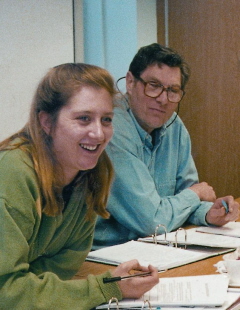 Sitting round a table with other service providers, you soon see where priorities, targets and future plans overlap. We have an area within our district designated as a deprived community and like us nearly all of our partners have a target and a budget earmarked for improving take up of services. We have managed to co-ordinate efforts, prevent duplication and maximise impact.
Through our meetings we have also seen premises being shared, publicity costs split, promotional campaigns combined, questionnaires merged, a generic referral system and an opportunity to share best practise and obtain local knowledge of what works in different areas. These simple examples come with obvious cost savings and provide a better use of resources. Another benefit from close networking is the sharing of knowledge of each others services, which is in fact great free publicity and in turn leads to more cross referral of customers.
We have branded our working group under the name of West Devon Connect as rather than using any existing logo, we wanted a new image to be seen as linked to all services available in our district. From the public perspective, this logo is becoming synonymous with getting help and advice on a broad range of topics rather than associated with any one service provider. The council's magazine now carries the same West Devon Connect name and has articles and competitions submitted by partners to reinforce the joined up message.
The synergy created by working in this way is all the more refreshing as it is driven from the bottom up. Community and voluntary groups receive the benefit of professional advice and gain opportunities to share resources whilst in return offer excellent local knowledge and enthusiasm to help promote initiatives within their communities.
As word of our success has spread we no longer need to encourage others to join us, as we are regularly contacted by new agencies and groups who want to be involved. The more the merrier as far as I am concerned as without the ties of formal agreements we can be fluid in the way in which we operate. As the local authority, I am happy we take the lead role, however over time key agencies have increased their input, thereby sharing the workload and making the whole group more sustainable. Initial concerns that others would just use the group for their own ends have not materialised, instead everyone seems to benefit.
Darren Cole is customer services manager at West Devon Borough Council. He can be contacted via email at dcole@westdevon.gov.uk.