28.04.2021
NHS services celebrate partnership with Hovertravel for the benefit of the Isle of Wight residents

The Isle of Wight NHS Trust and a local Island Company Hovertravel have celebrated a partnership which has contributed significantly to the local community. Working closely with the NHS they have developed the Island Rescue service which allows transfers of patients from the Isle of Wight to hospitals in Portsmouth or Southampton significantly reducing transfer times.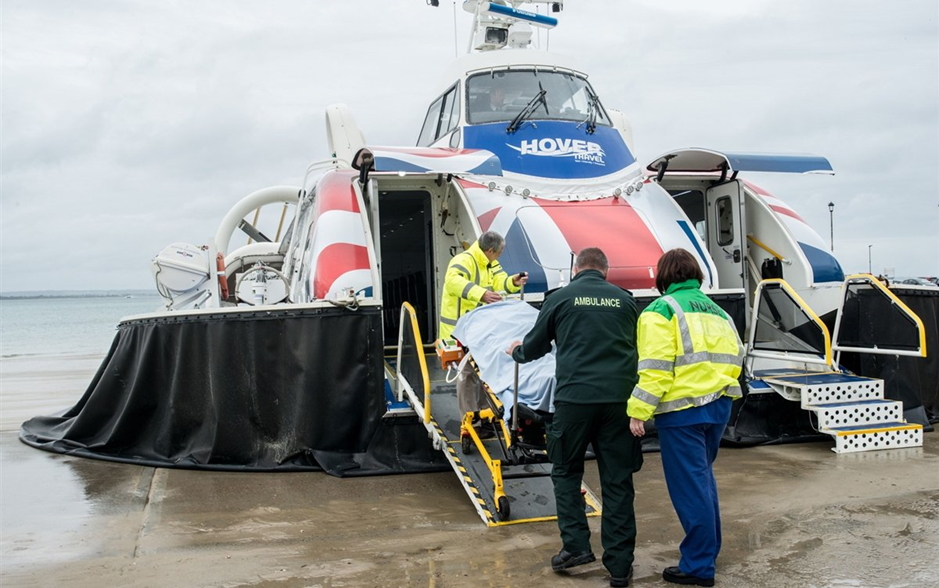 Pre covid-19 stretcher patient transfers had been taken in ambulance via the car ferry, a return journey of 4- 6 hours. Following trials with Hovertravel, and working with the South Central Ambulance service, it was established that Hovertravel's Island Rescue service would provide the quickest option for stretcher patient transfer during the initial lockdown.
The short crossing time meant the ambulance crew are off-island for a much shorter time, as the organised patient handover to the South Central Ambulance Service at Hovertravel's pad in Southsea means the IOW NHS Trust Ambulance Crew can make an immediate return trip to the island. Over four hours per crossing are saved and this means the ambulance crew are once again available to help patients on the Island.
Recent events have shown how companies can work together for the good of the community and the innovative partnership between Hovertravel and the NHS to transfer stretcher patients across the Solent, whilst conceived during lockdown continues today, with almost 200 patients flown since March."
To demonstrate the partnership Hovertravel have incorporated both the NHS logo and ambulance logo into their livery
Neil Chapman, managing director of Hovertravel, said: "Hovertravel is a unique business and our craft are photographed by travellers and onlookers every day. We wanted to celebrate the partnership with two similarly iconic British heritage brands by including their logos in our livery.
Maggie Oldham, Chief Executive at Isle of Wight NHS Trust, said:
"Our partnerships make us stronger and everyone at Isle of Wight NHS Trust is grateful to Hovertravel for its support during our response to COVID-19.

"It has been fantastic to see how our community has come together to meet the challenges of the last few months and the new livery is a powerful demonstration of how organisations can work together."