18.07.2019
National Rural Conference 2019 in association with CCRI

We are thrilled to be hosting our annual National Rural Conference by kind permission of the University of Gloucestershire at its Park Campus in Cheltenham in early September.
We are also proud that for the second year running, the Post Office have agreed to sponsor the conference, helping us to keep the cost of attending the conference at last year's prices.
The conference focus this year is on Creating Vibrant Rural Communities and we have a range of expert speakers across the themes of Rural Housing, Rural Economy, Rural Transport and Rural Health and Wellbeing to delight our audience.
The keynote speaker, the Rt Hon Lord Foster of Bath, recently chaired the House of Lords Select Committee on the Rural Economy and he will address delegates on the morning of day 2.
Hastoe Housing are our conference silver sponsor and will be running a workshop on 'Delivering Affordable Housing we can be proud of'. Hastoe own and manage over 7500 homes in over 70 local authority areas. They are the leading specialist rural housing association after almost 30 years of supporting rural communities.
The Countryside and Community Research Institute, who kindly host the conference for us, is the largest specialist rural research centre in the UK, working at the interface of agriculture, society and the environment on issues relevant to rural and urban development, in the UK, Europe and further afield. We look forward to hearing their Director Professor Janet Dwyer address the conference to update us on their recent work with a focus on the Rural Economy.
There will be several opportunities for networking and we encourage Councillors and Senior officers working in rural local authorities to attend. In addition, it's a great opportunity for Senior figures in both public, private or voluntary organisations delivering services in rural areas to network with like minded colleagues.
The Rural Services Network host a drink and canape reception at the Queens Hotel in Cheltenham on the evening of 3rd September as an opportunity outside of the main action of the conference to relax and network with colleagues.
→ Full booking details are available at this link



Find out more about our sponsor The Post Office
Post Offices are at the heart of rural life. Over 93% of the population have a Post Office within a mile of where they live. People want a shop, a bank and a Post Office in their community. Increasingly, Post Offices enable all three.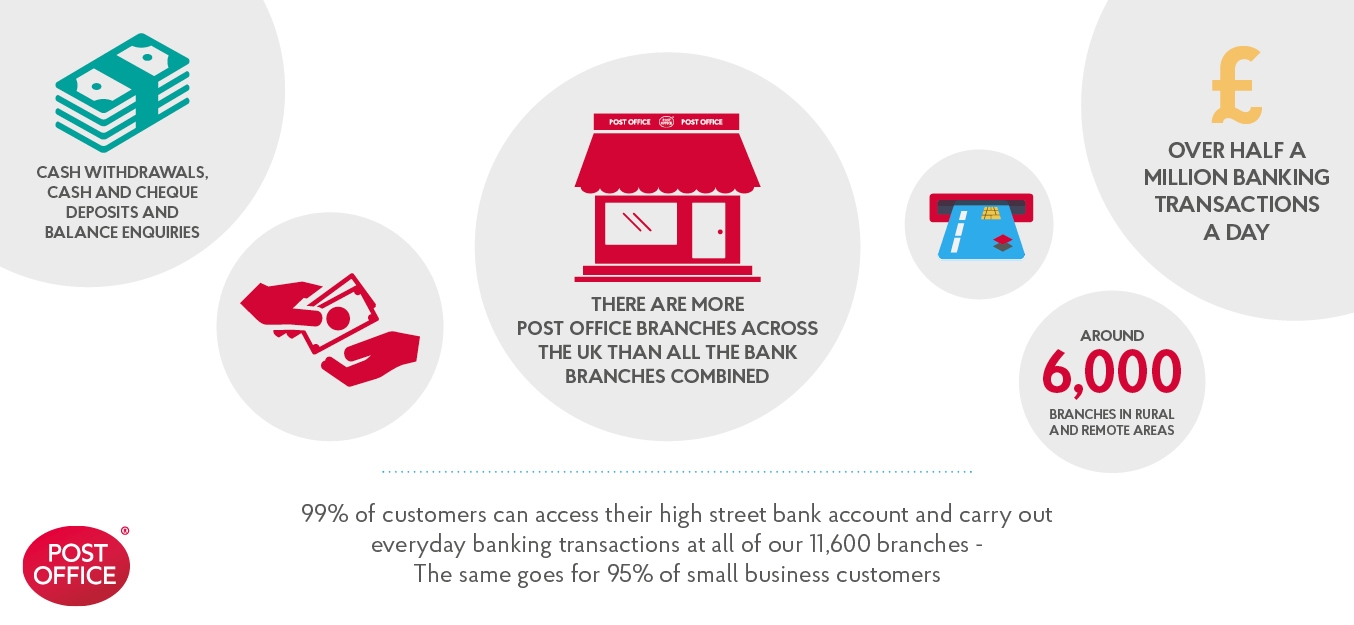 Our UK network of 11,500 Post Office branches play a crucial role in community banking and tackling financial exclusion. Post Office branches provide vital access to cash withdrawals, deposits and balance enquiries for 99% of UK bank personal account customers and 95% of small business account customers. This is a particularly important service for people who live in areas, many of these rural and sparse rural communities, where banks no longer exist.
Post Office is not intended to replace a full bank branch – we provide basic cash in and out transactions for personal and business customers. We cannot provide account servicing for our partner banks, they must own the customer relationship. Our focus is on supporting community access to everyday banking (cash) services vital to the local economy, and therefore delivering for customers of our partner banks, not competing with them.
Given the acceleration of bank branch closures in rural areas over recent years it is clear that Post Office is becoming the community banker for many communities across the country. It is a responsibility that we take very seriously because we know the importance that communities place on their local Post Office and the role that our branches play in the sustainability and commercial vitality of the communities they serve.
We are committed to maintaining services to rural communities and are very pleased to continue our support of the Rural Services Network Conference.