Over many years, Leader programmes have demonstrated the value of local engagement and a rounded view of local economies where social and community support is an invaluable mechanism for ensuring economic development and growth are maximised. This is, arguably, of particular importance in rural areas where the connections between the environment, social and economic activity are of huge importance. Locally driven economic strategies have a clear role to play in future economic, industrial and other strategy, building on the lessons learned from the delivery of Leader programmes over many, many years.
Below are a series of short case studies supplied by Leader programmes around the country which highlight the breadth of activities supported and the local impact generated.

LEADER programme: North Warwickshire and Hinckley and Bosworth
Project: Bakery Building Extension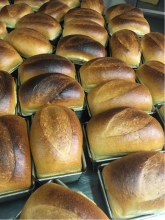 W H Gayton & Sons Ltd is a small, family run traditional craft bakery located in the village of Grendon near Atherstone in North Warwickshire. Established in 1919, it is now in it's third generation of the Gayton family and has been operating in the same location since its origination. The business is wholly managed by David Gayton, Master Baker, who works alongside his brother Richard, also a Baker and his sister Elizabeth one of the Confectioner's. They supply a selection of bread and cakes to shops, garden centres, schools and residents in the local area.
The project is to build an extension to the existing bakery premises which in total will cost over £100,000. The LEADER grant of £24,966 will contribute to this overall cost. The funding was awarded in December 2016 and the project should be completed by October 2017. The grant will support the expansion of the facilities, thus providing a larger working area to produce products and also to develop the product range such as Danish Pastries and Croissants. It is envisaged that once the extension is complete it will create 2 Full-time jobs.
For more information contact Emma McKay.

LEADER programme: Making it Local
Project: Business Centre
Manor Farm Business Park has been awarded £83,622 (40% of the total project costs of £209,055) of LEADER funding from Making it Local towards the refurbishment of three barns into a business centre offering office space for 4 businesses and flexible meeting space.
Lorimer Consulting Limited was established in 2014 after trading as a sole trader for 10 months, and is owned and managed by Chris Lorimer. The company has 1.5 FTEs staff.
Currently Lorimer Consulting Limited is run from Chris' home, which provides limitations in terms of expanding business support activities. Chris has recently established the South West Growth Service business, with the specific aim of offering business support across the South West. The development of the barns into a fully serviced business centre will complement these businesses.
This project will create 5 FTEs jobs, as well as supporting local businesses to develop and grow.
For more information contact Linda Wilson.

LEADER programme: Central Sussex and Sussex Downs & Coastal Plain
Project: Vineyard lodges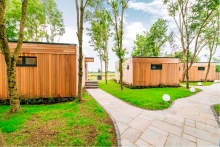 Central Sussex and Sussex Downs & Coastal Plain have so far approved grants totalling £374,688 for 12 projects. These are forecast to create 24 new full time equivalent jobs and 4,814 additional overnight stays over the next three years.
Tinwood Wine Estate near Chichester received a grant to help build three luxury vineyard lodges to welcome visitors to the vineyard wanting to extend their stay overnight. The project will promote wine tourism, create jobs and overnight stays, and benefit local businesses. For more information contact Caitlin Shardow.

LEADER programme: REAL Devon
Project: Health & wellbeing centre
'Silverton Room 4 U' were awarded £57,828 (56.1% of the total project costs of £103,082.50), towards the investment in a new building on the site of some old toilets in Silverton. This building will be used as a health and wellbeing centre, with a particular focus on Dementia Care, and services for elderly residents, but open to all for health treatments such as chiropody, reflexology, and aromatherapy. The creation of 0.4FTE job with the project will bring additional benefits to this rural community.
Silverton Room 4 U is a registered charity they were constituted in January 2016, prior to this they were a non-constituted community group fundraising to buy the derelict toilet block, established in 2014. The group saw the opportunity to create a valuable resource for the village that will bring much needed health and wellbeing support to residents The group negotiated the purchase of the old toilet block from Mid Devon District Council, and gained planning permission to demolish and build a new bespoke building on the site. They have raised a significant amount of funding towards this project, and there is clear community support for it.
The Project will be run by Jenny Roach with support from the trustees, who will each oversee an element of the project according to their areas of expertise, an architect is also employed to oversee the build.
For more information contact Linda Wilson.

LEADER programme: Lancashire West
Project: Potato washing facility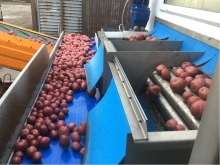 Margaret and Andrew Webster received £46,164 which was 40% of the total costs of a potato washing facility at Hollin House Green Farm in Aughton, West Lancashire.
The applicant supplies potatoes specifically for the crisping industry. Recent changes in specification from the industry meant that they now require washed potatoes meaning that the soil and dirt remain on farm rather than the factories having to dispose of it on delivery.
In order to remain competitive the Webster's had to invest in the washing facility to enable them to meet the ever demanding specifications of their customer. The machine is both water and energy efficient, clean and easy to use. With an output of 30 tonnes per hour it allows them increased flexibility to their workload. Another added advantage is that they have been able to wash potatoes for other local growers, which means an additional income stream. The funding was awarded via the Farming theme. One new technique was introduced and the project will create two new full-time equivalent jobs on farm.

LEADER programme: Making it Local
Project: Theatre group
The Common Players theatre group were awarded £21,662.68 (80% of the total project costs of £27,078.35) of LEADER funding from Making it Local to purchase an oil rig life boat, tent canopy, trailer and associated equipment to enable the common players to offer a unique production of the Ancient Mariner to coastal communities and tourists in East Devon.
The common players theatre group were established in 1989. It was set up to create engaging performances for and with people in communities around the West Country. Over the years activities have ranged from outdoor family performances, through participative and educational projects, to indoor touring works about issues and subjects that face rural communities. It is controlled by a volunteer trustee board of five individuals. There is one permanent employee the applicant Anthony Richards, supported by a financial manager.
Anthony sought support to invest in new capital items to create a unique performance of the Ancient Mariner, a poem by local Ottery St Mary born poet, Coleridge. They will have a travelling production over the summer seasons, visiting the East Devon coastal communities with this unique production.
The production will create 0.88 FTEs and over 3 years will attract 3600 day visitors to the areas. It will also create an income for the theatre group to enable them to put on future productions. This is a truly unique project that aims to offer a different theatre experience; part of the production will take place on the life craft in an adapted immersive environment.
For more information contact Linda Wilson.

LEADER programme: Worcestershire LEADing Rural Business
Project: Apple grading machine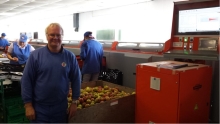 Cotswold Orchards, a family run business near Broadway, has been able to invest in its future thanks to a LEADER grant from the Worcestershire LEADing Rural Business LAG, West Midlands. The business which grows and markets dessert apples to a major retailer, was able to buy a new, high-tech piece of kit which has made a real impact on product processing.
When the owner, Nicholas Dunsby, heard about LEADER funding he saw an opportunity for his business. He applied for funding to upgrade the 27 year old apple grading machine with a brand new innovative kit that would double the accuracy and grading capacity for the business.
Nicholas said, "The investment in our new grading machine has made a significant impact on the efficiency of our production process, the accuracy and flexibility of the new grader has led to a major step forward in the consistency of our product.
"Our success in grant funding has been possible with the professional help and support by the LEADER team in Worcester who made the whole process much easier and simpler to follow."
The business received £32,400 in grant for the £81,000 machine, which sorts apples optically, by diameter and colour as well as weight and enables careful monitoring of all fruit that passes through the machine. As a result of this investment 1 full time and 2 seasonal jobs have been created. Three other local growers have benefitted from this investment as Dunsby's also sorts their fruit using the new kit.

LEADER programme: Making it Local
Project: Mobile pizzeria
'Rebel Town Pizza' were awarded £8,247.36 (40% of the total project costs of £20,618.40) of LEADER funding from Making it Local towards the purchase of a vehicle which will be converted into a bespoke self-contained pizza van and to include the integration of a wood fired pizza oven.
Rebel Town Pizza was established in 2015 and is owned and managed by brothers Ross and Lee Clifford who are the current employees.
Rebel Town Pizza is a mobile wood-fired pop up pizzeria serving authentic thin crust pizza. It is based in Colyford in East Devon and attends events including weddings, festivals, fetes etc.
Ross and Lee wanted to grow the business, and found that there were some events that they were unable to attend because of the size of their equipment, as many of the sites are limited. They considered how they could overcome this and decided that a vehicle adapted into a bespoke pizza kitchen with integrated wood-fired pizza oven would be a suitable option. This will allow the business to attend more events where they previously couldn't due to the size and manoeuvrability of their current vehicle and trailer. They will also be able to offer cooking workshops. The demand for the business to attend more events is growing. They will employ 6 staff a year for the events; this equates to 1 FTE. They will still use their current equipment, and can therefore attend multiple events.
For more information view the Rebel Town Pizza website.

LEADER programme: Cambridgeshire Fens
Project: No tillage seed drill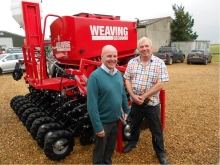 Philip Bradshaw of Whittlesey, has been awarded over £13,000 of LEADER funding to meet one of the grant programme's priorities to deliver economic benefits to arable farming in the Fens. Philip wanted to purchase a no tillage seed drill capable of working with all combinable crops in all types of soil conditions so that the crops could be produced at lower cost and with less damage to the environment. The LEADER grant money helped him achieve this and he has been sharing his knowledge and experience with other local farmers at his open day held on Wednesday.
'No till benefits are reduced costs of both establishment and inputs such as pesticides and fertiliser, while hopefully increasing yields and protecting and enhancing our soils,' says Philip.
Philip has this advice for farmers and business owners contemplating applying for LEADER funding, 'There is a significant amount of work involved in preparing an application, but the support from the local LEADER management team was excellent and very helpful.'
For more information contact from Alison Earl

LEADER programme: Making it Local
Project: Micro brewery
'Powderkeg Brewery' was awarded £14,089.41 (40% of the total project costs of £35,223.53) of LEADER funding from Making it Local to purchase Kegs, Fermentation equipment, and a forklift for their craft brewery.
John Magill, an experienced microbiologist, started Powderkeg Brewery in 2015. John produces modern British Keg Craft beers. They are Devon's only dedicated keg micro-brewery. In October 2016 they won the 'Best Lager' award at the Beer awards.
Demand for the beers that John produces has doubled each year; he is now at the stage that he needed to expand to meet the demand. Therefore John applied to Making it Local for help to increase his fermentation equipment so that he can double production, 200 kegs, so that he can supply more customers and a fork lift so that he can increase the useable storage space in the unit. PowderKeg beers are currently distributed in South Devon, East Devon and Bristol.
The project will create 1 FTE over the next 2 years.
For more information contact Linda Wilson.

LEADER programme: REAL Devon
Project: Soft play centre
'Planet Play SW ltd' were awarded £21,532.88 (40% of total project costs of £53,832.19), towards the equipment for a new soft play centre, and equipping the kitchen area. The project will create 2.5 full time equivalent jobs and provide a vibrant facility within the town centre.
The business owner already runs a very successful bouncy castle hire business. Through this venture he became aware of the lack of dedicated young children's indoor play facilities in his local town of Crediton. Through a lot of local market research and surveying his current customers he developed a business plan for opening a soft play centre for children aged 0 – 10 in the town centre.
It was important to the applicant to have the facility within the town centre to enable easy access for all community members and reduce the impact on the environment. This was realised when a local unit became available and the lease was agreed. Through a lot of hard work and support from family and the LEADER programme the applicant was able to open his new business in October 2016.
For more information please visit the Planet Play website.

LEADER programme: Making it Local
Project: Vineyard equipment
'Pebbled Vineyard' was awarded £7,068 (40% of the total project costs of £17,670) of LEADER funding from Making it Local, towards the purchase of a disgorging/dosing machine (DD 700 M semi-automatic) to process sparkling wine. This will allow the applicant to double their production capacity and offer a disgorging contracting service to other local vineyards.
Pebblebed Vineyard was established in 1999 and is owned and managed by Geoffrey and Anna Bowen. The planting of 0.2 hectares, and has steadily grown with 12 hectares to date. The applicant first started making their own wine in 2012 with the maturity of the vines. Geoffrey Bowen runs the vineyard as a
The support to invest in a new semi-automatic disgorging/dosage machine will allow them to make their own sparkling wine. Until now they have been using a manual machine which is time consuming, the new machine will allow them to double production, and also to complete the winemaking process with the disgorging, which they are currently unable to do. They will also be able to offer a disgorging service to local vineyards who currently send their wine all over the country.
The Project will be run by Geoffrey with support from Alex. Geoffrey is an experience project manager, and has run multimillion pound projects in both the public and private sector. Alex is a qualified wine maker with a BSc from Sussex University.
For more information please visit the pebbled website.

LEADER programme: Making it Local
Project: Hoof trimmer
Burscombe Farm was awarded £7,400 (40% of the total project cost of £18,500) of LEADER funding from Making it Local for the purchase and installation of a KVK 650 hoof trimmer chute. This investment will improve both animal health and workers' health and safety.
RE and AM Pearse is a family run farm. The farm is 155 hectares of Grass and 28 hectares of Maize which supports 256 dairy cows, 236 followers 3 bulls and 80 sheep/goats. The Farm employs 4 FTE, including one apprentice.
The hoof trimmer will enable the animal to be securely fastened and moved with no harm to the animal to the height needed for the staff member safely trim the hooves, improving the on-farm health and welfare of the animals. It will also increase productivity and efficiencies on the farm and create a safe working environment for both animals and staff.
For more information contact Linda Wilson.

LEADER programme: Making it Local
Project: Kitchen garden school
The Otter Farm Kitchen Garden School was awarded £40,241, (40% of the total project costs of £100,604) of LEADER funding from Making it local for the creation of a kitchen garden school and wine making facility at Otter Farm, through the purchase of wine making equipment and the installation of a commercial kitchen in an existing winery building. The development of a new e-commerce website will provide the ability to market the kitchen school and wine products and enable purchases to be made directly through the web portal.
Otter Farm (Diacono Ltd) is run by Mark Diacono. Otter Farm began in 2005 with a 17 acre smallholding including the Otter Farm nursery which sells plants and seeds online. The Otter Farm Vineyard is in early production they have wine maturing to sell from 2016..
The winery/kitchen garden school are new elements to the Otter Farm business and expand on the existing activities including the selling of seeds and the development of the vineyard.
The applicant Mark is a food/gardening writer and broadcaster, and he runs courses and events at a variety of locations and is well known internationally in both the food and gardening worlds and has done much to inspire a new generation of gardeners, growers and cooks. His seven award winning books Mark runs courses, lectures, hosts and presents at shows (including Chelsea Flower Show, Malvern Spring and Autumn Shows, Grand Designs). For a number of years Mark led the garden team at River Cottage and appeared on the TV series, running courses and contributed to the sustainable development of the farm and business. The farm has be featured on many TV and radio programmes, including Sir David Attenborough's climate change documentary, BBC1's The One Show, Radio 4's The Food Programme, Today and EPR in the USA.
The proposed project has come about because the large following has led to course requests but they have not had the facilities with which to turn this following into visitors to Otter Farm and welcome them for courses, events and to buy produce.
This project marks a significant step for the business, in drawing all the existing strands together, and establishing facilities that will allow them to process, add value and sell their produce, as well as welcome people to the farm to participate in courses and other events and for them to welcome schools groups.
For more information view the Garden School website.

LEADER programme: Making it Local
Project: Forestry machinery
Nigel Priston Forestry was awarded £37,708 (40% of the total project costs of £94,270) of LEADER funding from Making it Local to purchase of three items of forestry machinery that will allow Nigel to increase business capacity of a micro forestry business and continuity of production:
1) Timber Forwarder
2) Firewood Processor
3) Forestry Winch
Nigel Priston Forestry was established in 1997. Nigel works with local woodland owners who have felling licences to manage their woodlands.
Nigel extracts hardwood which is then dried in a kiln that reduces the drying time from 1 year to 1 day. As this is a superior quality wood demand is high, and exceeding the availability. Soft wood is used to fuel the Kiln.
To enable Nigel to grow his business he wanted to invest in three items, a forwarder, winch and processor. These will enable Nigel to access more woodlands and increase productivity and also to meet demand.
It will also enable Nigel to access less accessible woodlands and therefore offer his forestry services to more owners.
This project will create full time employment for the current part time employee; it will also provide year round work.
For more information contact Linda Wilson.

LEADER programme: REAL Devon
Project: Apple juice production
Little Emlett Orchard were awarded £15,844 (40% of total project costs of £39,711), of LEADER Funding from REAL Devon to support building renovation costs and the purchase of equipment to produce apple juice. The new equipment will increase the efficiency in production and grow the output for this apple juice producer. Creating local employment through 2 fte jobs being created and increasing the turnover for this rural micro business.
Little Emlett Orchard, in Black Dog, was established in 2007 by the current owners Catherine Povey and Chris Mellor. The rural micro business produces apple juice and was started in 2007 with the planting of 300 trees, and 200 trees in 2008. After 5 years of establishing the trees the first batch of apples was processed in to juice – all on site.
This initially was a family run concern and production was mainly for family and friends. However in the past 2 years the demand has grown to local shops, cafes, and pannier market stalls. Now the owners are looking to move this to a more commercially run business.
For more information please visit the Little Emlett website.

LEADER programme: REAL Devon
Project: Tillage drill & GPS system
E & J Greed were awarded £12,256 (40% of total project costs of £30,642) of LEADER funding from REAL Devon, to purchase a Zero Tillage Drill (Horsch Sprinter ST4) and GPS system (John Deere Greenstar Autotrac). This investment will enable the applicant to improve overall soil health and resilience and reduce the costs of production.
E & J Greed Farm Partnership, based in Thorverton, Mid Devon, has been running since December 1999 when Ed and Jilly Greed took over the running of the farm from a previous family member. George Greed, the applicant, was made a partner in 2012 after finishing university.
The farm is beef and arable, they farm across 230 ha, with 150 ha of arable and 80 ha of permanent grassland for the suckler herd.
The partnership sought a grant to move from their current cultivation system that is used to prepare the seedbed for sowing the arable crops to a zero tillage drill method. Through research the applicant has identified that the Zero tillage drill will reduce the damage conventional tillage causes the soil and environment and also reduce the operation costs to the farm and increase the profit margin.
The farm has been "soil mapped" – identifying the soil type and nutrient level across the farm, linked to GPS co-ordinates. This will enable the use of variable rate application of nutrients and the use of variable rate seed drilling this will achieve better plant establishment, suiting plant numbers to the correct soil type within the field.
For more information contact Linda Wilson.

LEADER programme: Making it Local
Project: Visitor centre
Ferne Animal Sanctuary were awarded £99,245.79 (22.11% of the total project costs of £444,350) of LEADER funding from Making it Local towards the building of a visitors centre to enable them to make Ferne a formal tourist attraction. Increasing the income of the centre to enable them to increase visitor numbers and maintain the grounds.
Ferne Animal Sanctuary was established in 1941 by Nina, Duchess of Hamilton and is a registered charity managed by Elaine Hayes the Chief Executive and a board of trusties.
Ferne Animal Sanctuary started as a place to care for animals that belonged to people going away to war. Sadly many of the animals' owners did not return and therefore the sanctuary began. Today Ferne still offer life-long care for animals in need. They also re-home animals over 200 dogs and 250 cats each year.
The applicant is now seeking support to invest in a new visitors centre. This project has come about driven by the need to increase income, as 70% of the income of the sanctuary comes from legacies. Currently the sanctuary and stunning grounds are open to visitors on an honesty basis and therefore not all visitors pay. The Visitors centre will enable them to ensure they collect all the admissions. The visitor centre is part of a large development on the site including a café and gift shop, which will increase the visitor numbers, making the site a true tourist destination.
For more information visit the website.

LEADER programme: Making it Local
Project: Dispatch facility
Bulstone Springs Farm were awarded £14,390.74 (40% of the total project costs of £45,199.75) of LEADER funding from Making it Local towards the refurbishment of a barn to create an organic dispatch facility on the farm and the purchase of the associated equipment to run the business.
Bulstone farm was purchased in 2010 and is owned and managed by Jon Theodosiou and Laura Williams. The farm is 9.8 hectares of grassland with an additional 4 hectares of woodland, and came with a stocked carp lake.
During the first two years on the farm Jon and Laura set up an organic egg business, this has now been in operation for 5 years and is growing in demand. They currently have 180 laying hens.
At the end of 2012 there was a landslide on site which destroyed a track and the carp lake, this meant the fishing business ceased until the work could be undertaken. The track was replaced this year and the carp business will be restored over the next 18 months.
Jon and Laura wanted to invest in the refurbishment of a barn to turn it in to a despatch facility and support to purchase the equipment for the facility. They didn't have the chickens; these were purchased as a non-grant item together with some other housing facilities as these costs are not eligible for LEADER funding.
The project came about as the applicants were inspired by other organic chicken producers. Having reared laying hens they have experience of chicken management.
The proposed project is to increase turnover and productivity to create a sustainable farm business. The increase will provide a part time job for Laura and a part time job for another staff member.
For more information contact Linda Wilson.

LEADER programme: Making it Local
Project: Heritage centre
Axminster Heritage ltd were awarded £90,772 (80% of the total project costs of £113,465) of LEADER funding from Making it Local to restore the 18th century Dye house and toilets which are in a very poor state. The dye house will then be used as a learning centre running courses, talks and demonstrations and exhibition space
Axminster Heritage Limited was incorporated in 2005 and became a registered charity in 2006. Axminster Heritage Limited is governed by a board of trustees all of whom are from within the wider local community.
In 2005 they established a heritage centre in a former carpet factory, displaying the rich and important history of Axminster's carpet industry.
In 2014 Axminster museum merged with AHL, the merger included their collection. The group acquired the old Whitty carpet factory, a grade II listed building which they are restoring in 3 phases:
Phase 1 of the project was enabling a temporary exhibition space to be created to enable members of the public to visit the collection which was relocated to Thomas Witty house, this was completed in 2015.
Phase 2, which is this project, will see the Dye house restored and used for learning and exhibitions.
Phase 3 will be the renovation of drill hall and a café, shop and garden created. HLF funding has been secured for these works.
This project expects to attract 7,500 visitors by 2020.
For more information contact Linda Wilson.