01.11.2018
Keyte Gardens Scoops National Green Award

1st November 2018
Keyte Gardens, Warwickshire Rural Housing Association (WRHA)'s innovative new development in Wootton Wawen, is officially the Best Green Scheme in the UK!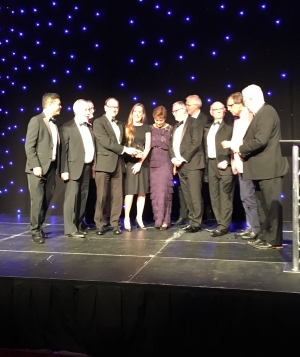 The ground-breaking scheme, which was opened by HRH The Princess Royal in September, scooped the title in the 24housing Awards 2018. At a prestigious ceremony at Coventry's Ricoh Arena, WRHA beat off stiff competition from some top names in the housing industry.
The awards celebrate the very best the housing sector has to offer and, this year, received a record number of entries from housing providers UK-wide.
Derrick Dyas, WRHA Chairman and Richard Mugglestone, WRHA Company Secretary, were joined at the ceremony by WRHA Board members, Councillor Daren Pemberton from Stratford-on-Avon District Council, Sarah Brooke-Taylor, Rural Housing Enabler at Warwickshire Rural Community Council and Dominic Kramer, Director of Morton Wykes Kramer Architects.
WRHA worked in partnership with Morton Wykes Kramer Architects, Bouygues UK, Waterloo Housing Group and Wootton Wawen Parish Council to make Keyte Gardens a reality, with funding from Stratford-on-Avon District Council and Homes England, and loan finance from Lloyds.
It marks Warwickshire's first Passivhaus development of ultra-low energy homes, with residents set to save up to 70 per cent on their fuel bills thanks to the superior levels of insulation and air tightness used, along with innovative energy efficiency features. The scheme was inspired by the local Parish Plan which calls for new development which embodies the latest thinking in energy efficiency to help reduce fuel poverty.
Derrick Dyas, Chairman of Warwickshire Rural Housing Association, commented: "We are absolutely delighted that Keyte Gardens has been recognised nationally as an outstanding development. It has been a real partnership project from beginning to end and we are pleased that this community development is already making a big difference to the local people who have made it their home.
"Next year WRHA will celebrate 30 years of providing local homes for local people in rural Warwickshire. We have plans in the pipeline for several new developments and pride ourselves on the locally sensitive management of homes and tenancies. We are always keen to work with local authorities and communities to explore solutions to rural house needs and are keen to bring our experience and expertise to new parts of the county."
Cllr Daren Pemberton, Planning and Building Services Portfolio at Stratford-on-Avon District Council, adds: "This is a great example of delivering positive outcomes that make a real difference to the lives of our residents, in partnership with Warwickshire Rural Housing Association and the other organisations which brought this to fruition."
---
For more information contact Katherine Bradley at Word Association on 01455 614333 or email KatherineH@wordassociation.co.uk
Warwickshire Rural Housing Association (WRHA) is committed to providing affordable homes in rural Warwickshire for local people and families who would not otherwise be able to afford to live within their own communities. WRHA was established in 1989 and now manages over 570 homes in 43 rural communities in the county.