29.06.2020
June Edition of Casebook - Health Funding Opportunities from the Rural Health and Care Alliance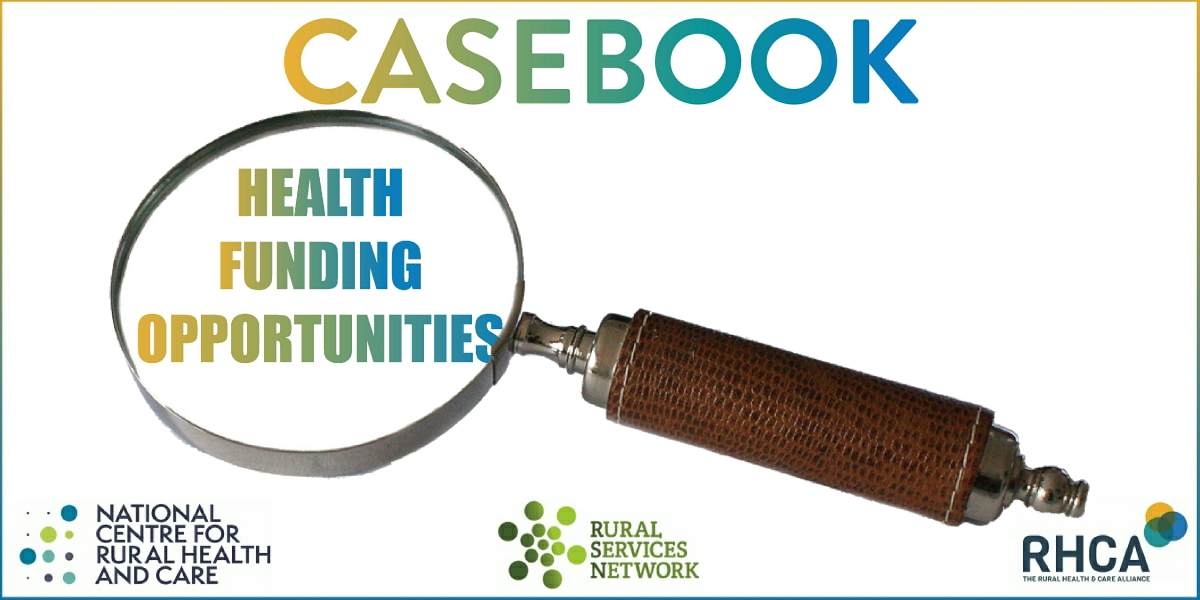 | | |
| --- | --- |
| This month's featured funding opportunities are: | |
Regional Studies Association
RSA Fellowship Research Grant Scheme (FeRSA) The RSA Fellowship Research Grants (FeRSA) are provided to support a discrete piece of regional studies and/or regional science research. The value of the award is up to £7,500 (c. $9,500; c. €8,400). The award has a maximum time span of 18 months and reporting conditions apply. The full terms, application guidelines and conditions governing the grant are available in the FeRSA Handbook. RSA members-only.
Extended Deadline: August 2020
https://www.regionalstudies.org/funding/fellowship-research-grant-scheme/
---
James Tudor Foundation
The James Tudor Foundation provides grants over five main areas of research:
Palliative Care
Medical Research
Health Education
Relief of Sickness
Overseas Projects for Relief of Sickness
Deadline: Ongoing
For more information:
https://www.jamestudor.org.uk/our-grants-the-relief-of-sickness
---
National Lottery: COVID-19 funding over £10,000 for partnerships – including Coronavirus Community Support Fund
The National Lottery is distributing emergency government funding alongside National Lottery funding, to support organisations at the heart of their local community to continue to deliver services to people and communities affected by COVID-19. Eligible organisations include registered charities, charitable incorporated organisations (CIO), not for profit companies including companies limited by guarantee, and Community Interest Companies with two or more directors (some exceptions apply). Eligible activities include activities supporting people and communities affected by COVID-19, as well as supporting eligible companies to overcome acute financial difficulties they face as a result of the pandemic. The National Lottery is looking to afford funding to cover about 6 months of expenditure, to a total value between £10,000 and £100,000.
Deadline: Ongoing
For more information:
https://www.tnlcommunityfund.org.uk/funding/programmes/covid-19-funding-over-10k-for-partnerships
---
ISCF Healthy Ageing Challenge Social, Behavioural & Design Research Programme Outline Stage
UK Research and Innovation (UKRI), via the Economic and Social Research Council (ESRC), is inviting outline proposals for research grants of up to £2 million (at 100% fEC) for a period of up to 36 months. The Healthy Ageing Social, Behavioural and Design Research Programme (SBDRP) is part of the ISCF Healthy Ageing Challenge portfolio of activities. The SBDRP will provide £9.5m (100% fEC) to fund interdisciplinary academic-led teams to carry out research into social, behavioural and design aspects of healthy ageing. The Programme will contribute to the Challenge mission to, 'ensure that people can enjoy at least five extra healthy, independent, years of life by 2035, while narrowing the gap between the richest and poorest' by enhancing our understanding of the aspirations, preferences and needs of the ageing population. Funded projects may address, but are not limited to, the impacts of the CoVID-19 pandemic on social, behavioural and design aspects of healthy ageing. Projects will also be expected to make a significant contribution to disseminating this knowledge, helping to inform innovators and positively influence market behaviours.
Deadline for outline proposals: 7th July 2020
For more information:
https://www.ukri.org/funding/funding-opportunities/iscf-healthy-ageing-challenge-social-behavioural-design-research-programme-outline-stage/
---