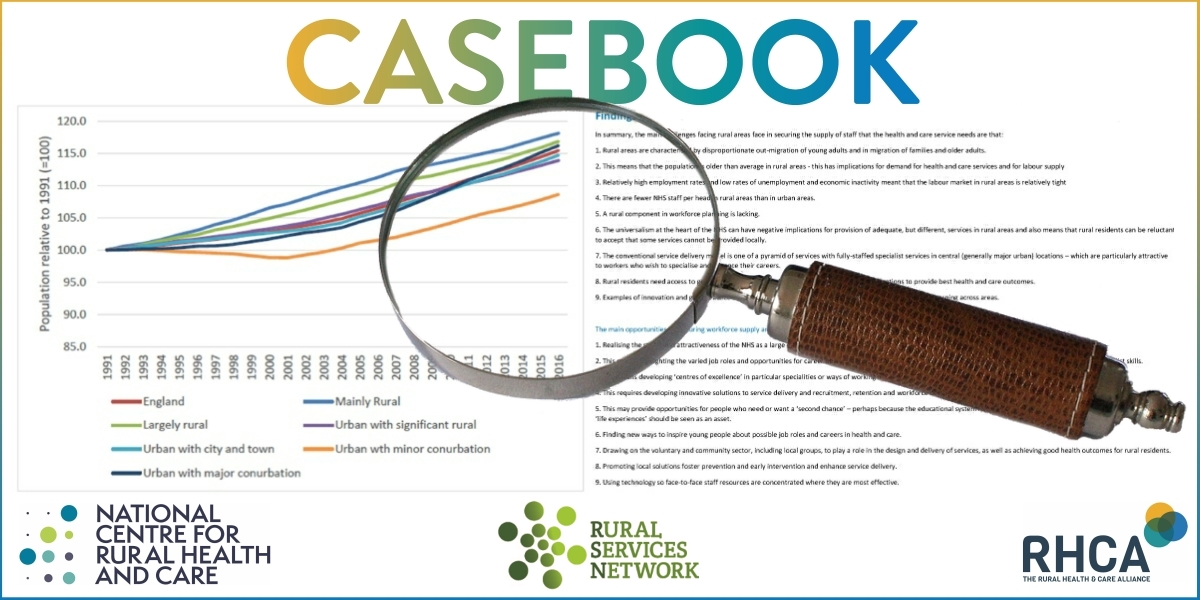 June 2021 Edition
In casebook this month - green social prescribing, patient records, mandatory covid jabs, health inequalities in rural places driven by covid and the impact of city flight on rural house prices and much more. Happy reading!

NEWS COMMENTARY
UK patients want access to mental health services and green spaces
We probably all instinctively knew about the relationship between rural green spaces and health but this article helps to make the link more explicit. It tells us:
The YouGov survey revealed that over one third of British patients want access to mental health services within their healthcare facility, along with three in ten respondents (30%) wanting access to more green spaces.
Over one third (38%) of British patients revealed they would also want access to mental health or counselling services in their GP practice or healthcare clinic.
This aligns with the NHS Long Term Plan which aims to grow and invest in adult mental health services within the community. As the NHS continues to see a rise in the number of people seeking help from mental health services in the wake of the pandemic, this was even more of a priority for those aged 18 to 34, with almost half (48%) citing these as key additions to their local healthcare facility.
Full article: https://www.healtheuropa.eu/uk-patients-want-access-to-mental-health-services-and-green-spaces/109130/
---
NHS data gathering: government plans to collect and share health records are hugely concerning – here's why
One key message from covid has been that the availability of patient records in more flexible formats has helped with the speed and through e-medicine the accessibility of treatment. So whilst on the face of it this article could point to something intrusive my view would be that its part of a very useful new way of thinking about the opportunities digitalisation gives us to enhance the way we support people, particularly in rural settings. This article tells us:
The GP records of England's 61 million NHS users are set to be gathered into a new database which third parties will be able to access. The new data-sharing scheme, called General Practice Data for Planning and Research (GPDPR), will "pseudnoymise" the patient data it collects and shares. NHS Digital claims this will mean the data will remain confidential when it's accessed by academics and the healthcare industry for use in research and health planning.
People have until September 1 to opt out of the scheme. If they don't, it won't be possible to remove their information from the database. That information amounts to a considerable volume of sensitive personal data, including information about physical, mental and sexual health, the staff who treated the patients, and data on sex, ethnicity and sexual orientation.
Supporters of the initiative believe the database will be of "incalculable medical value" and will help advance our understanding of medical issues. Critics see it as a "data grab" taking place under the cover of a pandemic, with one academic labelling the scheme's guarantees of anonymity "worthless", given how easy it is to identify people via their medical histories.
The initiation of the scheme has already been delayed by three months following a backlash from privacy campaigners, some of whom are now threatening legal action against the government. But if this initiative is to go ahead at all, officials must address critical concerns around privacy, consent and transparency, especially seeing as the NHS has a history of poorly-communicated and controversial data-sharing initiatives in the recent past.
Full article: https://theconversation.com/nhs-data-gathering-government-plans-to-collect-and-share-health-records-are-hugely-concerning-heres-why-162699
---
Covid jabs to become mandatory for care home staff in England
Controversial but a huge issue in rural care settings this article identifies that having the vaccine is to become mandatory for care workers. We already have significant challenges linked to the overall supply of labour in rural care so it will be interesting to see how this plays out.
Covid vaccinations are to become mandatory for care home staff under plans to be announced by ministers, as they consider extending the move to all NHS staff.
The controversial measure sets up a likely battle with staff in both services and could lead to the government being sued under European human rights law or equalities legislation for breaching the freedom of people who work in caring roles to decide what they put into their bodies.
The Guardian understands that ministers will confirm they are pushing ahead with compulsory vaccination for most of the 1.5 million people working in social care in England, despite employer and staff organisations in the sector warning that it could backfire if workers quit rather than get immunised. Under the plans those working with adults will have 16 weeks to get vaccinated or face losing their jobs.
The government is also keen to make it mandatory for the 1.38 million people who are directly employed by the NHS in England to get vaccinated against Covid-19 and winter flu – proposals that have already been criticised by groups representing doctors, nurses and other staff.
The Department of Health and Social Care (DHSC) will in the coming days launch two separate consultation exercises into making Covid and flu jabs mandatory for NHS staff. But ministers including the health and social care secretary, Matt Hancock, believe the arguments in favour of protecting patients from potentially infectious staff now outweigh those that allow health workers the right to choose whether or not to have either immunisation.
Full article: https://www.theguardian.com/world/2021/jun/15/covid-jabs-to-become-mandatory-for-care-home-staff-in-england
---
UK health inequalities made worse by Covid crisis, study suggests
I think this article gives much food for thought in terms of rural places and particularly in relation to our high proportion of older residents. It tells us:
The coronavirus crisis has disrupted routine healthcare disproportionately across society with women, older people and minority ethnic groups most likely to report cancelled or delayed appointments, prescriptions and procedures, researchers say.
Public health experts trawled through data from nearly 70,000 people enrolled in 12 major UK studies that surveyed the population before and during the epidemic. They found evidence for widespread inequalities, with disadvantaged groups often facing the greatest disruption to their medical care.
"Many of the people who report experiencing the greatest healthcare disruption often had poorer health prior to the pandemic," said Vittal Katikireddi, a senior author on the study and a professor of public health at the University of Glasgow. "While experiencing healthcare disruption is common across all social groups, our study raises the possibility that the health of the most disadvantaged in society might actually be more impacted by the disruption to the health system."
He added: "Prior to the pandemic the UK had large health inequalities, with the health of more disadvantaged social groups often worse. This problem had actually been getting worse even before the pandemic and there is a real risk that it could actually get much worse."
Full article: https://www.theguardian.com/world/2021/jun/14/uk-health-inequalities-made-worse-by-covid-crisis-study-suggests
---
Rural house prices in England and Wales rise twice as fast as in cities
The APPG Inquiry into rural health and care, for which we have been the secretariat, has underlined really strong linkages between housing and health. This article therefore give more than a little pause for thought about the impact of housing trends on rural neighbourhoods in terms of both affordable place for health workers to live and the stock of housing for older residents to downsize to. It tells us:
Rural house prices in England and Wales are increasing twice as fast as in cities, triggering a fresh affordability crisis for young people, with hot spots flaring up across the country from Lincolnshire to Lancashire as people seek more space post-pandemic.
Prices are rising 14.2% a year in countryside locations on average compared with less than 7% in urban areas, figures analysed by Hamptons estate agency for the Guardian show. It is compounding existing affordability problems in places such as Cornwall and Devon, but the biggest percentage increases of up to 30% were in Broxtowe in Nottinghamshire, around Lancaster, in Arun in West Sussex and Amber Valley in Derbyshire.
Hamptons said registrations to buy in its rural offices were up by 50% on the same period for 2019, while city buyer registrations rose just 9%.
"People struggle to stay because of the affordability and there is not much turnover of housing," said Elizabeth Williamson, an independent councillor in Broxtowe, whose three children aged 24 to 30 have have left the area partly due to local housing being unaffordable.
The average rural house price in the borough rose from £234,150 last May to £303,780 a year later.
Full article: https://www.theguardian.com/society/2021/jun/20/rural-house-prices-in-england-and-wales-rise-twice-as-fast-as-in-cities
---
MEMBER ARTICLES
We'd love to hear from you - share what you're proud of
We have four great articles from members this month, see below.  If you have something, you would like us to feature in a future edition, please let us know by clicking here to send us an email.

Ambitious Research Associate Post (Rural Health)
This post represents an exciting opportunity for an experienced quantitative scientist with a track record in a research field relevant to Population Health and with an interest in finding solutions to the most pressing health issues facing rural populations. We will consider applications from researchers with quantitative skills in fields such as epidemiology, economics, biostatistics, bioinformatics, data science or equivalent. Candidates should have in-depth quantitative research methods and several high-quality publications as a first author. Expertise in programming for efficient statistical analysis and data management would be expected.
Location: Lincoln – Lincoln International Institute for Rural Health
Salary: From £33,797 per annum
This post is full time.
Closing Date: Sunday 27 June 2021
Interview Date: Wednesday 28 July 2021 Reference: CSS161
The post is part of a major strategic investment by the University of Lincoln in rural health through the launch of the new Wolfson-funded Lincoln International Institute for Rural Health (LIIRH). With the appointment of Prof Frank Tanser as the founding director of the institute, the University of Lincoln aims to develop solutions to the most pressing health issues facing rural populations. With this objective in mind, the institute has active research projects in rural populations in the UK, South Africa, Malaysia, Burkina Faso and Australia. The incumbent will have access to a wide-array of outstanding population datasets and exposure to a diverse portfolio of research including studies evaluating hospital-based and community-based interventions, service design and delivery, and health technologies. The health issues investigated encompass both communicable and non-communicable diseases. These include (but are not limited to) HIV, tuberculosis, sexually transmitted infections as well as obesity, diabetes, cardiovascular disease and COPD. The incumbent will be part of an outstanding multi-disciplinary team of statisticians, epidemiologists, mathematical modellers, social scientists, clinical trialists, bioinformaticians and other domain experts.
The incumbent will be expected to make a significant contribution towards establishing the LIIRH as an international centre of excellence in Rural Health, evidenced through an increased research portfolio and publications in high-quality journals. The post holder will receive a generous salary and be afforded numerous opportunities and support to further develop their own independent research careers through travel opportunities and the attainment of fellowship funding. Apply online at https://jobs.lincoln.ac.uk/
---
Why we should prioritise imagination in early years learning and medical education blog
Dr Malcolm Rigler is a retired NHS GP and Rural Health Care Alliance member. During his time as a medical student in Bristol he developed a keen interest in Public Health and the way in which Town Councils can respond to the health needs of local residents. Here, he talks about digital health hub, 65 High Street Nailsea and why he believes that every High Street would benefit from having a Learning Centre.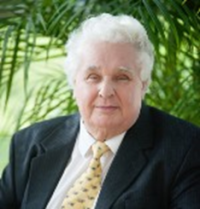 I was born in Poole, Dorset, the youngest of three sons in 1946. My parents were both working-class people. My Mum worked as a cook and housekeeper to a retired Clergyman and my Dad was an unskilled Poole Council workman. Although we lived in a smart detached house, my parents had a very limited income, so my Mother took two housework jobs on top of her own housekeeping work and looking after the family at home.
My Mother had a passion for education that she instilled in me. I started school with a wonder about the world around me and a love of learning. This ordinary story of my life, a working-class boy from Poole in Dorset leads to two very important topics that are close to my heart. I attended Bristol University in the 1960s and soon after "house jobs" I became a GP. At the time only 2% of students who attended medical school came from working class backgrounds and sadly, in 2021, the educational background of doctors has barely changed.
In 2016 the BMJ reported that just 4% of UK doctors come from working-class backgrounds, and explained that medicine remains 'one of the most inaccessible professions'. The report also highlighted that there wasn't a single application for medical school from half of all the sixth forms in England between 2009 and 2011. One of the lone examples of a University seeking to change this is Edge Hill University in Lancashire.
Children have missed almost an entire year from school because of Covid-19, and this will only further discriminate against children from disadvantaged backgrounds who have little or no chance of entering medical school. There is a clear need for more attention to be paid to early years learning to help children from all backgrounds have the opportunity to start schools with a genuine love of learning. One of the most-viewed TED Talks of all time is from Creativity Expert, Sir Ken Robinson; Do schools kill creativity? In this talk, Sir Ken argues that for children to be successful in education and in life, imagination needs to be made a high priority. He explains that the imaginative side of life is virtually eradicated by schools.
Another way of nurturing creativity in early years is to try to ensure that children spend time with older people, including grandparents. People who care for them and make them feel safe, whilst at the same time encouraging them to learn about the world around them, whether that's through feeding ducks in the park or gifts from holidays. In this way, the child's imagination can be stimulated in a warm and loving environment. The World of Stuff and Story in Weston-Super-Mare and Make Believe Arts in Wiltshire are examples of innovative organisations that help early years children to learn to love learning in this way. Both projects use the promotion of story as a basis for human connection. they understand that learning is profoundly important for the wellbeing of children.
I came to understand from my experience of other Arts and Health projects our team supported at Withymoor that opportunities for learning from early years until old age should be much more widely available in every community on the High Street and not just in schools and colleges. Fortunately, these views were shared by Nailsea Town Council and as a result, we have been able to establish 65 High Street Nailsea. This is the first High Street Learning Centre in the UK that is open to everyone and we hope to see many more popping up soon.
Led by Development Manager Ian Morrell and run by volunteers, the hub provides technology and guidance for users to help develop their skills and confidence. The aim is to find out what people want to know and give them one-to-one help. No. 65 is also much more than just a digital help hub. It is a venue at the physical heart of the community, promoting resilience and cohesion. We have creative activities, professional support services, self-help groups and more, for people of all ages. The environment is friendly and informal, underpinned by the knowledge that places connect people.
We believe that having places that connect people on the High Street is much more than just finding premises and opening the doors. There has to be an underpinning ethos, which establishes prioritise that key policy and financial decisions can be assessed against. To be really effective, a health on the high street initiative has to be plugged into local community action, the third sector and statutory agencies. Making a success of this type of venture needs people with a range of skills, which can come from a diverse range of backgrounds. But above all, it needs people who can see the big picture and can translate it into day-to-day actions, reinforcing values and building trusted relationships.
The aim of 65 High Street Nailsea is to show an alternative way of providing healthcare and medical advice. It provides a space that engages the community, inspires young people and shows that medicine is a career that is open to everyone. We seek to support our local GP Practices to help patients learn about their conditions and to connect with others facing the same difficulties or health problems. We believe that this way of working will promote both the health and wellbeing of individuals and the whole community in Nailsea and BSLM shares our enthusiasm for shared consultations.
For more information on 65 High Street Nailsea, you can contact Malcolm at m.rigler@nhs.net
---
Lincolnshire Refugee Doctors Project Case Study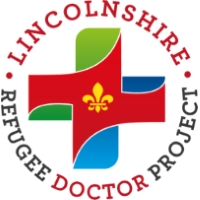 Rural Health & Care Alliance members, the Lincolnshire Refugee Doctor Project (LRDP) have completed an evaluation of their programme, which has recently completed its first year in operation. The evaluation was undertaken by The Lincolnshire Open Research and Innovation Centre (LORIC) team at Bishop Grosseteste University and was funded by Research England's Strategic Priorities Fund.
The evaluation of the project, which helps refugee doctors in Greater Lincolnshire to prepare for GMC registration, has highlighted the breadth of organisations that LRDP are involved with across the region and nationally, and the benefits of a flexible approach to recruitment. Of particular significance is the value the doctors place on the friendly, "family ethos" of the programme in assisting them with their holistic support needs.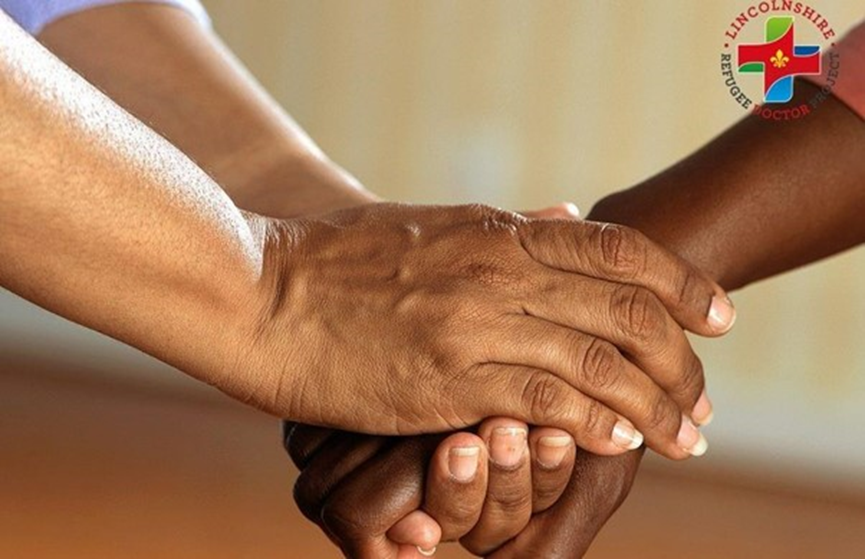 This review has also highlighted the challenges that the project faces by operating in a predominantly rural area which had traditionally had low levels of ethnic diversity, and also highlights the way that it is unique in its position of operating as a social enterprise, independently from any NHS Trust or refugee organisation.
Vince Ion, Chair of the Board for the LRDP explained that this report "is a description of our beginning; there is much more to be done, including a further review of our work to detail our effectiveness and value for money and we hope to commission this in the next few years."
The report is available in full here
---
NATIONAL CENTRE UPDATE
Understanding the impact of covid on rural and coastal communities
Please come along to our next webinar held by NHS Confed on 7 July from 9-10.30. It has a great panel of experts including:
James Devine, Programme Director, NHS Confederation
William Palmer, Nuffield Trust
Katherine Nissen, Cornwall Rural Community Council
Dr Kieran Sharrock, Lincolnshire LMC
Nicola Longson, Isle of Wight NHS Trust
In addition to the opportunity to share their insights it will be the launch of the new joint community of practice we are planning as part of our MoU with the NHS Confederation. Book your free seminar space here.
Rural Proofing
We're about to start the process of implementing our rural proofing toolkit in Devon, Lincolnshire and Shropshire. It will enable the organisations we are working with get to the nub of the challenges they face from a rural health and care perspective. If you would like to know more or even possibly get involved please let us know. More details on the toolkit itself are available here.
Discussions with Defra
Following a recent meeting of the Rural Coalition – an interest group of rural organisations with a commitment to social issues the National Centre has provided a detailed briefing to Defra on the top rural challenges in health and care from our perspective.
Coastal Health Inequalities
We recently held a seminar with our partners Cirican on rural health and care at which there was discussion of an impending report on health and care issues in coastal areas which has been commissioned by Professor Chris Whitty – when we know more we will feedback.
English Indices of Deprivation
Professor John Shepherd has now mapped the distribution of inequality using the UEA spin on the IMD by Professor Andy Jones and Mandy Burke of UEA across three trial counties: Lincolnshire, Norfolk and Devon. Please contact us if you would like to see the work.
Continuation of Relationship with Bishop Grosseteste University
The National Centre for Rural Health and Care is pleased to announce its commitment to continue with its research relationship with BGU. After 3 years of successful engagement we have just agreed an ongoing process of joint working into the future.
---
FUNDING OPPORTUNITIES
This month we focus on four funding streams including:
- Medical Research Council – population and systems medicine partnership grants
- NFU Mutual Charitable Trust – social welfare funding for rural communities
- Pub is the Hub – isolation and loneliness funding
- Ørsted East Coast Community Fund – health & wellbeing plus social isolation grants. 
To find out more about each of these funds click here
---
Spread the word
If you know of other organisations that you think would benefit from joining the Rural Health & Care Alliance, please click here to email us and let us know.
---
RURAL SERVICES NETWORK
Up to date news on Health and Care
The Rural Services Network provides a useful source of themed news content and data.  Check out the latest news on Health & Wellbeing and Vulnerability, where you'll find articles on a diverse range of rural issues affecting rural communities. You might also find this research on Over 65 Population Projections useful too.
Latest from RSN Member Insights
RSN Member Insights is the place to discover the statistics that define communities within our membership.  It is regularly updated with new analyses, and these will be highlighted in the 'What's New' section of the RSN's Weekly Rural Bulletin.  The Rural Bulletin also provides a selection of the most rurally topical news items, so do subscribe and encourage your colleagues to subscribe to what is an invaluable weekly periodical.
To make a suggestion of data that would benefit you by being included in the Member Insights section, please email Dan Worth, our Research and Performance Analyst, at dan.worth@sparse.gov.uk.