21.07.2020
July Edition of Casebook - Health Funding Opportunities from the Rural Health and Care Alliance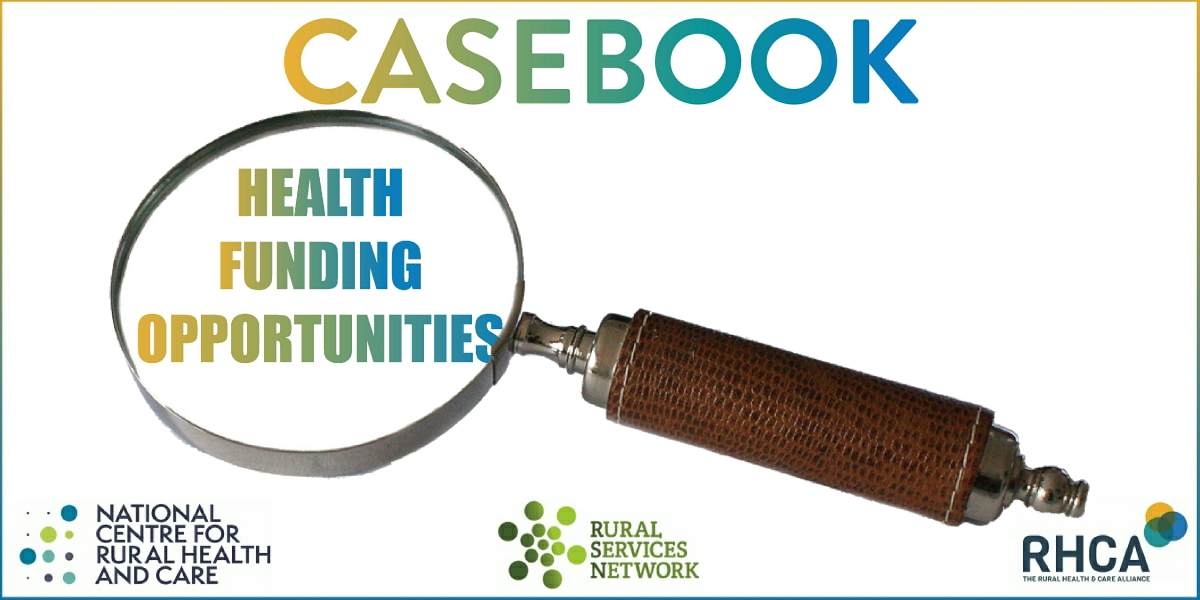 | | |
| --- | --- |
| This month's featured funding opportunities are: | |
This month's featured funding opportunities are:
"We will consider applications in the fields of arts, health and wellbeing, education in its widest sense, and those that cover social issues. Our focus is to connect communities, building bridges between marginalised groups and mainstream society, and to enable individuals to reach their full potential. Within these broad criteria, we have a number of areas of special interest:
Young people's improved mental health;
Arts as a tool to achieve social change;
Improved quality of life for carers and for older people."
Grants awarded are typically between £10-20k per year over a three year project.
---
Various awards available for researchers at various careers stages, plus grants for research projects, including:
Innovator Awards
Supporting researchers who are transforming great ideas into healthcare innovations that could have a significant impact on human health.
Duration of funding - Usually up to 24 months, or up to 36 months for multidisciplinary collaborations
Scale of funding - Up to £500,000, or up to £750,000 for multidisciplinary collaborations
Open Research Fund
Enabling researchers to develop and test innovative ways of making health research open, accessible and reusable.
Duration of funding - Up to one year
Scale of funding - Up to £50,000
---
Open call: Research and innovation ideas to address COVID-19
https://esrc.ukri.org/funding/funding-opportunities/research-and-innovation-ideas-to-address-covid-19/
"ESRC is looking to fund new research projects and related data collection of up to 18 months duration which will extend the evidence base and make a significant contribution to the understanding of, and response to, COVID-19 and its impacts. These projects will address fundamental gaps in our knowledge and provide practical evidence that could be of use in considering ways of responding to or mitigating the pandemic and its impacts, with a strong emphasis on producing findings that can be used during the research as well as on its completion."
---
The Pixel Fund offer grants only for projects which focus on the mental health of children and young people up until the age of 26.
Grants of between £500 and £5,000 are available, and there is no time limit on applications
---