27.01.2021
FCN supporting business and personal resilience

2021 brings with it many changes for British agriculture. During this period of immense change, FCN is supporting farmers' mental and business resilience in a number of ways.
We recently announced a joint project with The Nuffield Farming Scholarships Trust and Focussed Farmers to develop a programme offering business and mental resilience support to the farming community.
The programme will include a video series, mentorship programme, farm walk series, online webinar, newsletter, peer support networks and online workshops. This project sets out to provide support across the sector to those members of the farming community affected most by the difficulties and isolation brought by Covid-19.
FCN has been interviewing Nuffield Scholars about topics such as planning for the future, managing change, diversification and much more. These video interviews are available via FCN's YouTube channel and can be accessed by searching for 'The Farming Community Network'. More information about this project is available here: https://fcn.org.uk/blog/2020/11/30/fcn-partners-with-nuffield-farming-to-deliver-business-and-mental-resilience-programme/
After a recent successful online event with Julian Norton, The Yorkshire Vet, which helped to raise funds for FCN, we are pleased to announce a similar online event is taking place on 16 February with Amanda Owen, The Yorkshire Shepherdess and star of Channel 5's 'Our Yorkshire Farm'. These events have been coordinated with the National Farmers' Union.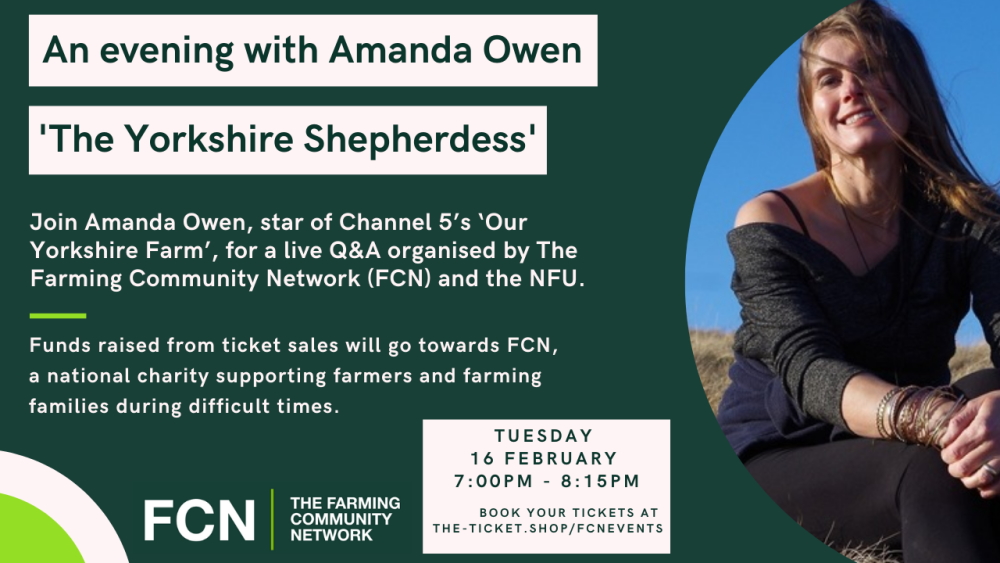 These events are designed to keep everyone optimistic during this continued period of lockdown due to Covid-19. This Q&A will see Amanda discussing how she and her family are staying positive at this time and sharing her views on all things farming.
Funds raised from ticket sales go to FCN, and will help us to continue our work supporting farmers and their families during difficult times. More information about this event, including a link to where you can purchase a ticket, is available here: https://fcn.org.uk/blog/2021/01/12/evenings-with-farming-favourites-julian-norton-and-amanda-owen-in-support-of-fcn/
During this time, it is important we remain optimistic and encourage the farming community to plan ahead for the future, and seek support should they need it.
For those concerned about a friend, family member or neighbour, or feeling like they need to talk to someone who understands farming, you can contact FCN via our Helpline (03000 111 999) or e-Helpline (help@fcn.org.uk). We will listen, support you and connect you with appropriate help.