09.04.2009
Cohesion challenges must be addressed
Challenges around cohesion arise for numerous reasons within communities.
Challenges around cohesion arise for numerous reasons within communities, writes RSN Online associate Tracy Turner.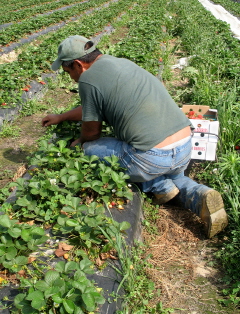 Many challenges around community cohesion have recently been connected with new European migration.
These challenges can typically be more complex in rural communities simply due to lack of funding and capacity issues.
As part of the Department for Communities and Local Government's programme of work on cohesion, Specialist Cohesion Teams have been developed to support local authorities facing cohesion challenges.
Two pilot projects were established in July 2008. One in Barnsley, South Yorkshire, and the other in Breckland, Norfolk. Here, we take a look at what is happening in Breckland.

Migration in Breckland
Breckland is a large rural district in Norfolk. Recent population estimates suggest the Breckland population has increased from 121,418 to 128,300, with the White British share of the population decreasing from 95.27% to 92.1%.
Portugese nationals began working and settling in Breckland in the late 1990s, and in 2003 there were conservative estimates of approximately 6000 Portugese nationals in the area. The Portugese migrants arriving before 2004 tended to be older workers with lower levels of education and generic skills.
A8 community workers started arriving in Breckland from 2004 and National Insurance registration figures show 6,690 registrations in Breckland between 2002 and 2008. Eastern European migrants tended to be young, middle class, well educated and skilled.
Specialist Cohesion Team
The Specialist Cohesion Team in Breckland used a draft IDeA benchmark toolkit for community cohesion which is being designed to enable local authorities to carry out self-assessments. The benchmark has four key themes:


Building trust through effective leadership


Effective community interaction


Service design and delivery to support and build cohesion;


Effective performance and resource management


The pilot programme highlighted that despite having high migration levels and a low score on National Indicator 1 (the percentage of people who believe people from different backgrounds get on well together in their local areas), there were no significant community tensions in Breckland.
Breckland Council has worked hard to build a strong community with:


a strategic overview and structures which tie into county and country wide strategies on cohesion


community liaison officers to monitor progress


a Pride in Breckland campaign to highlight the strengths of the district


building good relationships with the voluntary and community sector and frontline workers


Transferable learning
A specialist cohesion team identified the following strengths in Breckland, which other rural areas may find useful:



Local Area Agreement
The Local Area Agreement (LAA) has been developed with well rounded indicators focusing attention on cohesion and the integration of new and existing communities. There has also been extensive rural and voluntary sector proofing of the LAA, as well as the inclusion of a cohesion question in the equality and diversity proofing checklist

Breckland and Norfolk Sustainable Community Strategies and LSPs
Cohesion has been identified as a cross cutting theme and an active Cohesion Network established across the county supported by a Partnership Community Cohesion Officer, funded by the Norfolk CSP through the use of Second Homes Council Tax.


The voluntary and community sector is well represented on Breckland LSP. The inclusion of a representative from the Eastern Daily Press also provides an opportunity for the LSP to develop positive relationships with the local media on relevant issues. The LSP also provides funding for advice and guidance training for less formal ethnic minority/migrant worker organisations in Breckland.

Leadership and Community Engagement
The Council's Housing Department leads on the housing and support needs of ethnic minority communities in Norfolk and Waveney. A dedicated Community Liaison Officer (who is a Portugese speaker) carries out outreach and liaison work with a range of ethnic minority voluntary and community groups and residents.

The Housing Department has also developed a Community Leadership Programme which trained and developed the capacity of local people to act as 'informal community advisers' to improve the access of people within their locality to housing services. People from ethnic minority and migrant communities have been specifically targeted to participate in the programme through links with the department's ethnic minority Community Development Worker. The programme is expandable to include information on other council services.
Further resources on cohesion
Other information and resources around cohesion, published by the Department for Communities and Local Government, include:
Do you have an example of good practice in your local area? We're keen to build and promote a good practice library with links to practical material you will find useful.
Send suggestions to tracyturner@placeshapingsolutions.com.