22.10.2020
Carbon monoxide gas – a silent killer

We've all been spending more time at home this year, and with winter on its way and the night's drawing in, it's time to start preparing for winter.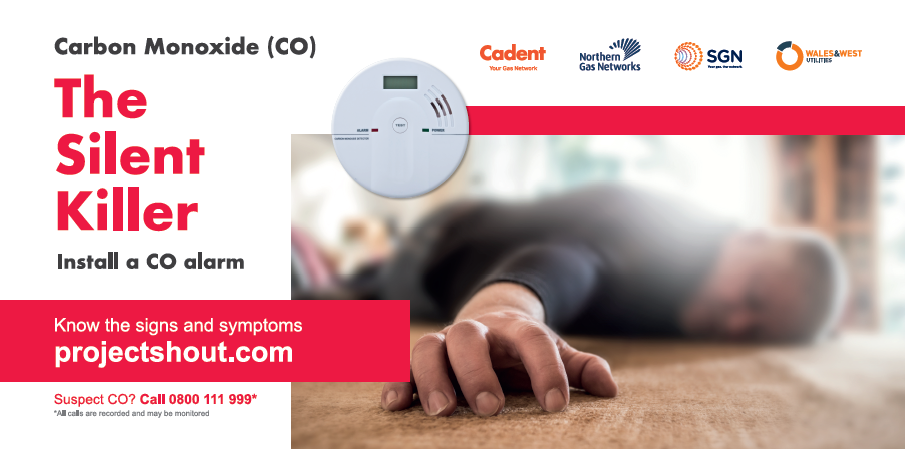 2020 has been a challenging year, and Coronavirus will be with us for a while yet. But it's important that we also are aware of more mundane, everyday dangers in our homes. And one of the deadliest is carbon monoxide.
Carbon monoxide gas is a silent killer; which won't think twice before taking the lives of those you love. Every year in the UK, over 200 people are hospitalised with suspected carbon monoxide poisoning, which leads to around 50 deaths. It is a highly poisonous gas that has no colour, taste or smell. It is invisible to the human senses.
Carbon monoxide is produced when a fuel is not burnt properly. It can be produced by faulty boilers, fires or cookers – whether they're oil or solid fuelled – or on mains gas. Clogged and unswept chimneys are a risk too. At low levels, carbon monoxide poisoning can lead to symptoms that are not always obvious or present themselves in the same way as another ailment such as cold or flu, without the temperature. At high levels of exposure, loss of consciousness, or even death, can result.
But while carbon monoxide can be deadly, it's also easy to protect you and your family from it.
Fuel-burning appliances are the most common carbon monoxide sources so are a good place to start your winter preparations. They should regularly be checked by registered engineers and faulty appliances should be replaced. Ideally, Carbon Monoxide alarms should be installed in every room containing a fuel-burning appliance and in each bedroom. CO alarms should also be installed in any room through which a flue passes, even if the flue is fully enclosed or concealed, and if you have a chimney, you should get it swept regularly.
If you have a CO alarm and it sounds, you should take action. A loud alarm is a warning that unusually high and potentially lethal levels of carbon monoxide are present. Never ignore this alarm, further exposure can be fatal. So, stay safe by following seven simple steps
Open doors and windows.
Stop using all fuel-burning appliances and, if possible, turn them off.
Evacuate the property leaving the doors and windows open
In an emergency call National Gas Service on: 0800 111 999
Don't re-enter the property until the alarm has stopped.
Get medical help immediately for anyone suffering the effects of carbon monoxide poisoning.
Don't use the appliance again until it has been checked by an expert.
While carbon monoxide can be generated by any fuel that burns, the UK's gas networks have got together to launch Project SHOUT, to make sure everyone – including those in rural areas who may not be on the gas network – are aware of the dangers of carbon monoxide poisoning and the importance of regular maintenance on all fuel-burning appliances, in addition to encouraging people to get their chimneys swept annually and to buy carbon monoxide alarms. To find out more about carbon monoxide and how to keep you and your family safe go to https://projectshout.com/