19.04.2021
Rural Review of Bus Back Better - National bus strategy
Whilst the RSN has published some initial thoughts on Bus Back Better, which the Government launched early in 2021, it has now had the opportunity to consider the strategy and the this Rural Lens document sets out some key considerations of the strategy from a rural perspective.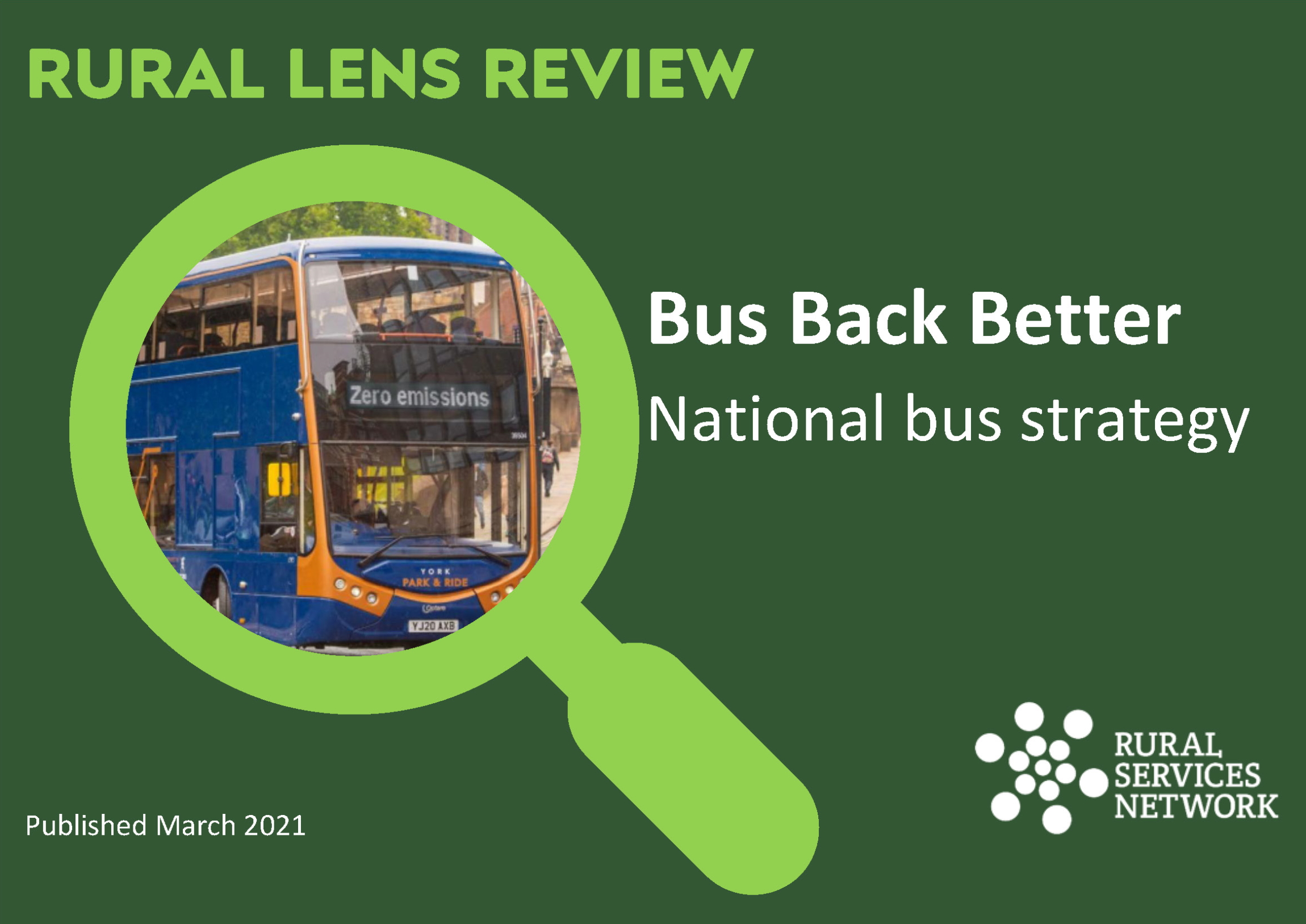 The RSN has set out 8 key points in response to the Bus Back Better Strategy:
Inevitably there are many aspects across this Strategy where the 'devil will be in the detail' and that detail will need to be available before we can see how the proposals will play out in rural areas. We are left wondering how much of the funding/opportunities will really come into rural areas and benefit rural communities? Will the funding to give "LTAs the skills and people they need to deliver this strategy" be allocated on a fair and proportionate basis to rural Councils? Will rural proofing before the setting of policy details and specific budget allocations actually take place?
£3bn is to be invested by Government for buses in England outside London with at least £300m of that funding to support the sector recover from the pandemic in 2021/22. Particular welcome is given to the £25M allocated in 2021/22 to give Giving Local Transport Authorities (LTAs) the skills and people they need to deliver this Will this be enough? One-off allocations are one thing but guaranteed on-going finance to LTAs to enable them to support essential, but non-commercial, services (including Demand Responsive Transport, across rural areas is essential.
There is a real 'carrot and stick' approach to funding support throughout the Strategy.
The budget reductions by rural councils for bus support over the past decade have largely been because such support is discretionary expenditure and government support to meeting the costs of statutory services (adult and children's social care in particular) has been woefully inadequate. These are issues which the Government must address as a matter of great urgency. The full range of rural delivery costs must be fully recognised and reflected in all future funding formulae.
We are concerned about the capacity of many rural authorities to achieve the Strategy's objectives in the required timescales.
Throughout the Strategy there are references to Apps etc. In many rural areas broadband and mobile phone infrastructure need to be improved rapidly before the use of such technology can be a reality.
There can be no doubting the enormous ambition running throughout this Strategy. Only time will tell how much of can be realised.
Overarching Statement from The RSN's Revitalising Rural Policy solutions:
"The paucity of rural transport options is an issue which strikes at the heart of rural disadvantage, impacting people's access to employment, education and training, health, shops, and a host of other activities. It is a key driver of rural isolation and loneliness. It leaves rural communities highly car dependent, with consequences for the environment and national efforts to reach net zero (for carbon). This situation reflects a long-term lack of strategic policy thinking about what transport provision is needed and appropriate in rural areas".

You can read more about the Bus Back Better Strategy at this link: www.gov.uk/government/publications/bus-back-better

The Rural Lens are a set of documents published by the RSN which consider key government strategy documents from a rural perspective and can be accessed here.

In our Revitalising Rural: Realising the Vision campaign, the RSN sets out a number of policy asks of Government in key police areas.
You can access the full campaign documents at: www.rsnonline.org.uk/revitalising-rural
In relation to Rural Transport and Access to Services the RSN specific policy asks of Government are:
Policy asks:
Covid-19 support: In the short-term Government must retain its emergency financial support for public transport networks, so that rural bus and rail routes survive whilst pandemic restrictions are in place and whilst passenger confidence remains low. A significant public information campaign is required as soon as social distancing restrictions can be further relaxed to re-assure people about safety and encourage them back onto public transport.
Bus route provision: Government must ensure that its planned National Bus Strategy has objectives for rural provision, with ambitions to better serve rural communities and their economic needs on a sustainable basis. A fair share of the extra resources now starting to flow must reach rural areas, to improve existing routes, restore valued lost routes and establish new routes where clear gaps exist. This must be backed up by ensuring predominantly rural local authorities regain and sustain their ability to offer necessary revenue support, which means Government implementing the findings of its Fair Funding Review and taking full account of the costs of rural service delivery.
Zero emission buses: As described in the section on decarbonisation, the high costs of introducing electric or hydrogen buses and their fuelling facilities could prove problematic in rural areas. A comprehensive review is needed of the electric grid and, where appropriate, hydrogen supply, to address this risk.
Community transport: The Rural Mobility Fund is useful, if modest in its scale. Lessons from that Fund's current round should form the basis for a larger funding pot which is sustained over a longer period. It should, especially, promote the use of community and demand-responsive transport schemes which serve outlying settlements and feed into bus or rail routes. App-based journey planners and booking technologies should be piloted to attract new users, as should through ticketing between transport providers. However, in many rural areas this may require improvements to mobile connectivity.
Cycling and walking: Government should recognise the potential to improve cycling and walking infrastructure in rural towns, to nearby villages and in urban fringe areas. This can reduce car dependency and improve access to rural employment, services, and retail centres. Funding streams being made available to develop such infrastructure must reach rural areas and not simply focus on larger urban settlements. The condition of rural roads needs addressing as it can be a barrier to cycling.