20.08.2020
August Edition of Casebook - Health Funding Opportunities from the Rural Health and Care Alliance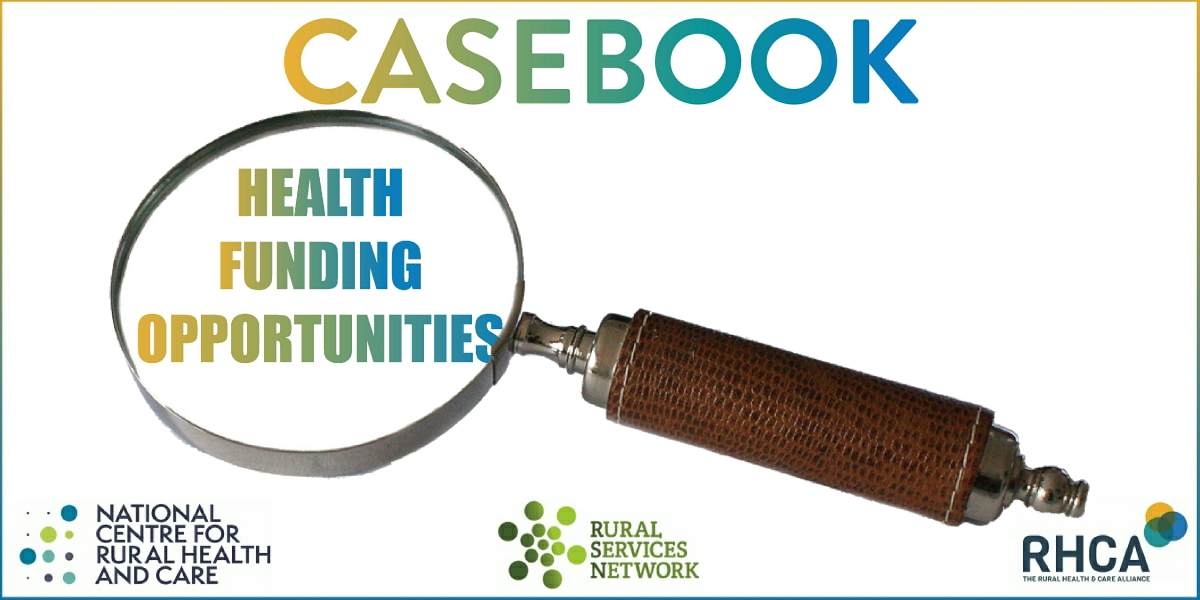 | | |
| --- | --- |
| This month's featured funding opportunities are: | |
This month's featured funding opportunities are:
All Churches Trust
http://www.allchurches.co.uk/what-we-fund/
Grants are available to communities under a number of themes, including "Hope Beyond" (Covid-19 related), and "Growing Lives" (funding for children and young people's projects). The aim of the organisation, and the grants that it makes are to: building communities, help people in need to flourish, and to grow churches, spiritually and numerically. Grants normally only fund capital projects and equipment, not salaries or running costs and only cover projects in the UK and Ireland.
There are no deadlines, and applications are reviews upon receipt.
An example of a project they have funded to help to tackle isolation can be found here: Linking Lives Phone Befriending Service
---
Masonic Charitable Foundation
https://mcf.org.uk/get-support/
A variety of grants are available covering work related to children and young people, adults in later life, and those receiving hospice care. They provide small grants of £1,000 up to £15,000 over 3 years, and larger grants of £10,000 – £80,000 (however the average grants generally range £20,000 – £60,000). The next application window for small grants is open from 1st October until 23rd December 2020, and for larger grants is open from 1st September until 3rd October 2020. They are also able to fund medical research and disaster relief, but this is discretionary and is usually by invitation to apply.
---
NIHR
https://www.nihr.ac.uk/documents/nihr-artificial-intelligence-for-multiple-long-term-conditions-aim-clusters-call-research-specification/24646
The National Institute for Health Research (NIHR) invites proposals to undertake programmes of research to spearhead the use of artificial intelligence (AI) methods to develop insights for the identification and subsequent prevention of multiple long-term conditions (multimorbidity) or MLTC-M.
Research may be funded in 2 waves, with the wave 1 application window closing on 29th September 2020, and wave 2 application window closing on 9th February 2021.
---