Rural Fire and Rescue Services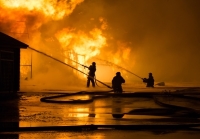 The RSN runs a Fire and Rescue Service Sub Group. It involves some 15 of the Countries' most rural Fire and Rescue Services. The group comprises both County and Combined services. It is the only group nationally dealing solely with rural fire and rescue service issues.
Rural fire operation is often operated in large part through voluntary or retained members of the public and it is important that this system of fire and rescue service operation is, on occasions, given some special consideration. The link between community involvement and the local fire and rescue service is often at its strongest in rural areas and this deserves special consideration and broadcasting.
Despite the fact that many of the rural fire and rescue services are retained - in common with many other services - rurality occasions costs which are greater than will be found in other areas. To not have these costs adequately recognised in funding formulae means a Fire and Rescue Service that has rural areas can experiences overall budgetary difficulties greater than other similar services in the country.
Rural Areas often produce call out requirements that vary to the norm. Open countryside fires, flooding and incidents occasioned involving classified roads with higher than average traffic speeds are examples of this. Group consideration of these work areas and sharing best practice are important.
Because of rurality older people in particular can be more vulnerable in rural areas and as the percentage of elderly people in rural areas is predicted to grow sharply over the coming years so special consideration of preventive education becomes increasingly important.
Rural areas will always have a thinner service just through their very characteristic. However as public expenditure cuts take place a starting thin service can be a greater problem. The need for liaison between 'blue light' services themselves and with the local councils is very definitely required and the group looks to play an important role in this area.
Our Fire and Rescue members are:
| | | | | |
| --- | --- | --- | --- | --- |
| Buckinghamshire | Cheshire | Cornwall | Cumbria | Devon and Somerset |
| Dorset | Essex | Hereford & Worcester | Lincolnshire | Norfolk |
| Northants | Shropshire | Warwickshire | West Sussex | Wiltshire |

The group meetings minutes can be found below:
http://www.rsnonline.org.uk/events-and-meetings/specialist-subject-meetings
The RSN Constitution sets out the formal role of the group in the following way:

(a)To seek to achieve maximum linkage between the operation of Fire and Rescue Services in rural areas and the communities involved.

(b)To seek to share operational experience and best practice established through providing services in rural areas

(c)To argue the financial case relating to the additional costs of Fire and Rescue Services operation in areas classified as Predominantly and Significant Rural.

(d) To Address the Fire & Rescue Service issues which are unique or more prevalent in rural areas (retained fire service operation, open countryside fires and flooding and accidents involving classified roads are examples.)