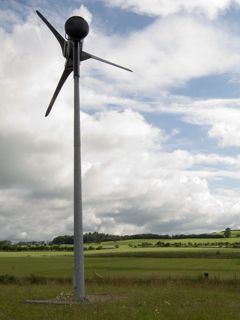 Grants of between £200,000 and £500,000 are available through the Rural Carbon Challenge Fund in rural north-west England.
Expressions of interest are being sought from charities, social-enterprises, community groups and micro-enterprises before the end of May.
Funding will go to rural projects from Cheshire, Cumbria, Greater Manchester, Lancashire and Merseyside.
The fund aims to improve the diversification of the rural economy and develop new partnerships at a community level.
Interest is encouraged from groups looking to:
install renewable energy systems - especially wind, hydro and woodfuel
set up or expand renewable energy businesses
supply training and information for commissioning, designing, installing and servicing micro-renewable installations
offer training and information for community groups, social enterprises and charities on developing and delivering projects
conduct feasibility studies
All projects should showcase best practice.
They must also offer an element of innovation, such as the first time demonstration of the technology in a rural setting.
The Northwest Regional Development Agency (NWDA) is leading the project.
Chairman Robert Hough said the fund represent the agency's commitment to creating a low carbon regional economy.
The project is being delivered by Envirolink Northwest in partnership with the Energy Saving Trust.
Applicants unsure whether or not their location is defined as rural can contact Envirolink Northwest directly to confirm.
Envirolink head of research Lee Allman said rural communities could make a real difference to where they live and work.
"There is no other scheme like it in the country, so the successful projects will be pioneers, setting a blueprint for the rest of the UK to follow."
Funding has been made available from Defra and the European Agricultural Fund for Rural Development.