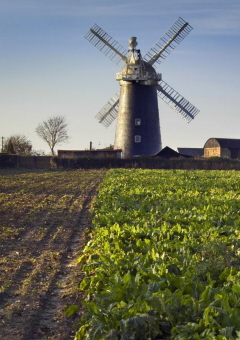 Familiar landscapes, wildlife and habitats will all experience wide-ranging changes, according to Natural England.
Significant changes to land management were needed to allow the natural environment to adapt, it said.
The warning was made in a series of Climate Change Character Area reports published on Tuesday (31 March).
Natural England chief executive Helen Phillips said: "Climate change is the biggest issue facing the natural environment.
"Our most precious species, habitats and landscapes urgently need to be managed with climate change in mind."
The documents form part of a wider project to identify management responses that will help the natural environment adapt to the changing climate.
They focus on four different English landscapes:

the high fells of the Lake District;
the woodland and chalk grassland of the Dorset Downs and Cranborne Chase;
the varied, farmed landscape of the Shropshire Hills;
the low-lying wetlands of the Norfolk Broad.
Dr Phillips said: "By anticipating how particular areas might be affected by climate change, and by developing targeted, local responses - this will be a valuable means for us to understand how the natural environment can adapt to the climate challenges it faces."
The four character area reports reveal a range of potential effects on biodiversity, landscape, recreational and historic assets.
Because of their coastal nature and generally flat landscape, the Norfolk Broads are particularly susceptible to the impacts of climate change.
Like many upland areas, the peat soils of the Cumbria High Fells must be specifically managed as a future carbon store, say the reports.
In areas like the Shropshire Hills, climate change is expected to change the traditional mix of species and habitats, affecting the timing of seasonal events like flowering, breeding and migration.
Meanwhile, by 2080, the climate in lowland areas of southern England like the Dorset Downs may resemble that of present day Portugal.
Summer droughts may, however, be accompanied by intense winter rain storms leading to increased soil erosion.
Dr Phillips said: "This is the first step to creating a national picture to enable us to assess fully the true impact on our natural environment before it's too late."