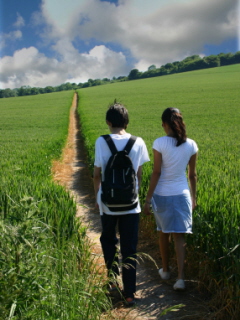 Traditional village life in many areas of the country is in terminal decline, according to research published on Monday (11 May).
Some 103,000 people aged between 24 and 35 will migrate from villages and market towns to urban areas by 2012, said the National Housing Federation.
A chronic shortage of affordable rural housing was fuelling the mass exodus, said the federation, which represents England's housing associations.
Chief executive David Orr said: "There's a real danger that traditional village life will die out within a generation unless we can build more affordable homes for young people and stop what is fast becoming a mass exodus to cheaper, urban areas.
"Rural England desperately needs young adults to support and contribute to their communities, but high house prices and a chronic shortage of affordable housing are threatening to turn our villages into family free zones.
The federation estimates that as many as 100,000 new affordable homes must be built to meet rural demand over the next decade.
It is calling on local authorities in rural areas to draw up action plans to address the housing needs of their communities.
Mr Orr said: "We want affordable homes to be built in every rural area where there is a proven need for it.
"It's crucial that every rural local authority in the country now draws up an action plan detailing how they plan to meet the demand for affordable housing."
"This would place a greater emphasis on local authorities to tackle the housing crisis on their front door and ensure they were doing their bit in halting the decline."
Waiting lists for affordable homes have soared by around 40% in rural areas over the last five years to 700,000 people, Mr Orr said.
Younger adults had been priced out of villages by an influx of wealthy commuters, second home buyers and retired couples."
Changing demographics had also seen rural shops, schools and transport services closed as families were forced to look for more affordable places to live.
Rural house prices tend to be well above the national average, while rural incomes are well below the national average.
This affordability gap has widened rather than narrowed over the last five years.
But a shortage of suitable land, a failure to assess local housing needs and local opposition often means desperately needed affordable homes are never built.
Mr Orr said: "Far too often the voices of people opposed to building new homes drown out the needs of local people who want to stay and sustain their villages."
The number of young people living in England's rural areas has declined at an alarming rate for well over a decade, according to official statistics.
Between 1997 and 2007, some 341,000 people aged between 24-35 left the countryside - equivalent to one in five (22%) of the total number.