F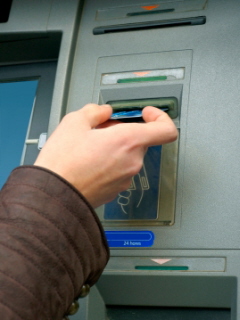 OR most of us, nothing could be easier than going to a 'hole in the wall' to withdraw cash.
Or securing a discount on our utility bills by paying through direct debit. Or accommodating higher spending by an overdraft. Or using our monthly wage as assurance for taking out a loan or mortgage.
But some 300,000 adults in rural areas - typically lone parents, the elderly, unemployed and others on benefits - do not even have a bank account.
This financial exclusion means they must pay more or are excluded from many services.
Having no bank account can also make it harder for people to manage their money.
And having no credit rating can be as detrimental as having a poor one – it can stop people from being able to plan for the future, cope with financial pressures and deal with unexpected events.
Government response
The government' response - a strategy for tackling financial exclusion - was launched in 2004.
It sought to promote access to banking services, affordable credit and money advice.
So, what has been the performance in rural areas?
Banks and building societies have long disappeared from rural communities - only about 4% of villages have one, according to Citizens Advice.
Post offices are much more widespread, and provide an invaluable service for the elderly, disabled or anyone without transport in rural areas present.
But despite rural proofing, around 200 post offices have been closing each year, leaving some 40% of villages without a branch.
No figures are available for the number of rural closures.
But during the last two years - when nearly 2500 post offices have closed nationally - counties such as Devon (75 closures), Hampshire/Isle of White (68), Cornwall (60), Shropshire and Staffordshire (59) and Cumbria (41) have suffered worst.
As a minor compensation the post office have set up 433 outreach services to provide services from vans, through businesses and in community venues.
Mobile banking is also available from the Nat West bank, whose 20 vehicles service 90,000 customers in 350 communities - mostly in Scotland, but also in Cornwall, Cumbria and Devon.
But post offices remain under threat, part privatisation will not help, and mobile services are not enough.
Meanwhile, uptake of basic bank accounts, as proposed by the government in 2006, has been less than expected, according to a recent study by the New Economics Foundation (pdf file).
Business Secretary Lord Mandelson recently unveiled plans to enhance the viability of post offices by allowing them to offer additional financial services.
And another positive note has seen a big increase in the value and volume of third sector lenders providing credit to the financially excluded, says the government's progress report on financial inclusion (pdf file).
Among the good examples cited by the Commission for Rural Communities is the Just Credit Union, Shropshire.
Outreach work helps the credit union reach people in rural communities.
And during the last 12 months, under contract to the Department for Work and Pensions, it has given 700 loans averaging £350 to people on low incomes.
Money advice
The government's third priority is face-to-face debt advice, and its Financial Inclusion Fund has financed a dedicated project for rural areas run by Citizen's Advice.
The project saw 5543 clients in 2008/09, 39% of whom were seen through outreach work in rural communities.
"The problems [of debt] are similar in urban and rural areas, but the contributory causes are different," says Andrew Suckley, the project's Financial Inclusion Manager.
As he explains, poor public transport means some people have to run a car, and that adds to their expenditure; and, for those in debt, the paucity of services and longer distances makes it harder and more time consuming to make repayments.
At the same time, the recession has increased demand for help.
According to the the Commission for Rural Communities, people now have to wait 3.1 weeks to see a trained advisor, up from 2.1 weeks one year ago.
Summary
Progress in tackling financial inclusion is - at best - modest.
The number of adults without a bank account has fallen only gradually: from 2.8m in 2002/03 to 2m in 2007.
Next time you are at the 'hole in the wall', spare a thought for life without a bank.