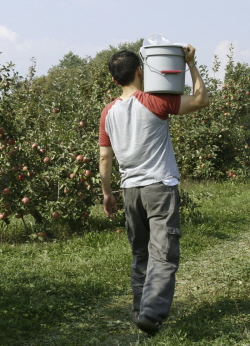 THE latest government datasets on trends in migration to and from the UK are analysed by the IPPR think tank in its May 2010 Migration Statistics, published in June 2010.
This will be of interest to the many rural areas which have experienced significant flows of migrant workers from EU Accession States since 2004, with implications for their economies, local services and communities.
Net immigration to the UK is falling. In the year to September 2009 some 142,000 more people migrated into the UK than migrated out of the UK. However, this number is 11% less than that for the previous year. This is largely because the flow of migrants to the UK has slowed, most notably those from EU Accession States (A8) such as Poland and the Baltic Republics.
The most striking feature is that, in the year to September 2009, some 12,000 more migrants from A8 countries left the UK than arrived here. This is in marked contrast to the peak of 2007, when there was a net inflow from A8 countries of over 80,000. In the last year alone the number of migrants arriving in the UK from A8 countries has fallen by more than half. It was this group of migrants which made up the bulk of recent migrants arriving in rural areas, with large numbers working seasonally in agriculture, food processing and tourism businesses.
The IPPR report says this turnaround can be explained by a combination of:
The initial surge of migrants (after EU accession) having now taken place;
The transitional restrictions which most existing EU countries imposed on migrants from the A8 having now been lifted (except by Germany and Austria);
Recession in the UK meaning that there are fewer employment opportunities; and
The pound sterling having weakened against the Polish currency (zloty).
There has been a historic link between levels of migration to the UK and the economic cycle. Nevertheless, IPPR speculate that overall net migration is unlikely to go negative this time, because it started from a particularly high in-migration base and because more UK-born migrants are now returning to the UK (as recession bites elsewhere).
The report notes that these latest figures make the official (Office for National Statistics) projections of future population growth now look implausibly high. It also notes that the Government's aim of reducing net immigration to the "tens of thousands, rather than the hundreds of thousands" could be realised soon and without any policy intervention.
This publication only analyses data at the UK level or, in a few instances, the regional level. However, since the main trend identified is the rapidly reducing number of in-migrants from A8 countries, it seems reasonable to assume that rural areas will be at the forefront of this demographic shift. I would be interested to hear from any Rural Services Network members in areas with large migrant populations, whether they are experiencing this change and what local impacts it is having.
Brian Wilson, who runs the research consultancy Brian Wilson Associates, also acts as the RSN's Research Director. He can be contacted at This email address is being protected from spambots. You need JavaScript enabled to view it.