The Rural Services Network is the most comprehensive rural network in England. It comprises service providers, national organisations and community representatives.
We have over 220 main members and 11,000 community members.
This guide outlines how we work. It also acts as a guide to using the RSN Online website, which is the primary way we communicate with our members.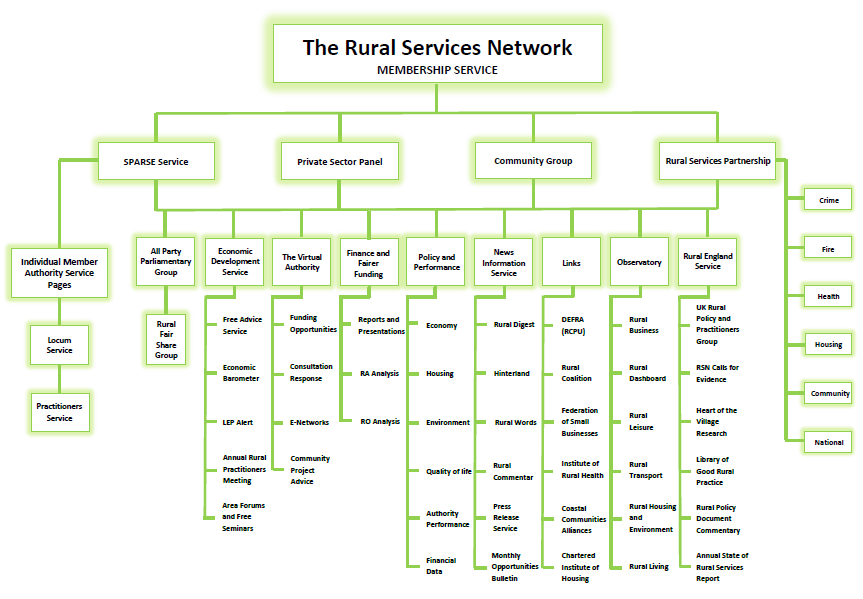 TO DOWNLOAD A BIGGER VERSION OF THIS DIAGRAM, CLICK HERE
CONTENTS:
Sparse Service
Rural 80 Authorities
Rural 50 Authorities
Significant Rural Authorities
Unitary Councils
Shire County Councils
Shire District Councils

Individual Member Authority Service
Financial Analysis
Economic Performance Service
Fairer Funding
Performance
Private Sector Panel
Input into Rural Services APPG Work
Input into State of Rural Services Report and the Rural England Service Report
Annual Forum
RSN Research Concerning Private Sector Service Provisions in Rural Areas
Community Groups
Consultation
Funding Opportunity Service
News Service
Information
Rural Services Partnership
Reports
News Service
Email Discussion Groups
Comparison Web Pages
Rural Services Partnerships – Service Areas
Police
Fire and Rescue
Health
Housing
Community
National
All Party Parliamentary Group on Rural Services
Rural Fair Share Group
Economic Development Service
Free Advice Service
Economic Barometer
LEP Alert
Annual Rural Practitioners Meeting
Area Forums and Free Seminars
The Virtual Authority
Rural Opportunities Bulletin
Consultation Response
E-Networks
Grant Assistant Service
Finance and Fairer Funding
Reports and Presentations
RA Analysis: SPARSE Service Members
RO Analysis: SPARSE Service Members
Policy and Performance: SPARSE Service Members
Economy
Housing
Environment
Quality of Life
Authority Performance
Financial Data

News and Information Service
Rural Digest
Hinterland
Rural Words
Rural Commentary
Press Release Service
Funding Opportunities

Links
DEFRA (RCPU)
Rural Coalition
Federation of Small Business
Institute of Rural Health
Coastal Communities Alliance
Chartered Institute of Housing
Observatory
Rural Dashboard
Rural Business
Rural Leisure
Rural Services Provision
Rural Housing & Environment
Rural Extra

Business Liaison
Rural Business Information Analysis and Consultation
Rural Business Economic Research Policy
Rural England Service
UK Rural Policy and Practitioners Group
RSN Calls for Evidence
Heart of the Village Research
Library of Good Rural Practice
Rural Policy Documents Commentary
Annual State of Rural Services Report
* * *

Sparse Service
The section of the main Network comprising over 100 English Local Authorities. County, Unitary and District Councils are involved. A leaflet with more detail can be viewed here.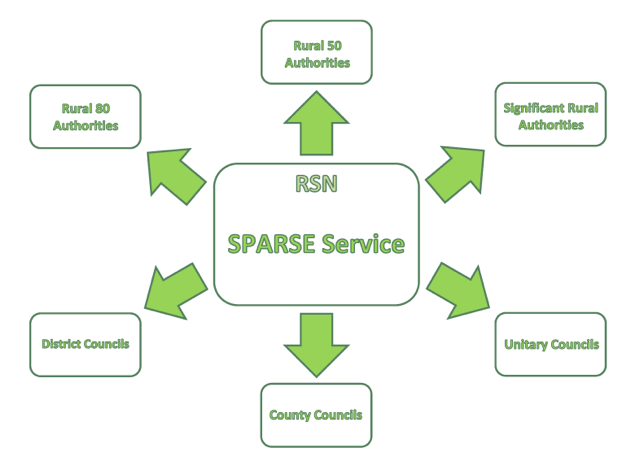 Rural 80 Authorities
Authorities classified by Government as having over 80% of their population living in rural areas.
Rural 50 Authorities
Authorities classified by Government as having between 50% to 80% of their population living in rural areas
Significant Rural Authorities
Authorities classified by Government as having between 25% to 50% of their population living in rural areas
Unitary Councils
Authorities providing both upper and lower tier services in an area
County Councils
Authorities providing upper tier services in areas where there are shire districts
District Councils
Authorities providing lower tier services in an area where there is a county council and that are responsible for council tax collection. Authorities may be labelled 'district', 'borough' or 'city' but not 'parish' or 'town'
Individual Member Authority Service
Each member authority has its own individual page on which work is undertaken and stored which provides individual analysis
Financial Analysis
One of the services provided relates to annual individual budget item comparison with other member authorities
Economic Performance Service
One of the services provided relates to individual authority comparison in relation to economic development issues and situations
Fairer Funding
We compare the financial position relating to grant allocation between our member authorities and their urban equivalents
Performance
One of the services provided relates to individual authority comparison in relation to refuse, housing and place
Locum Service
We run a comprehensive service to allow members to take advantage of both short term locum assistance and longer term help from practitioners at much less than normal commercial rates
Practitioners Service
We feel well positioned to provide members with longer term quality back up at times of need. Members will find the fees particularly competitive
The RSN Panel of service providers and organisations from particular areas of the private sector who assist the Network. The panel will meet annually and also use e conferencing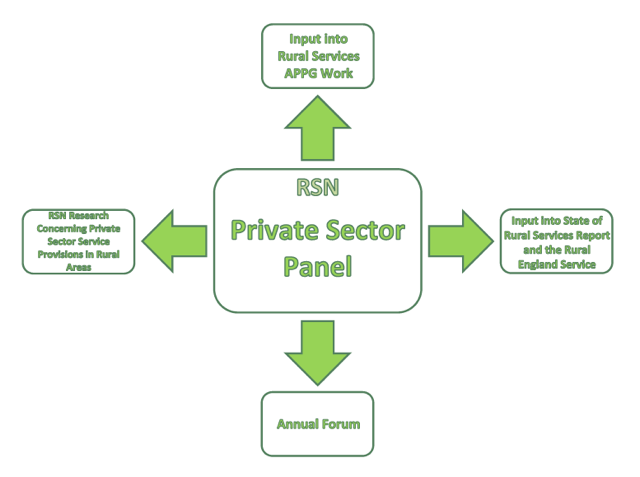 Input into Rural Services APPG Work
It is important the All Party Parliamentary Group receives view from all the parties providing service in rural areas
Input into State of Rural Services Report and the Rural England Service Report
This is an important input enabling the report to be balanced from the viewpoint of both public and private sectors
Annual Forum
The opportunity to examine laterally once a year private sector input into services
RSN Research Concerning Private Sector Service Provisions in Rural Areas
The private sector panel will be requested to provide input and thought from the commercial perspective
Community Groups
A community section involving local bodies associated with the network free of charge because of their involvement with one of the main members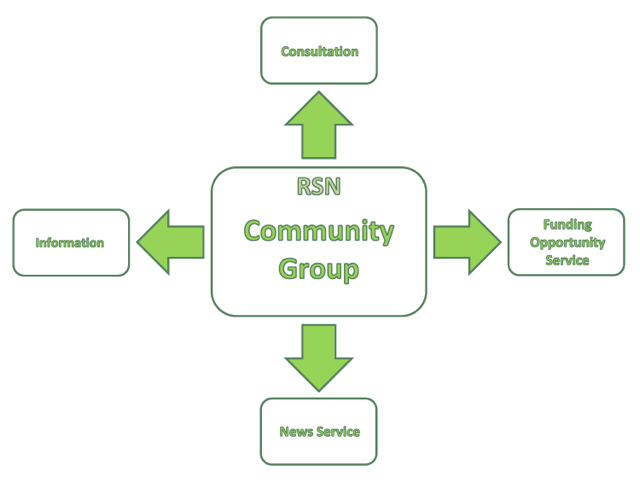 Consultation
All community members are involved in consultation exercises to give local bodies the right to be heard
Funding Opportunity Service
Information will be despatched to local organisations giving them the chance to get assistance on these issues. Direct assistance is available under a special service
News Service
Community members receive weekly rural news and comment on that news
Information
All community members are given rural information and views on a regular basis
Rural Services Partnerships
The section of the main network involving non-local authority service providers. Over 120 organisations are involved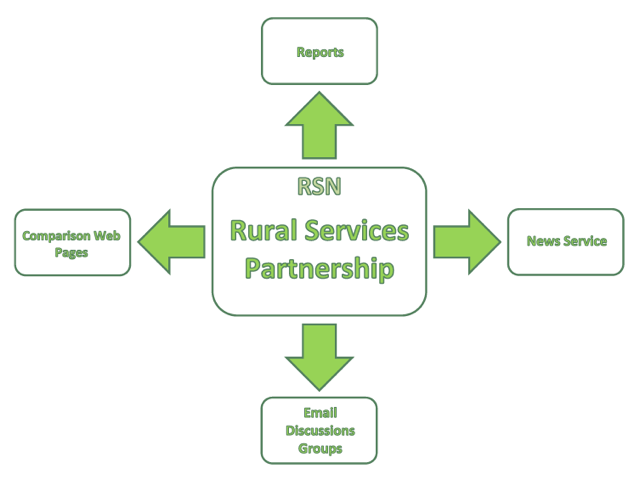 Reports
Reports back from service groups to give the network insight and information about the key service issues from the rural perspective. We are particularly keen to seek out cross service opportunities
News Service
We provide a weekly news service for RSP members
Email Discussion Groups
We facilitate discussion groups across individual services and also look for opportunities to stage discussion targeted at across service initiatives
Comparison Web Pages
Over the coming years we plan to build individual pages for RSP members allowing easy service comparisons between individual service members
Rural Services Partnerships – Service Areas
A not for dividend company limited by guarantee comprising some 120 service providers outside local government operation. The group also includes national organisations who have rural credentials and interests
Police
A group looking at issues and best practice relating to rural crime and tackling fear of crime in rural communities
Fire and Rescue
A group looking at issues, best practice and community interface in relation to rural fire fighting and rural fire and rescue service operation
Health
A group looking at the challenges and best experiences from health delivery in rural areas. This group is run jointly with the Institute of Rural Health
Housing
A group working with the Chartered Institute of Housing looking at rural housing issues. The group seeks to comprise the smaller local housing associations and also involves local authority housing officers
Community
The Rural Services Partnership comprises, as part of its operation, some 15 organisations from a local base. These organisations have decided to step up their involvement to give a community perspective as full Rural Service Partnership members
National
There are some 20 organisations involved in the Rural Services Partnership who are nationally orientated. They give a really important perspective to its operation. Many of these bodies are also involved in the UK Rural Policy & Practitioners Group
All Party Parliamentary Group on Rural Services
The RSN acts as the secretariat for this Westminster group of over 70 parliamentary members (Link to APPG members and minutes)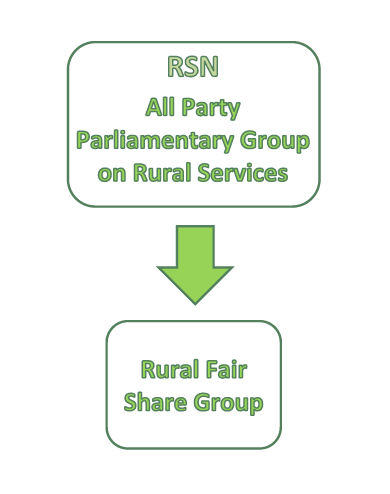 Rural Fair Share Group
The Parliamentary Grouping has been constituted to argue the case in relation to funding provided to rural service providers. It details with all public services
Economic Development Service
A detailed service providing economic development assistance for all our members (link)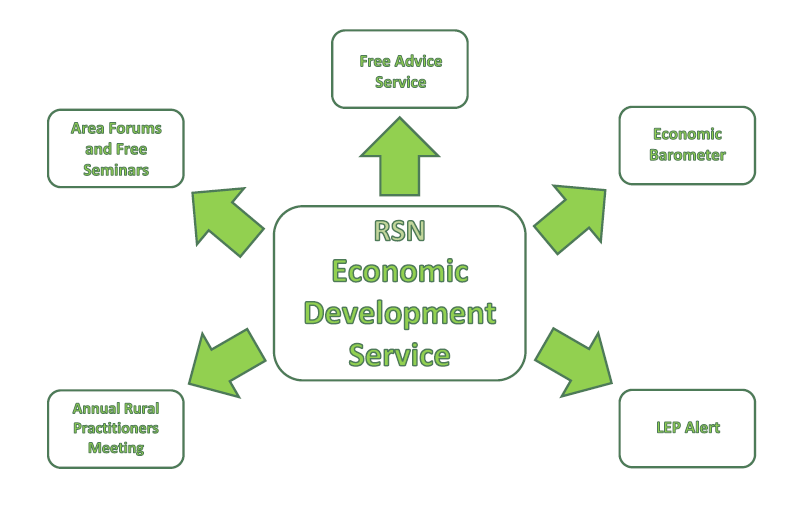 Free Advice Service
Our Advice Service gives members the opportunity to receive free advice on economic development queries they may have
Economic Barometer
The Economic Barometer is an information service which includes our annual Rural Insight Survey and Report which seeks to provide an annual economic review.
The service also includes the profiling service information: vulnerability index, notified vacancies and other key economic data. This information will be updated quarterly.
We will also provide weekly bulletins on issues relating to economic development (Hinterland) and monthly pre seminar briefings (Rural Words)
LEP Alert
This will involve a quarterly summary of key issues arising from the Defra rural LEP network

Annual Rural Practitioners Meeting
Each calendar year we will hold a key meeting in London to bring together all local authority rural practitioners. In this section you will find detail and outcomes from each of the annual rural practitioners meetings
Area Forums and Free Seminars
The RSN organises an annual seminar programme which is free of charge to members. The events are intended to help Councils and Rural Services Partnership Members overcome some of the issues and challenges that they face in delivering services in rural places
The Virtual Authority
This service seeks to provide members with a detailed service to ensure they aware of funding opportunities and able to comment on relevant consultations as they occur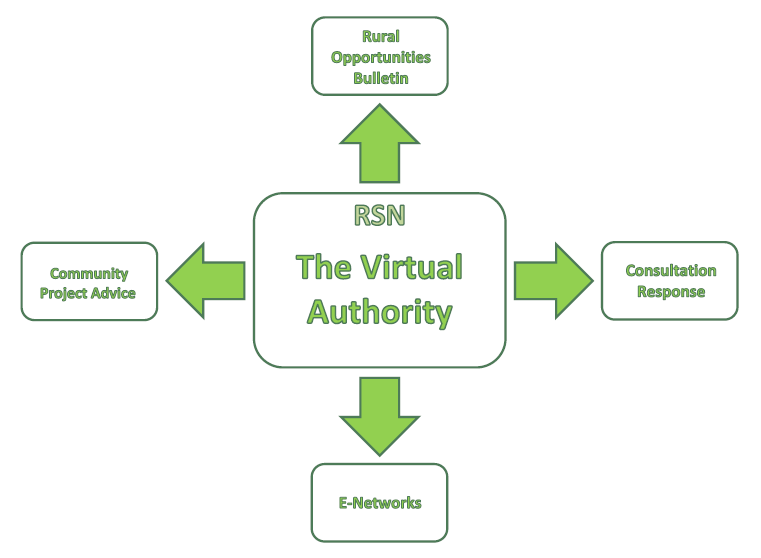 Rural Opportunities Bulletin
A monthly bulletin setting out the current funding opportunities and requests for consultation comment
Consultation Response
A service providing a base consultation response from the rural service perspective on all the key consultation exercises. The service allows authorities ease of response to these exercises by either using or amending the responses as they see fit

E-Networks
We are currently developing a range of e-networks to support officers from member authorities in their work. These will enable officers to share best practice and offer support to one another delivering services in rural areas. They will also provide them with the opportunity to generate ideas and innovate together
Community Project Advice
With DR Consultancy we are running a service giving free grant advice for full members and greatly subsidised grant advice for community members
Finance and Fairer Funding
This is arguably our most important service. Successive governments' neglect of the obvious extra cost of running rural services is impacting continually on service delivery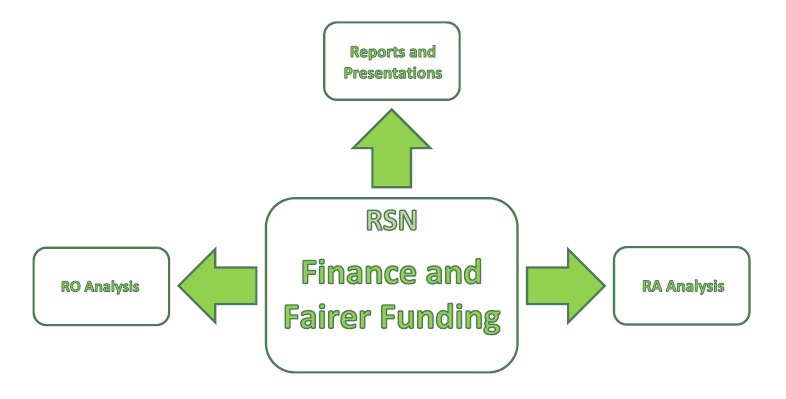 Reports and Presentations
On Local Government Finance Issues

RA Analysis: SPARSE Service Members
A yearly analysis of revenue estimate forms enabling you to judge your authority's position in comparison with other authorities
RO Analysis: SPARSE Service Members
A yearly analysis of revenue outturn forms enabling comparison with authorities and the position relating to groups of authorities
Policy and Performance: SPARSE Service Members
A comprehensive performance service allowing comparison urban to rural, between rural classifications and between authorities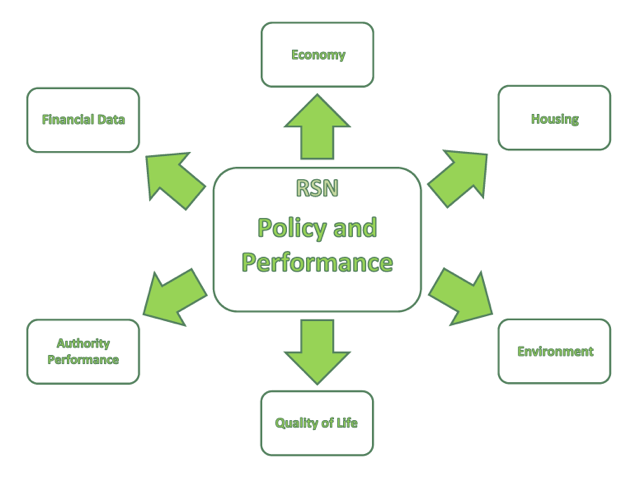 Economy
Three detailed comparison exercises to establish the position of the local economy in each authority's area
Housing
Assessment of authorities positions in relation to housing need, provision and homelessness
Environment
Comparison of local authority environmental measures
Quality of Life
Comparison of local authority measures covering quality of life issues such as crime, health and satisfaction with local services
Authority Performance
Comparison of key local authority measures covering previous national indicators for benefits, revenues collection, development control and waste management
Financial Data
Comparison of financial data authority to authority and authority to grouping
News and Information Service
We provide the most comprehensive rural service in the country. We seek to provide rural news, views and detailed comment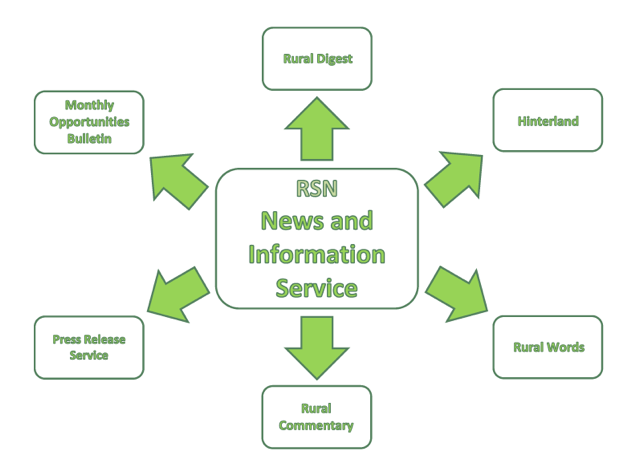 News - Rural Digest
A comprehensive news service, including - at the beginning of each week - an email newsletter detailing every significant rural news story
Hinterland
Towards the end of the week we issue a rural practitioners commentary of his perception of the rural scene
Analysis - Rural Words
A monthly detailed article on a current news topic. The article will often relate to the current rural seminar being held in one of the regions
Opinion - Rural Commentary
A detailed commentary sought to be issued monthly providing a comprehensive report on the big rural issue. It is intended this commentary will assist members to themselves make detailed comment on the issue involved
Press Release Service
We will provide members with a basic press release on the biggest rural issues. The press releases are produced to allow, if wished, local comment by the appropriate councillor. The service is designed to allow members, should they wish, to issue position statements as rural issues arise
Monthly Opportunities Bulletin
A monthly bulletin setting out the grant opportunities available together with the areas where consultation responses are being requested. The bulletin also provides a commentary on a topic of current interest
Links
To achieve a really comprehensive service we work in tandem with a series of organisations to achieve a solid representational platform for rural service issues and to provide members with a wall to wall rural service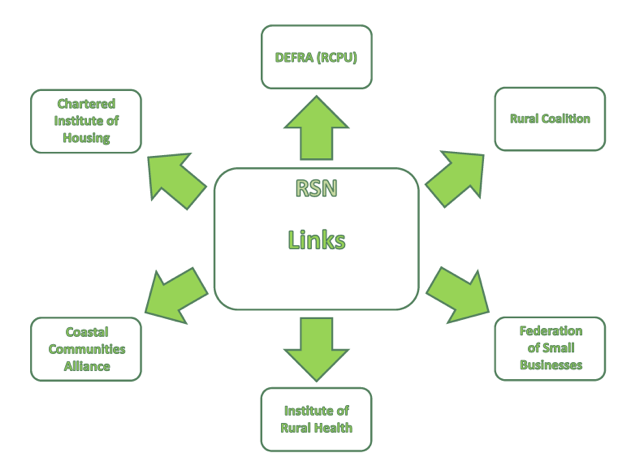 DEFRA (Rural Communities Policy Unit)
We have a bilateral agreement with Defra over information exchange, joint working and meetings relating to work programmes. For us this is a really vital working relationship
Rural Coalition
The Rural Coalition is a body who have monthly meetings seeking to provide consensus between the organisations having a rural interface. We present the rural service viewpoint at these important meetings
Federation of Small Businesses
We work with the Federation on business surveys to their rural panel; in joined up All Party Parliamentary work on rural economic issues and through meetings with their Rural Committee
Institute of Rural Health
We have a strong working relationship with the Institute who specialise in rural proofing research, professional development and training in health issues. The IRH runs a successful Rural Health week every September
Coastal Communities Alliance
We work with this important socio economic group seeking to give rural coastal issues higher profile
Chartered Institute of Housing
We have a special relationship with the Institute seeking to give issues relating to rural housing a strong profile
Observatory
Compiling statistical information on rural services from a series of sources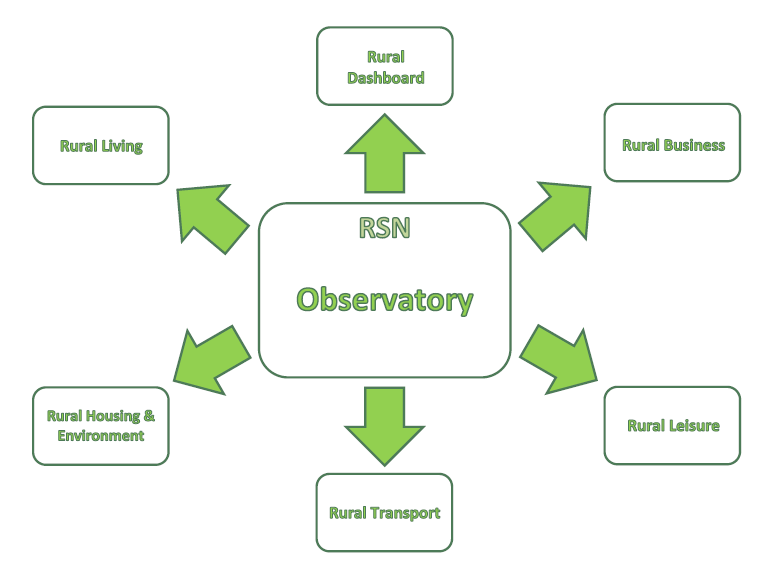 Rural Dashboard
Indicators of the rural economic situation
Rural Business
Insights into rural business
Rural Leisure
Looking at rural leisure needs and provision
Rural Transport
Transport is a key element to successful rural communities. Analyses of statistical transport and travel data highlight the current position
Rural Housing & Environment
Data analysis of the rural position
Rural Living
Any other information useful in providing a picture of life in a rural community
Business Liaison
We seek to establish a system which facilitates responses for 'Calls for Evidence' across a range of topics

Rural Business Information Analysis and Consultation
Collective and individual analysis in members areas across England
Rural Business Economic Research Policy
Detailed assessment of economic positions
Rural England Service
A valuable resource for RSN members, where they can find the key research and policy documents recently produced about Rural England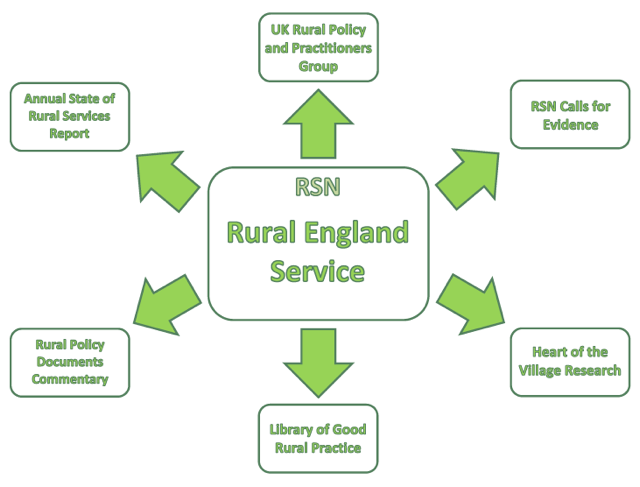 UK Rural Policy and Practitioners Group
A grouping of over 20 organisations from across the United Kingdom which provides an information exchange comparing rural policy experience in different parts of the UK and collation of rural experience across the UK
RSN Calls for Evidence
Reports and findings from the RSN's surveys and calls for evidence, which it has run to gather evidence from its members about issues of policy interest
Heart of the Village Research
Research and information on trends and initiatives in commercial or community run service provision at the village level
Library of Best Rural Practice
The place to find good rural practice ideas and lessons gathered from RSN members and with web links to other good practice material by other organisation
Rural Policy Documents Commentary
Links to the key Government policy and documents for rural areas and RSN comments on those policy developments
Annual State of Rural Services Report
An annual significant report from the RSN which maps developments and trends in rural public service provision across England